December 17, 2012
Posted: 618 GMT
A look back at the highlights of 2012 covered on Inside the Middle East.
Want to see more?  Follow the show on Facebook for all the latest from 'Inside the Middle East.'
Posted by: Jon Jensen
Filed under: Abu Dhabi •Algeria •Bahrain •Culture •Dubai •Egypt •Inside The Middle East •Iran •Iraq •Israel •Jordan •Kuwait •Lebanon •Morocco •Oman •Saudi Arabia •Sports •Tunisia •Turkey •UAE •Women •Yemen
February 28, 2011
Posted: 803 GMT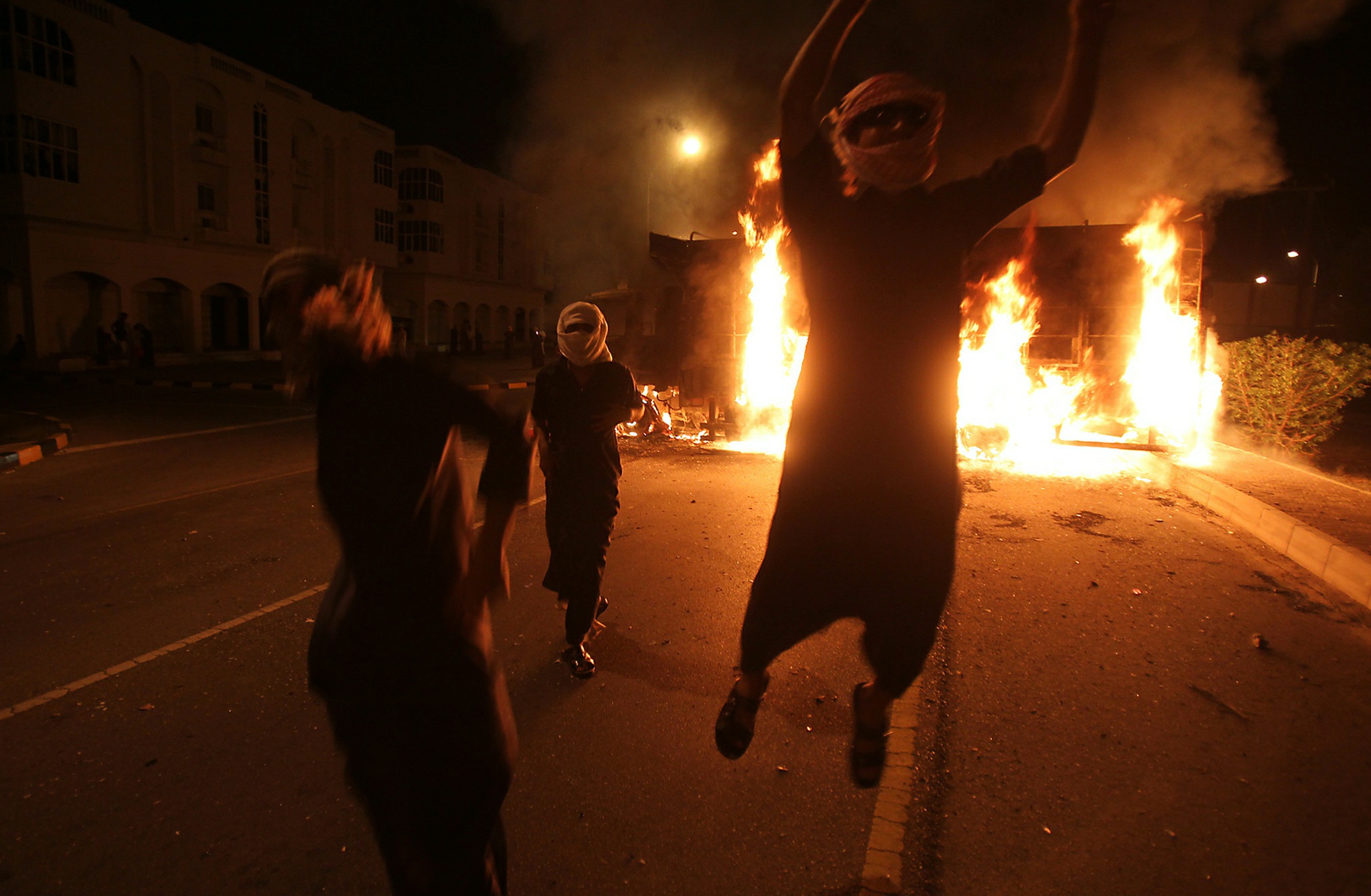 Masked Omani protesters jump in front of burning vehicles during a demonstration in Sohar, more than 200 kms (125 miles) northwest of Muscat. Getty Images/AFP.
Clashes between protesters and police in the Omani industrial town of Sohar wounded about 10 people Sunday, state media reported Sunday.
At least two protesters were killed, Oman TV editor Asma Rshid told CNN.
"The police shot them because they burned shops and cars in Sohar," Rshid said. Another source said it was rubber bullets that the police fired. A number of police had also reportedly been injured, but numbers were not confirmed.
The protests started Saturday and were ongoing Sunday, said Zamzam al Rashdi, editor-in-chief of the state-run Oman News Agency.
There were about 1,000 protesters in Sohar, calling for more jobs.
The demonstration started peacefully before a couple of groups split off and started attacking a supermarket and a police station, and members from the Shura Council, al Rashdi said.
One of the targeted buildings was the Walli House, where the governor who represents the sultan in Sohar lives, a witness told CNN.
Posted by: IME Producer
Filed under: Oman •Protests
November 29, 2010
Posted: 1055 GMT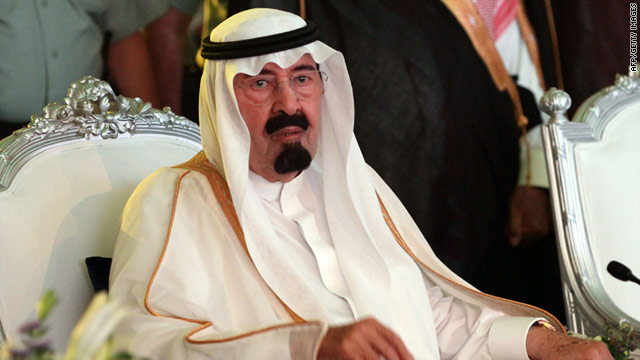 WikiLeaks document: Saudi King Abdullah told an Iranian official: 'You as Persians have no business meddling in Arab matters.'
By Tim Lister, CNN
(CNN) - U.S. diplomatic cables obtained by the website WikiLeaks and published by newspapers in the United States and Europe on Sunday reveal considerable anxiety among the Gulf states about Iran's nuclear program, with the Bahrain's king warning, "The danger of letting it go on is greater than the danger of stopping it."
The cables, many marked "Secret," were among several hundred thousand obtained by WikiLeaks and published by newspapers Sunday.
They reveal great concern among Arab states about Iran's regional ambitions. One cable describes a meeting between Saudi King Abdullah and White House counterterrorism adviser John Brennan and other U.S. officials in March 2009.
According to the cable, the king told the Americans what he had just told the Iranian foreign minister, Manouchehr Mottaki. "You as Persians have no business meddling in Arab matters," the Saudi monarch was quoted as telling Mottaki. "Iran's goal is to cause problems," he told Brennan. "There is no doubt something unstable about them." Read full story...
Posted by: IME Producer
Filed under: Bahrain •Egypt •Iran •Iraq •Oman •Saudi Arabia •U.K. •U.S.
September 21, 2010
Posted: 1050 GMT
*CNN's Sr. Int'l. Correspondent,  Nic Robertson, filed this report describing  the frenzied mechanics of chasing a big Middle Eastern news story*
As we dashed to Abu Dhabi's International Airport last Tuesday evening we knew we had only a slim chance of catching up with Sarah Shourd.
We were frantically booking flights to Muscat and she was already in the air on a two and a half hour flight to freedom from a Tehran jail.
Sarah had probably reached cruising altitude, Tehran fading beneath the Royal Oman jet the Sultan had sent for her and we'd just got our tickets. But the race wasn't over. Just as we were heading for security we discovered an earlier flight, and after a crazy and slightly undignified dash to another terminal we took our seats on a BA 777 as the doors were closing.
It was exactly the kind of adrenalin pumping journalism that this profession pitches you in to without warning. We had one goal: talk to Sarah.
We touched down almost simultaneously with her flight. She was getting the Royal treatment, red carpet, VIP lounge, we were struggling to confirm she'd made it.
We hung around in international limbo, afraid to go through immigration for fear Sarah would take another flight to the US. By now we were booked on every flight leaving Muscat for the next five hours.
We stalked the transit halls and lounges scouring for a glimmer of her entourage. Our producer Raja Razek had worked her magic and found a source who was searching passenger manifests for us. But no sign of Sarah. Read the rest of this entry »
Posted by: CNN Correspondent, Nic Robertson
Filed under: CNN Coverage •Oman
March 10, 2010
Posted: 1816 GMT
Editor's note: Inside the Middle East's Raja Razek shares her experiences of going to Oman to film the above story.
I arrived in Muscat on a cool, sunny afternoon. As a first time visitor, I opted to stay on the sea-front Corniche to be close to the Gulf of Oman.
As we took the winding road from the airport, I noticed the mountains were dotted with traditional houses, mostly painted white. The contrast of the blue skies, brown mountains, and white buildings made for what looked like a beautiful painting.
An Omani friend of mine says he thinks of Oman in colors.
Salalah down south is, surprisingly, green like the vegetation on its lush mountains. Sur in the East is blue in honour of the long tradition of fishing and ship building in that part of the country. Musandam to the north is brown like the color of the bare mountains that you might more typically expect to find in the Gulf country. Muscat, the country's vibrant, multi-ethnic capital is violet,  a combination of all the colors.
The minute I arrived, I rushed to see the "Jewel of Muscat" - the replica 9th century Omani sailing ship I had come to shoot a story about - at the port.
Captain Saleh Al Jabri and his crew were preparing for the big day. "Jewel" was to set sail in the morning and they were tired, excited, and nervous.
Their planned journey will retrace the trading route between Oman and Singapore that their ancestors would have traveled along. It may be nostalgic, but it is also dangerous:  They will be traveling using 9th century navigation techniques, have limited water, and will have live animals on board for food!
Jabri gave me a tour of the ship and we go below deck to were the crew will sleep and supplies are stored. The limited space is obvious. They put their supplies on their beds and rearrange it all every night when they go to sleep. I ask the captain, how they plan to stay dry and have room aboard for all 17 members. He says, it is tough, but "this is the life at sea. This is the life at sea."
In the evening, I went to the souk on the Corniche. It sells souvenirs, traditional silver jewelry, clothes, and anything else you can think of that a tourist would like. I opted for the jewelry shops. It was interesting as they sell hand-crafted Omani jewelry and other items from the Far East. A few precious stones are imported from Singapore and made into necklaces. Of course I bought a necklace: What better way to remember my visit to Muscat to cover the launch of the "Jewel of Muscat's" journey to Singapore!
Early next morning I headed to the port to see the ship set sail.
There was a big crowd there: press, dignitaries, and families with their children holding flags and waving goodbye. Many of us followed on boats to see the ship off and the "Jewel" looked absolutely beautiful in the middle of the sea.
With the sun beaming down, it was very easy to understand how limited water can become a problem. I was dehydrated in no time but, luckily, not too far from shore. While sitting in the sun looking at the ship with the sailors onboard, I thought how this must be such an adventure for the sailors, as well as a tribute to their sea-faring ancestors.
As we waved goodbye to the captain and his sailors, I couldn't help but wish I was going with them to sail the great sea to Singapore.
Filed under: CNN Coverage •Culture •Inside The Middle East •Oman •Video