January 11, 2012
Posted: 1632 GMT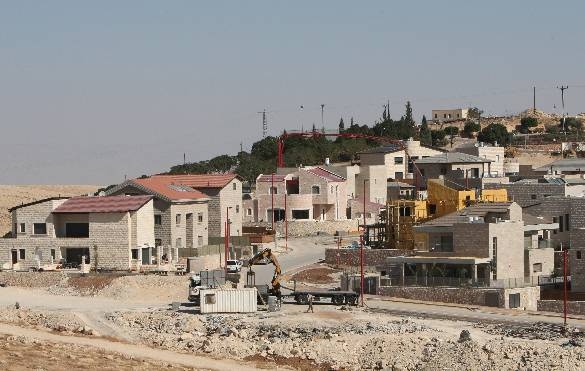 New houses are seen in West Bank Israeli settlement of Qedar, on the outskirts of Jerusalem (Getty)
As Israelis and Palestinians attempted to give peace a chance this past week with a second Jordanian sponsored meeting of the two sides, a new report issued by an Israeli settlement watch dog organization is likely to further dim the unlikely prospect of any breakthrough between the parties.
Tuesday, the anti-settlement activist group Peace Now released a new report citing a 20% increase in the construction of Israeli settlements in the West Bank in 2011. The report found that the number of plans for new Jewish homes in predominantly Arab East Jerusalem was at its highest number in a decade with over 3,600 housing units approved and preliminary plans made for another 2660.
Speaking to reporters Tuesday, Peace Now director, Yariv Oppenheimer, said, 2011 "will be remembered as the 'year of the settlers' regarding construction in the West Bank" and claimed the government of Israeli Prime Minister Benjamin Netanyahu was jeopardizing the possibility of a two-state solution.
The Israeli government described Peace Now's figures as exaggerated and spokesman Mark Regev offered this pointed retort:
"The current Israeli government has been attacked by the leadership of the settlement movement for being the "worst government in Israel's history" when it comes to settlement construction. And it is indeed true that we have shown more restraint on the issue of settlement than any previous Israeli government. We initiated the unprecedented ten-month settlement moratorium and even since the conclusion of that moratorium we continue to exercise great restraint."
Posted by: Kevin Flower
Filed under: General •Israel •Palestinians •Peace Talks •West Bank
January 24, 2011
Posted: 1231 GMT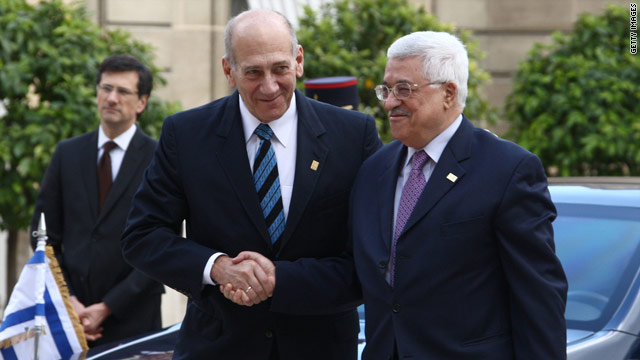 A former Israeli government official claims Ehud Olmert and Mahmoud Abbas almost reached a deal in 2008.
Palestinian negotiators offered to give up large areas of East Jerusalem to Israel during negotiations dating back to 2008, the Al-Jazeera network said, suggesting Palestinian leaders have been willing to offer much larger concessions in private than they had previously acknowledged in public.
On Monday a former Israeli government official said an agreement was almost reached during negotiations between former Israeli Prime Minister Ehud Olmert and Palestinian Authority President Mahmoud Abbas from the end of 2006 to September 2008.
"After dozens of meetings between Olmert and (Abbas) there was a proposal that was reached ... this offer was on all the issues we call core issues," Yanki Galanti, a former Olmert spokesman, said in an interview Monday with Israeli Army radio.
The core issues in Israeli-Palestinian negotiations are considered to be the status of Jerusalem, borders and refugees. Read more...
Posted by: IME Producer
Filed under: Israel •Jerusalem •Media •Palestinians •Peace Talks
September 23, 2010
Posted: 1618 GMT
Suggesting that Russian immigrants in Israel pose an obstacle to a peace deal between Israelis and Palestinians, former U.S. president Bill Clinton stepped into the mire of Middle Eastern politics this week and prompted a wave criticism from Israeli politicians including the Prime Minister Benjamin Netanyahu.   
Clinton, speaking at a panel discussion of his Clinton Global Initiative Tuesday, told audience members "An increasing number of the young people in the IDF (Israeli Defense Forces) are the children of Russians and settlers, the hardest-core people against a division of the land. This presents a staggering problem. It's a different Israel. 16 percent of Israelis speak Russian."   
Referring to the over one million Russians immigrants who have come to the Jewish state since 1989 Clinton remarked "They've just got there, it's their country, they've made a commitment to the future there...they can't imagine any historical or other claims that would justify dividing it."   
The controversial comments, first reported by the website of Foreign Policy magazine,  come as the Obama administration, led by Secretary of State Hillary Clinton, mediates high-stake direct talks between Israelis and Palestinians in an attempt to reach a historic peace agreement within the next year.   
In Israel reaction to the Clinton's remarks has been extremely critical. Prime Minister Benjamin Netanyahu expressed "regret" over the comments late Wednesday and said "As a friend of Israel, Bill Clinton definitely knows that the immigrants from the former Soviet Union have contributed a great deal to the advancement, development and strengthening of the IDF and the State of Israel."   
Posted by: Kevin Flower
Filed under: Clinton •Israel •Palestinians •Peace Talks •U.S.