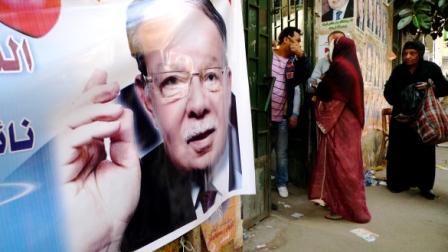 Outisde a voting station in the Sayida Zainab area of Cairo, An NDP party candidate's poster dominates (Mary Rogers/CNN)
We had to be patient to get pictures of people casting their ballots at the Yahya Mashhad School for Languages in the gritty northern Cairo district of Shubra Al-Khaima.
One voter would enter the room every ten minutes or so, slip behind a black curtain to fill out their ballot, drop it in a battered wooden box, sign the register, and then dip their finger in pink ink. After another long wait, the next voter entered.
Outside, earnest supporters of the Muslim Brotherhood, Egypt's largest opposition bloc, complained that their appointed observers had been denied the right to monitor the voting.
"There is no way we can ensure these elections were fair," Brotherhood supporter Mustafa told me.
Newspapers in Cairo Monday morning were full of reports of vote rigging and violence around the country.
According to the official Higher Elections Committee, turnout in Sunday¹s parliamentary elections was 25 percent. Independent observers say it was probably not even half that.
Initial results indicate the ruling National Democratic Party has cleaned up and that the Brotherhood has taken a serious beating. A round of run-off elections is scheduled for Dec. 5.
It's a dramatic turnaround from late 2005, when the Brotherhood surprised even many Egyptians by winning 88 seats, grabbing around 20 percent in the People¹s Assembly.
But that was then. In 2005 the administration of George W. Bush was at the height of its push for democratic reform in the Arab world, and President Mubarak¹s authoritarian government was squarely in the American cross hairs.
Posted by: Ben Wedeman, CNN Correspondent
Filed under: Egypt