November 30, 2010
Posted: 942 GMT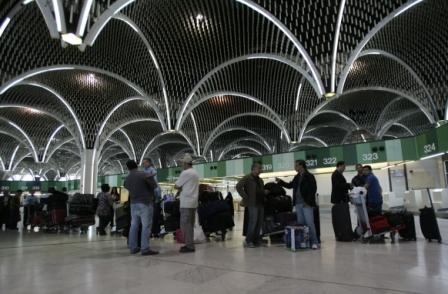 Passengers wait at ticket counter at Baghdad International Airport (Getty Images )
It's really impressive to look up at the flight board at Baghdad International Airport these days – Abu Dhabi, Amman, Beirut, Istanbul, Cairo, Tehran are a few of the available daily trips.
I remember the days when commercial flights were limited to the one or two Royal Jordanian ones that were usually overbooked and getting out on one of those was always an "inshalla" – "God willing" scenario.
I also remember the days when you would glance around the airport and your average passenger would be the tattooed private security guy , the journalist, or the Iraqi member of parliament who would spend more time in Amman than in Baghdad.
Today, it was a handful of the usual suspects and a different crowd -  mostly Iraqi refugees, families who have packed their lives into one suitcase per person and set off on their journey to new homes.
As I queued up to get a coffee, a young Iraqi man approached me – I had met him a few years ago through work, he is now a refugee.
He asked me if I was going to the US – he was, along with his family.
Where are you going I asked – "Indiana" he said with a bit of a confused look, like he was not sure if I had heard of it. I told him I had visited Indiana a few years ago; "is it nice?" he asked.. I said yes, but very cold in the winter, we both laughed– Iraqis are more immune to the scorching heat of their country, not the harsh winters of the Midwest.
Why are you leaving I asked – he smiled and said "why would I stay? ...What should I stay for?" a familiar answer I have been hearing a lot lately from Iraqi colleagues, friends and people we meet—it's also an answer that says it all and there was no reason to follow-up on that... I wished him luck as he walked away.
Posted by: CNN Producer, Jomana Karadsheh
Filed under: Christianity •Iraq •Islam
November 16, 2010
Posted: 1018 GMT
Abu Dhabi - "Abu Dhabi better celebrate," Prince told the thousands of fans who packed the Yas Arena Sunday to watch the artist perform for the first time in the Middle East.
The rock star opened with "Let's Go Crazy" and sang other classic hits including "Delirious," "1999," "Little Red Corvette," and his iconic anthem "Purple Rain."
CNN had front row seats at the closing concert of the Abu Dhabi Grand Prix. The artist closed the high-energy evening with encore songs and fans dancing on the stage for a night of many hits - and not enough time.
Posted by: CNN Producer, Jenifer Fenton
Filed under: Abu Dhabi •Culture •UAE
November 6, 2010
Posted: 1141 GMT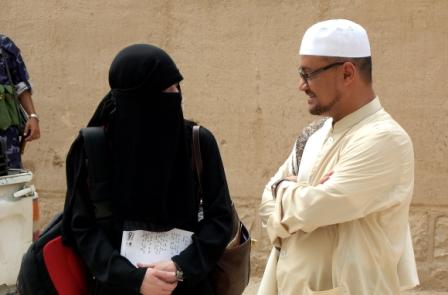 CNN Producer Gena Somra on a recent reporting trip to Yemen (Dane Kenny/CNN)
I've always been curious what life must be like for women who live behind the veil.
But I never thought I'd be in a position to experience it first hand.
As our team ventured out of Seiyun, Yemen, on our way to Tarim, I found myself pulling out my newly purchased niqab, and looking for help from my bewildered male teammates as to the proper way to adorn this thin and delicate piece of cloth.
After several unsuccessful tries to assemble it myself, our local fixer stepped in to assist. Soon I was looking at the world from a new (and somewhat uncomfortable) perspective.
September in this dry and dusty desert valley is scorching hot.... and being covered from head to toe in all black with only a tiny space for my eyes to glean the sun, seemed to draw the rays directly into me and intensify the already sapping heat that was bearing down on all of us.
The fabric was stretched and tied so tight that it cut across my lower eyelids and when I would blink I would feel its chiffon gently scratching my lashes. And even though I could breathe just fine, somehow this fabric over my nose and mouth made it feel like I could not. It was an unusual sensation to say the least.
But beyond the immediate physical discomfort that I had in some way anticipated, suddenly my senses were bombarded with things I had not.
I immediately wondered just how I would be able to do my job. How can I run if I need to, alongside my cameraman and reporter if I can't even see properly? How can I interview people if one of the main tools of conducting that interview is obscured and hidden from view?
Posted by: CNN Producer, Gena Somra
Filed under: Culture •Women •Yemen
October 4, 2010
Posted: 957 GMT

After driving several hours from Abu Dhabi, we arrived at Qasr al Sarab, a luxury resort in the middle of the world's largest uninterrupted sand desert. There is little to see between the two destinations, save a large garbage incinerator for the capitol and the odd grouping of camels. We credited our hotel arrival to a man at a road-side stop along the way. He filled our depleted tank with gas poured in from an improvised funnel – high tech for one of the world's oil capitals.
Qasr al Sarab bills itself as the ultimate Arabian getaway in the Liwa Desert. The year-old hotel is remote, surrounded by nothing but sand and lots of it. Our room, one of just more than 200, ticked all the right boxes: big bed, excellent shower pressure, a functioning air conditioning and the bonus espresso machine. But what really sells the site is the view.
Dunes extend as far as the eye can see and much higher than I was willing to trek. After a mere 10 minute hike up one of the larger ones, I was out of breath and sweaty. I forgot my iPod and the Lawrence of Arabia soundtrack to motivate me. So I paused to thank the gods that I was born in modern times and to marvel at the wonder of nature.

As the sun sets, the golden sand reflects and absorbs its lights. Dark red and black earth dots the terrain and wispy clouds idle in the blue sky. Breathtaking. A sight made all the better as I know I can hike back to the hotel and eat a dinner that someone else has prepared instead of setting up camp, fending off the harsh conditions of the desert and wondering how far until the next water supply. For this luxury, I am willing to pay five-star rates.
Posted by: CNN Producer, Jenifer Fenton
Filed under: Abu Dhabi •UAE
July 1, 2009
Posted: 938 GMT
Iraqis in Baghdad cheer and dance as the deadline for American troops to pull out of Iraqi towns and cities passes.
Posted by: CNN Producer
Filed under: Iraq