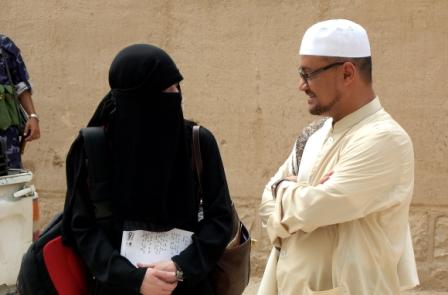 CNN Producer Gena Somra on a recent reporting trip to Yemen (Dane Kenny/CNN)
I've always been curious what life must be like for women who live behind the veil.
But I never thought I'd be in a position to experience it first hand.
As our team ventured out of Seiyun, Yemen, on our way to Tarim, I found myself pulling out my newly purchased niqab, and looking for help from my bewildered male teammates as to the proper way to adorn this thin and delicate piece of cloth.
After several unsuccessful tries to assemble it myself, our local fixer stepped in to assist. Soon I was looking at the world from a new (and somewhat uncomfortable) perspective.
September in this dry and dusty desert valley is scorching hot.... and being covered from head to toe in all black with only a tiny space for my eyes to glean the sun, seemed to draw the rays directly into me and intensify the already sapping heat that was bearing down on all of us.
The fabric was stretched and tied so tight that it cut across my lower eyelids and when I would blink I would feel its chiffon gently scratching my lashes. And even though I could breathe just fine, somehow this fabric over my nose and mouth made it feel like I could not. It was an unusual sensation to say the least.
But beyond the immediate physical discomfort that I had in some way anticipated, suddenly my senses were bombarded with things I had not.
I immediately wondered just how I would be able to do my job. How can I run if I need to, alongside my cameraman and reporter if I can't even see properly? How can I interview people if one of the main tools of conducting that interview is obscured and hidden from view?
Posted by: CNN Producer, Gena Somra
Filed under: Culture •Women •Yemen