August 24, 2011
Posted: 1546 GMT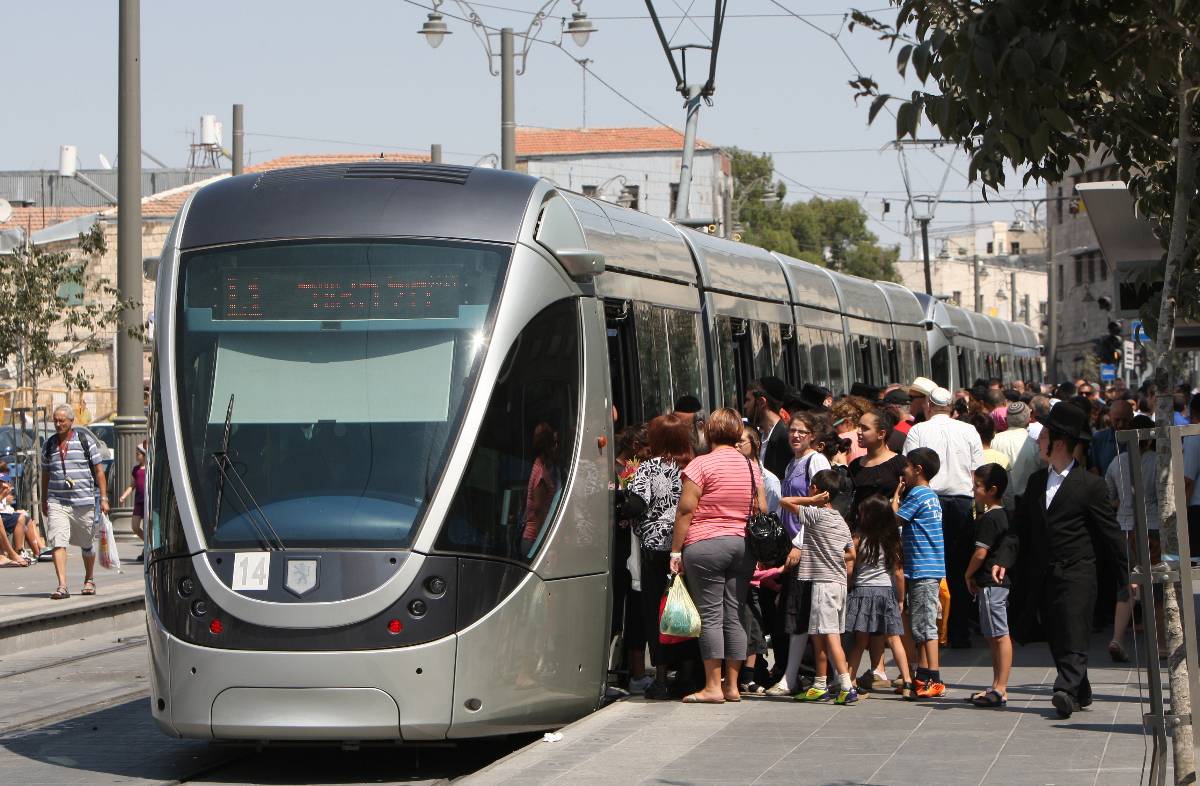 Israelis gather to board a train to enjoy Jerusalem's light rail system's first day of operation (Getty)
After years of delays, hundreds of millions of dollars in cost overruns and stiff political opposition, Jerusalem's ultra-modern light rail project was finally launched this past Friday in what transportation officials are calling "a dream come true".
Originally planned to embark on its debut journey in 2006, Jerusalem's grandiose light rail trains finally opened their doors for thousands of passengers anxious to experience the electric wonder.
"This is a new era for the public system", says Nadav Meroz of the Jerusalem Transportation Masterplan, a body established by city officials in an effort to put an end to major traffic backups across the dense city.
But with costs that escalated like a runaway train to an astounding price tag of $1.2 billion dollars– almost double the original estimate– not all are certain that this was money well spent. "The train has transformed from a mean's to an end to a goal of its own (one) that justifies all means and crushes everything on its way in order to produce fat profits to its planners", residents of one of the impacted neighbourhoods complained in a letter sent to local newspapers.
But transportation officials say otherwise. "This system is going to give service to the people of Jerusalem for decades now. So I believe it is worth it, of course", Meroz tells CNN.
Posted by: Guy Azriel
Filed under: Israel •Jerusalem •Palestinians
August 5, 2011
Posted: 1019 GMT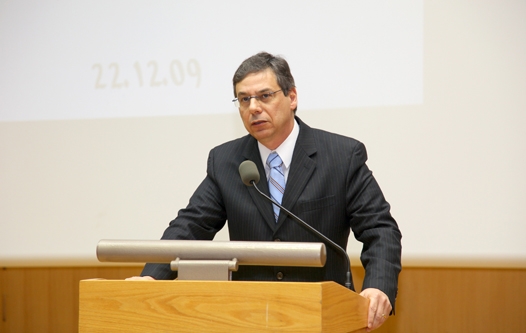 Deputy Foreign Minister Danny Ayalon speaks before a Knesset committee.
He is a vocal proponent of Israel's foreign policy and his no holds barred approach to diplomacy has bought him many critics, but love him or hate him, it is hard to ignore Israel's Deputy Foreign Minister Danny Ayalon.
With an extremely high-profile on the web,  Ayalon, a member of Avigdor Liberman's Yisrael Beiteinu nationalist political party and a former Israeli ambassador to United States , has been recognized by Foreign Policy Magazine as one of the leading politicians around the globe utilizing social media.
Whether spending his time tweeting in 3 different languages, openly voicing personal opinions on his Facebook  wall, making new friends on Google+ or posting videos and publications on his slick website , Ayalon has earned himself thousands of followers around the globe.
Ayalon's most recent and controversial social media venture is a new YouTube video  titled "Israel Palestinian Conflict: The Truth about the West Bank" in which he attempts to poke holes in what he says are some common misconceptions regarding the Israeli occupation of Palestinian lands and vigorously advocates Jewish presence in them. The video has drawn some quarter of a million views and not surprisingly has attracted a mix of comments of condemnation and praise.
Posted by: Guy Azriel
Filed under: Israel •Palestinians •Social Media
October 30, 2010
Posted: 1452 GMT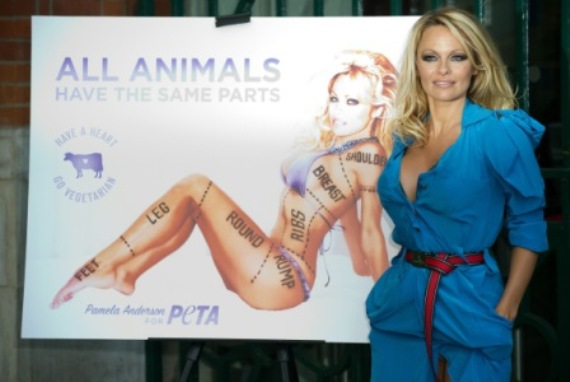 Pamela Anderson poses during the unveiling of a new People for the Ethical Treatment of Animals (PETA) poster in London. (Getty Images)
Former "Baywatch" star and Playboy cover girl Pamela Anderson is now involved in…Israeli politics.
Israeli Daily newspaper Yediot Aronoth reported this week that a letter written by the Hollywood star and noted animal rights activist was received at the office of Israel's Minister of Religious Services, Ya'akov Margi,  of the religious  political party of Shas.
Anderson, who is due to visit Israel in a few weeks to make a guest appearance in the Israeli version of popular TV show "Dancing with the Stars",  asked the minister to support a ground-breaking  bill that would ban the use of animal fur for the making of clothes, hats and other products in the Jewish State.
"I urge you to support this historic bill and speak up for the millions of animals who are bludgeoned, electrocuted, and skinned alive for their pelts each year" beseeched Anderson in her letter.
She also implored him to watch a graphic video from the People for the Ethical Treatment of Animals.
No word on the minister's response to the Hollywood starlet but according to the report, the minister has asked for the bill to be re-examined  due to the fact that many ultra-orthodox Jews living in Israel traditionally choose to cover their heads with large hats made of sable tails.
The distinctive head covering, called the streimel,  is worn by male adherents of various Jewish sects and is usually donned on the sabbath or high holidays.
While the market for the hats is small the price tags are not – milliners can fetch up to $5000 per streimel.
The sable covered hat is believed to have originated some 500 years ago in Russia after a government decree that all Jews identify themselves by attaching an animal's tail to their skull caps. What began as a humiliation eventually turned into accepted fashion spreading throughout the Jewish communities in Europe.
Posted by: Guy Azriel
Filed under: Israel •Judaism
October 29, 2010
Posted: 1726 GMT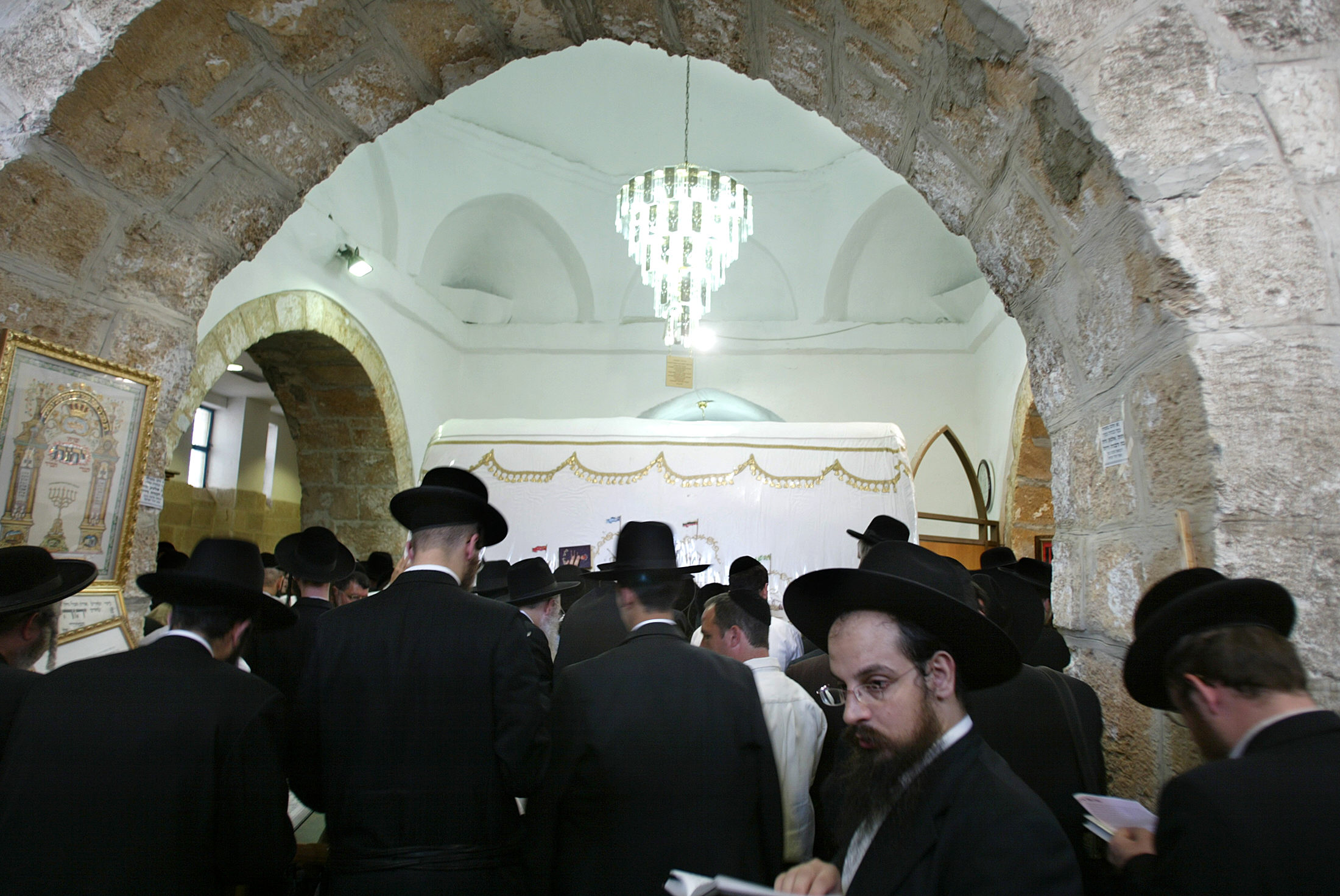 Ultra-Orthodox Jews praying at Rachel's tomb (Getty Images).
A UN agency's decision to identify a Jewish holy site in the West Bank as a mosque  and define it and another shrine as Palestinian has prompted cries of bias and distortion from Israel.
"The attempt to separate the nation of Israel from its cultural heritage is absurd," said Israeli prime minister Benjamin Netanyahu in a statement released Friday.
"It is unfortunate that an organization that was established with the goal of promoting the cultural preservation of historical sites around the world, is attempting due to political reasons to uproot the connection between the nation of Israel and its cultural heritage."
The harsh words stem from a decision earlier in the week by the executive board of UNESCO, the United Nations Educational, Scientific and Cultural Organization, which read:
"The Palestinian sites of al-Haram, al-Ibrahimi/Tomb of the Patriarchs in al-Khalil/Hebron and the Bilal bin Rabah Mosque/Rachel's Tomb in Bethlehem: the Board voted 44 to one (12 abstentions) to reaffirm that the two sites are an integral part of the occupied Palestinian Territories and that any unilateral action by the Israeli authorities is to be considered a violation of international law..."
It was, according to UNESCO spokeswoman Susan Williams, the first time the U.N. agency's executive board had referred to the religious site in Bethlehem as a mosque . The one vote against came from the United States.
Posted by: Guy Azriel
Filed under: General •Islam •Israel •Judaism •Palestinians •Religion •United Nations •West Bank