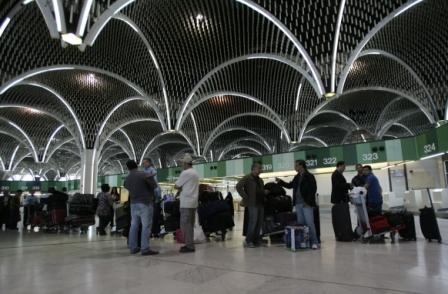 Passengers wait at ticket counter at Baghdad International Airport (Getty Images )
It's really impressive to look up at the flight board at Baghdad International Airport these days – Abu Dhabi, Amman, Beirut, Istanbul, Cairo, Tehran are a few of the available daily trips.
I remember the days when commercial flights were limited to the one or two Royal Jordanian ones that were usually overbooked and getting out on one of those was always an "inshalla" – "God willing" scenario.
I also remember the days when you would glance around the airport and your average passenger would be the tattooed private security guy , the journalist, or the Iraqi member of parliament who would spend more time in Amman than in Baghdad.
Today, it was a handful of the usual suspects and a different crowd -  mostly Iraqi refugees, families who have packed their lives into one suitcase per person and set off on their journey to new homes.
As I queued up to get a coffee, a young Iraqi man approached me – I had met him a few years ago through work, he is now a refugee.
He asked me if I was going to the US – he was, along with his family.
Where are you going I asked – "Indiana" he said with a bit of a confused look, like he was not sure if I had heard of it. I told him I had visited Indiana a few years ago; "is it nice?" he asked.. I said yes, but very cold in the winter, we both laughed– Iraqis are more immune to the scorching heat of their country, not the harsh winters of the Midwest.
Why are you leaving I asked – he smiled and said "why would I stay? ...What should I stay for?" a familiar answer I have been hearing a lot lately from Iraqi colleagues, friends and people we meet—it's also an answer that says it all and there was no reason to follow-up on that... I wished him luck as he walked away.
Posted by: CNN Producer, Jomana Karadsheh
Filed under: Christianity •Iraq •Islam