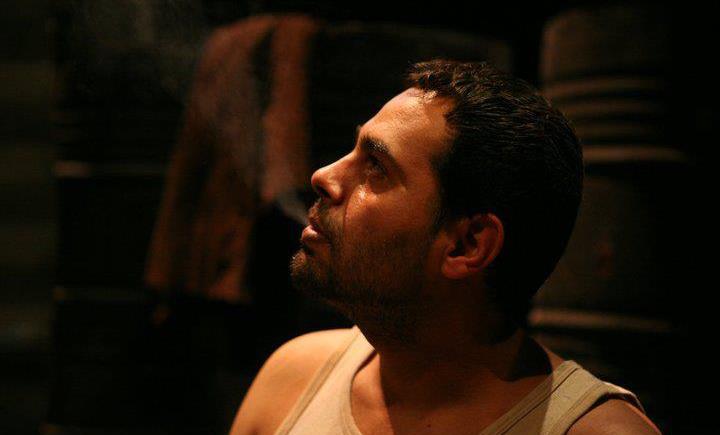 Imad Farajin on the set of Palestinian satire Watan Ala Watar (courtesy Iman Farajin)
This week a court in the West Bank City of Ramallah overturned a government ban on the broadcast of a highly popular Palestinian satirical television show called "Watan Ala Watar".
Described as a Palestinian version of the American show, "Saturday Night Live", "Watan Ala Watar" or "Nation on the Edge" served up a weekly offering of cutting political and social satire which spared no one in Palestinian society and angered more than a few in the Palestinian Authority.
Sketches on the shows routinely featured parodies of Palestinian political factions including Fatah and Hamas and offered send-ups of sensitive cultural issues like the enforcement of veils for women in Gaza.
Speaking to CNN about the show in 2009, writer and actor Imad Farajin said that when it came to subject matter there were no sacred cows.
"We talk about Abu Mazen, the Palestinian president, and for Arab people to talk about their president through comedy show is not easy, but we did it and I am proud of it," Farajin remarked
The program was pulled off the Palestinian Authority controlled television station in August during the heavy viewing period of Ramadan after a number of Palestinian officials complained that the show unfairly misrepresented them and did damage to their reputations.
Posted by: Kareem Khadder
Filed under: Culture •Fatah •Gaza •Hamas •Palestinians •West Bank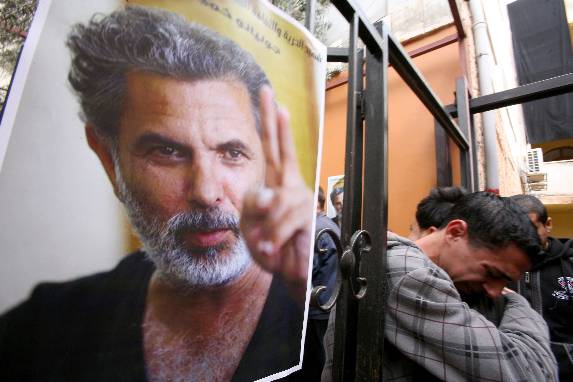 Palestinian youths mourn the death of Arab-Jewish actor and director Juliano Mer-Khamis (poster) outside The Freedom Theatre in Jenin refugee camp in the West Bank
Thousands gathered in the West Bank Tuesday in memorials for noted Israeli Palestinian actor, director, and political activist Juliano Mer-Khamis.
Mer-Khamis, 53, was gunned down Monday outside the Freedom Theatre in Jenin refugee camp – an institution he helped found to introduce Palestinian children to the performing arts.
His death at the hands of an unknown masked gunman, sent shock waves through Jenin and the artistic community in both the West Bank and Israel where his work in local theatre was well-known.
Born to an Israeli-Jewish mother and a Palestinian Christian father, Mer-Khamis believed theatre and music could be used to empower Palestinian children to fight against Israel's occupation of the West Bank.
The theatre opened its doors in 1988 in the middle of the first Palestinian intifada and amidst several closures, attacks, and robberies managed to stay in operation teaching thousands of Palestinians children.
In a 2008 video Mer-Khamis described the Freedom Theatre project as "a venue to join the Palestinian people for their struggle for their liberation"
"We believe that the third intifada, the coming intifada should be a cultural intifada with theatre, music, cameras and magazines." he said.
"We hope this theatre will generate a political artist movement of artists who will raise their voice against women discrimination, against children discrimination, against violence, unnecessary violence against civilians, to bring back a just cause – we are not terrorists. To me freedom is The Freedom Theatre"
Palestinian police say they have arrested several men in connection with the shooting but have not named a suspect.
The Palestinian Authority Prime Minister Salam Fayyad was quick to condemn Mer-Khamis's death saying "This despicable crime will not be tolerated under any circumstances; it constitutes a severe violation of our principles and values and goes against our peoples' morals and beliefs in co-existence."
Mer-Khamis is survived by his wife and two children from a previous marriage.
In a testimonial to their former mentor a group of current Freedom Theatre students wrote "your children are going to stay, following your path on the way to the freedom battle, and we will go on with your revolution's promise, the Jasmine revolution."
Posted by: Kareem Khadder
Filed under: Culture •Hamas •Israel •Palestinians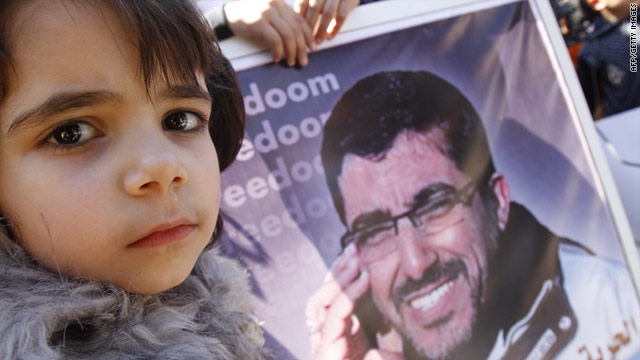 Palestinian relatives of Dirar Abu Sisi attend a Gaza demonstration calling for his release from an Israeli jail on Tuesday.
Jerusalem (CNN) - In the latest chapter of an unfolding story that reads like a spy thriller, a Palestinian engineer who was allegedly abducted by Israeli intelligence services in the Ukraine over a month ago will be kept in custody for at least another week after an Israeli court ruling.
After being held for over 30 days in an Israeli jail under mysterious circumstances, Dirar Abu Sisi's incarceration will last at least one more week after a judge in a Petach Tikvah court Thursday granted an Israeli government request to keep Abu Sisi behind bars in order for the state to produce evidence against him.
"This request means that Israel does not have, even after 34 days of interrogation, sufficient evidence to indict Dirar Abu Sisi with any offense under Israeli law and under these circumstances we argue that he should be released, " Abu Sisi's attorney Smadar Ben-Natan told CNN following his court appearance.
Read the rest here
Posted by: Dan Morgan, Kareem Khadder
Filed under: Gaza •Hamas •Israel •Palestinians