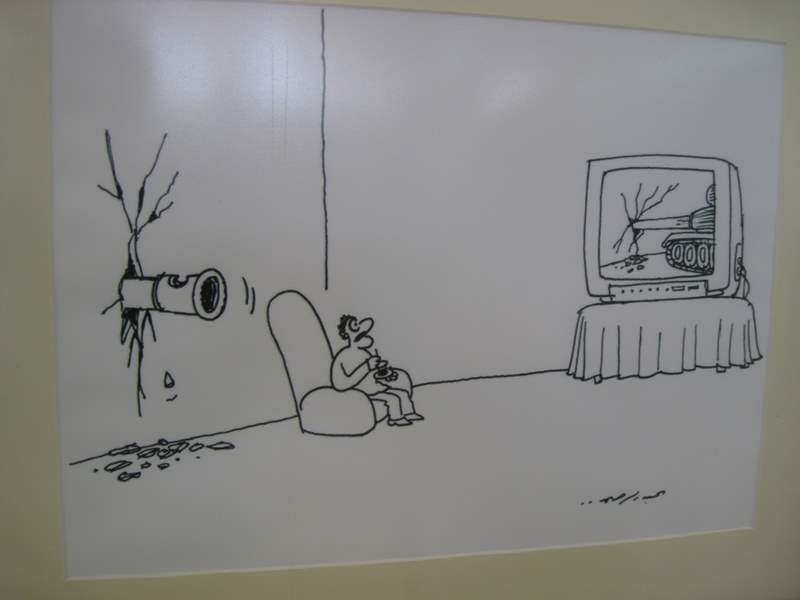 Iraqi political cartoon (CNN/Mohammed Tawfeeq)
When I first met Abdulrahim Yasser, one of Iraq's most influential and respected caricature artists, he told me why he decided to help organize and participate in an exhibition highlighting some of Iraq's best political cartoons and cartoonists.
"I'm trying with all my might to encourage a discussion," said Yasser at the event's opening at a Baghdad gallery.  "This exhibition is a discussion with others, it's a discussion with the Republic, a discussion with those paying attention."
The show is the biggest one of its kind ever to have been put on in Iraq, and many spectators excitedly explained to me why it was so significant.
"This event is important because it talks about Iraq," explained Ali Adel.  "About things in Iraq and issues facing Iraq."
Indeed, the artwork lining the walls depicts so much of what Iraq has been grappling with – everything from the futility of politics to the absurdity of war.  Many attendees continued to remind me how a showcase like this wouldn't have been possible during Saddam Hussein's rule, that the existence of such an exhibit is a testament to the freedom of expression that they told me now exists in this country.
Posted by: CNN Correspondent, Mohammed Jamjoom
Filed under: General •Iraq
The Gulf has one of the fastest-growing and youngest populations in the world. Its countries are also among the top spenders on education, according to an Economist Intelligence Unit report – "The GCC in 2020: The Gulf and its People."
The report highlights a problem that Gulf Countries are acutely aware of: "Rapid population growth will ... create a large pool of labour that may be difficult to absorb into the private sector, owing to mismatches not only of skills, but also of expectations of wages and working conditions. Ongoing education reforms will help, but will not solve these mismatches within the next 10 years."
The Education Project conference in Bahrain sought to address those challenge and others. Bahrain, unlike its wealthier neighbours, is not awash with gas and oil. It knows its future lies in its ability to transition to a post-oil economy. Education will be, participants said,  essential to increase economic diversification and national growth.
CNN's Mohammed Jamjoom moderated the opening debate "What does it mean to be an educated adult in today's knowledge economy?"
Posted by: CNN Correspondent, Mohammed Jamjoom
Filed under: Bahrain •Inside The Middle East
From CNN's Mohammed Jamjoom
Upon arriving at the Yemen Music House, I was completely surprised. From pianos to guitars, mixing boards to sound booths, everything's available to the aspiring Yemeni musicians who come to this music school and studio. In this deeply conservative country, it's a haven – not only can women and men sit together here, they can play together too.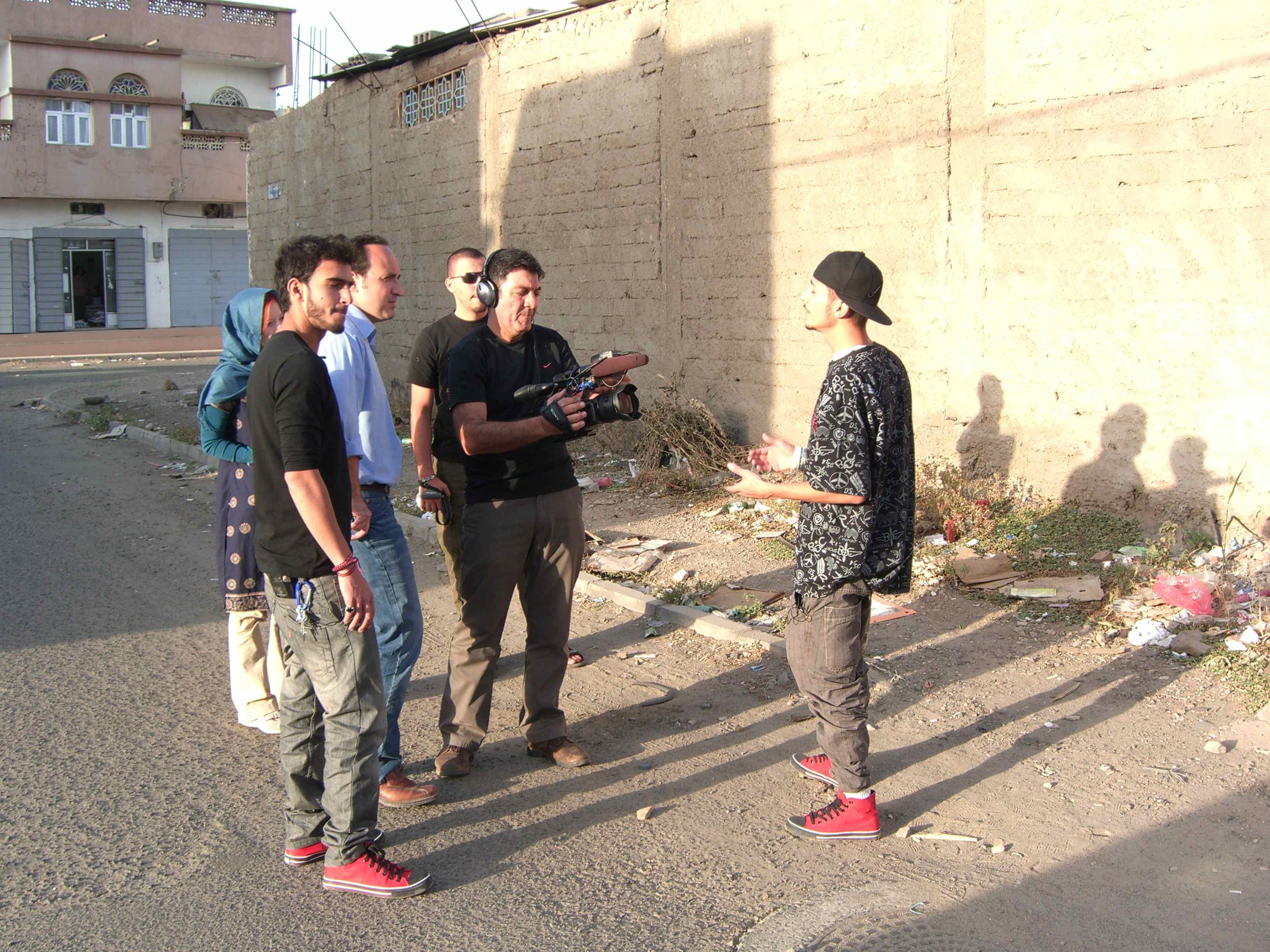 Photo CNN/Dane Kenny. Mohammed Jamjoom, producer Gena Somra and cameraman Farhad Shadravan interviewing rapper/producer Nadeem. Also in the picture is rapper Ziad.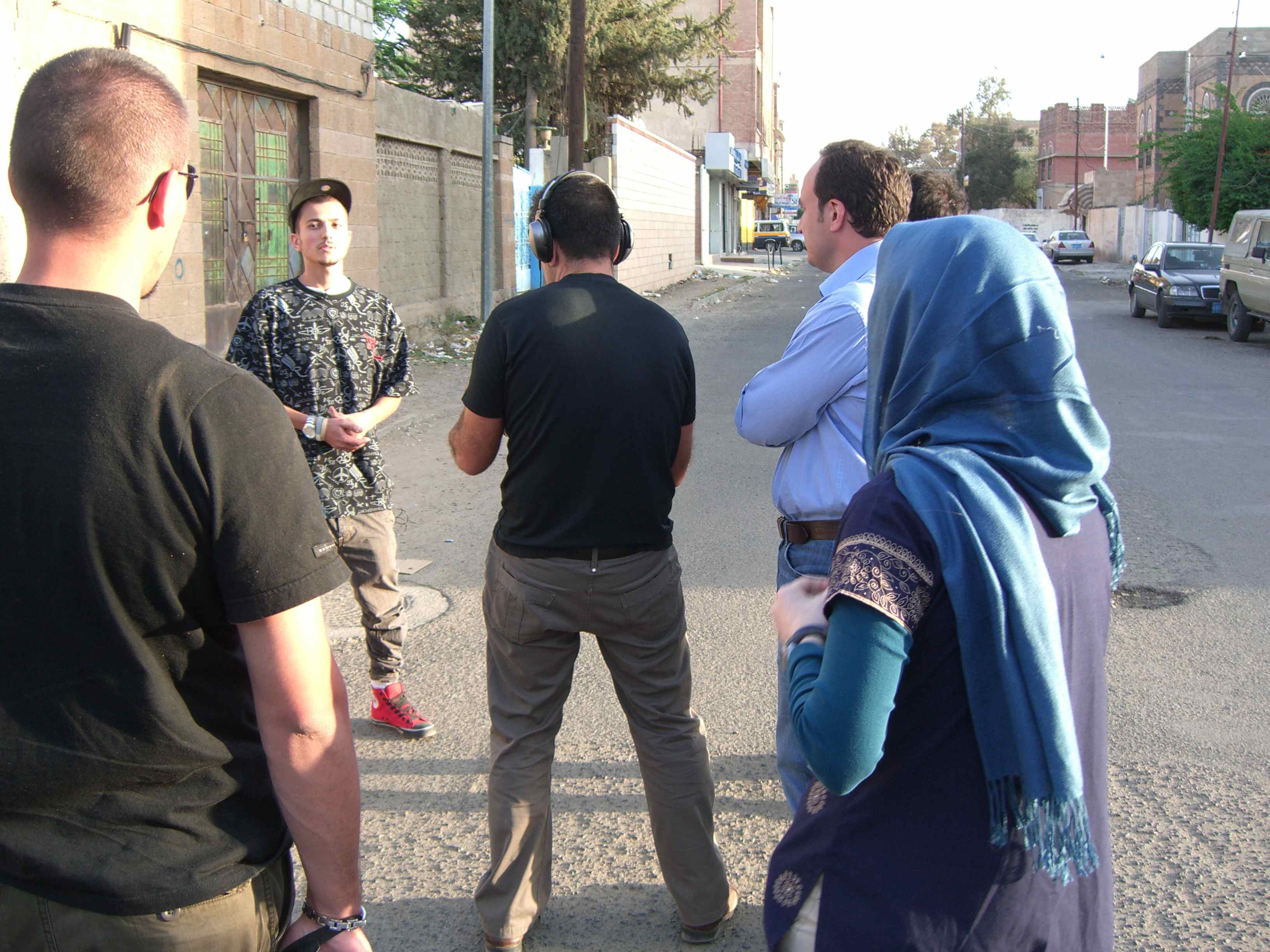 Photo CNN/Dane Kenny. Nadeem, who is half-Yemeni and half-Russian, says there's a misconception among Yemenis that hip hop is only drugs, naked women and saggy pants.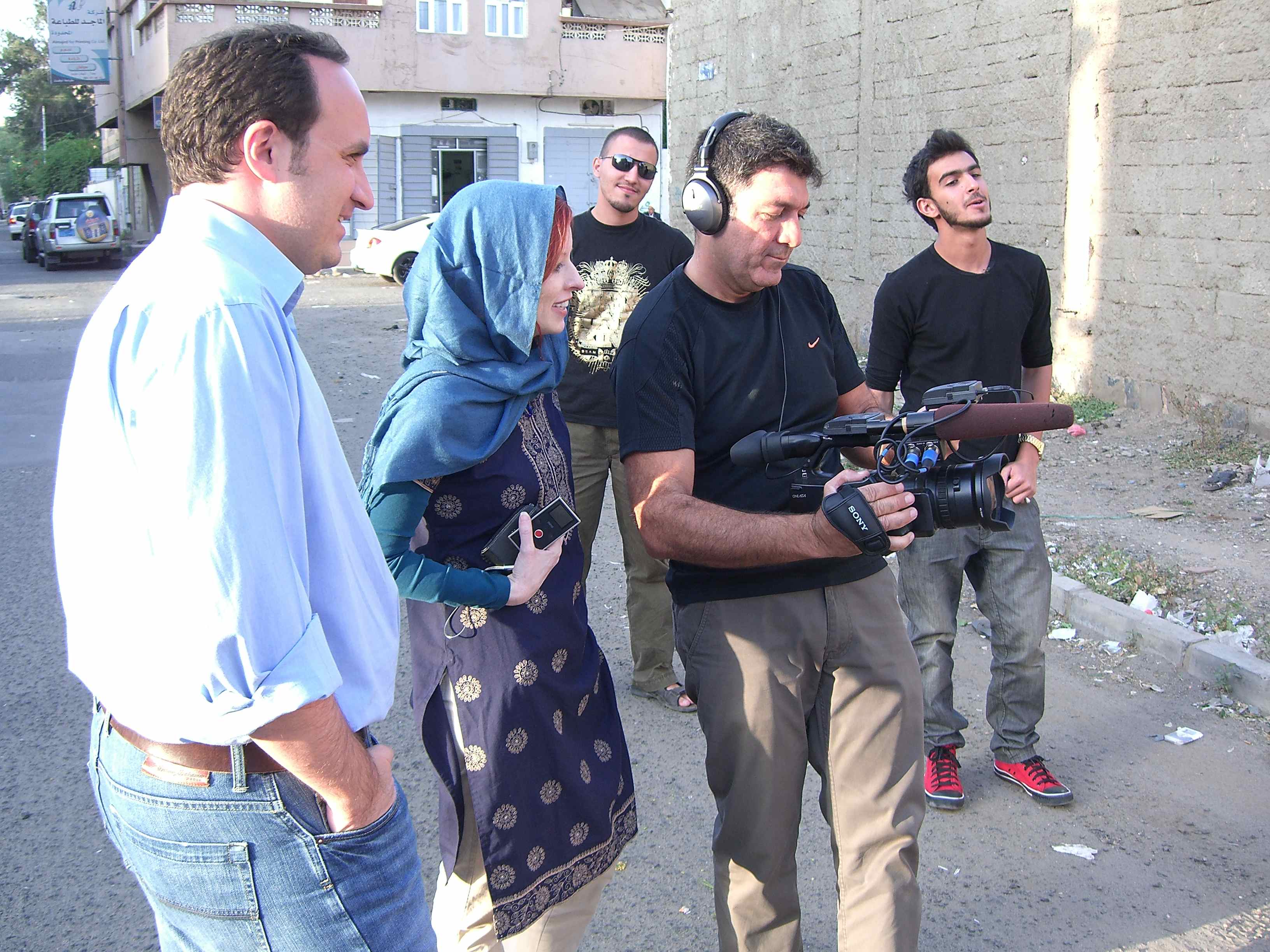 Photo CNN/Dane Kenny. Mohammed, Farhad and Gena shooting outside the Yemen Music House that houses a recording studio.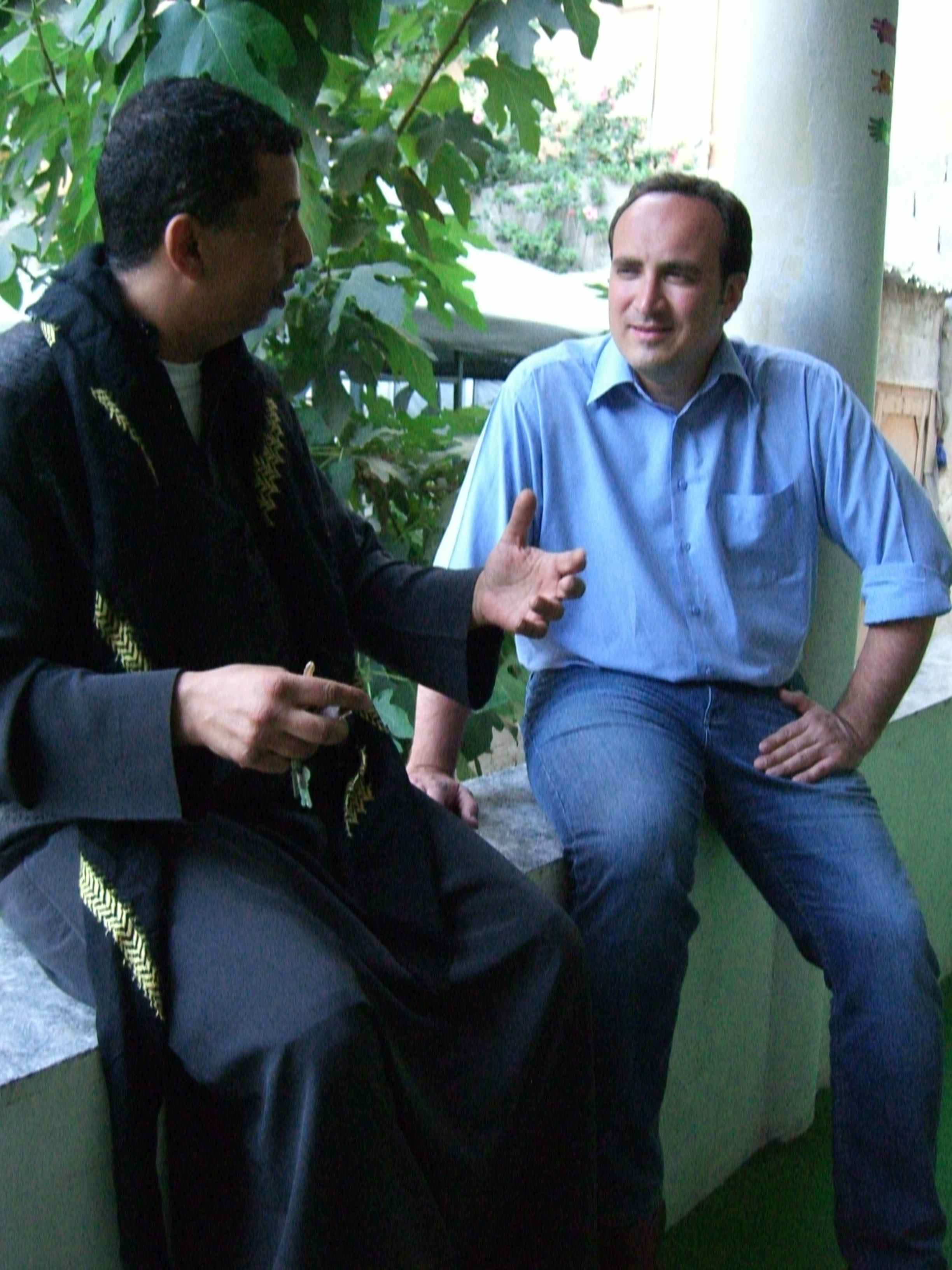 Photo CNN/Dane Kenny. Mohammed Jamjoom talking to rapper AJ, the self-styled Godfather of Yemeni Hip Hop.
And then there was the rapper. The one who had what I can only describe as Sana'a Swagger.
AJ is considered Yemen's godfather of rap. This Yemeni-American fell in love with and started performing hip hop while growing up in the US. When he moved back to Yemen, he wanted, more than anything, to start a movement. But it wasn't easy.
"When I first came here," AJ told me, "it was kind of awkward, cause I see they have 2Pac in these stores and they have all these people doing gangsta rap and cursing and they're selling it. But here I am and I come and all of a sudden they want to censor what I have to say. You know, but I know that this is just part of Yemen. TIY – This Is Yemen, you know, you have to roll with the punches."
AJ encountered many Yemenis who thought only negatively about hip hop. The complaints he heard most often?
"All their sagging with their jeans, it's half way down their butt," AJ said to me in a voice mimicking his early detractors.
But there was more: "You know they're gonna have shows with girls and guys and they're gonna do drugs and drink and they're gonna curse."
AJ was getting tired of trying to counter the misconceptions when he first discovered how to win over locals. Utilizing traditional Yemeni melodies and instruments in his songs is what did it.
"I had a lot of success with incorporating mismar (a wind instrument) in one of my first songs that was very popular," said AJ, "because I figured, the mismar is used at weddings and celebrations, and it's sort of like the pied piper. Once you hear it, you have to come out and see what's going on … And so, I figured, if that works, let me try it with the oud, let me try it with the flute … So far, I've been very fortunate."
Then he realized he'd have to refine his message, and more specifically, his lyrics. According to AJ, Yemeni audiences pay attention to more than just the beat, they scrutinize the words. "They're really listening," AJ told me, "So if you're saying something, you have to really say something."
AJ started writing and rapping about more homegrown issues, like chewing qat and combating terrorism. And in a country with a growing threat from Al-Qaeda and a staggering amount of poverty, he started to feel a responsibility to the next generation.
"I figure 65% of Yemen is under 30," AJ explained to me, "A lot of the bad things that go on, they use people that are young, insecure, uneducated, and they'll fill their heads with a lot of nonsense, and some poor kid is out there blowing himself up. Why? Because he doesn't have anywhere to turn – no one else to turn to."
Which is why AJ considers the Yemen Music House so important – more than a home base for his country's aspiring rappers, it's a place where he can mentor, they can learn – and all of them can rap.
Tune into Inside the Middle East premiering tomorrow to watch Mohammed's full story.
Posted by: IME Producer, Mohammed Jamjoom
Filed under: Culture •Yemen
CNN correspondent Mohammed Jamjoom sent us the following photos of the CNN team at work in Yemen. Along with producer Gena Somra and photo-journalist Farhad Shadravan, Mohammed filed this report on the city of Shibam, aka "the Manhattan of the desert" where stories-high and centuries old mud skyscrapers create an urban skyline in a remote walled city. The site is one of Yemen's treasures, but since a 2009 attack on tourists, visitors have stopped coming and the residents of Shibam are finding it hard to get by. 
Posted by: CNN Correspondent, Mohammed Jamjoom
Filed under: Culture •General •Yemen
Here a report from our Abu Dhabi based reporter Mohammed Jamjoom who reports from Tarim in Yemen's spiritual heartland. Steeped in history, the town is believed to have more descendants of the Prophet Mohammed than anywhere else in the world. Its also the ancestral home of Osama Bin Laden's father. Tucked away in self-isolation from the watchful eye of the world, people come from all over the world to study an extremely conservative approach to the Islamic faith, but caution their conservatism should not be mistaken for extremism. Students say on the contrary, the draw of Tarim, is its purity of study, and the peaceful simplicity of life.
Posted by: CNN Correspondent, Mohammed Jamjoom
Filed under: Culture •General •Islam •Religion •Video •Yemen