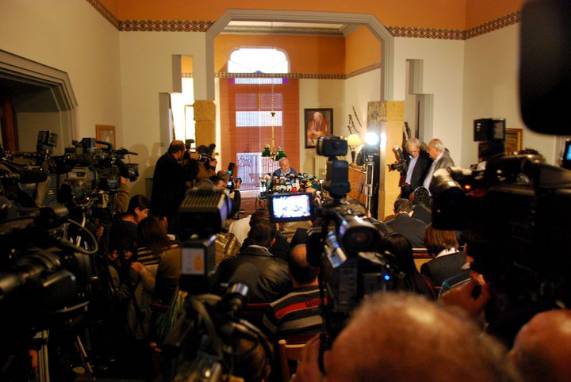 Walid Jumblatt speaks to reporters in Lebanon (CNN/Todd Baxter)
Despite his height, as he sits down he almost disappears behind the pyramid of microphones piled up on the tiny desk in front of him. It would almost be comical but for the importance of the moment.
He's been here before. Forced to pick sides in the interests of national unity. He wears the patience of a man all too familiar with what he must do.
CNN's Nic Robertson was one of more than 100 journalists in Beirut who found that waiting for Walid Jumblatt was more than just another moment in the rich mosaic of Middle East politics.
Posted by: CNN Senior International Correspondent, Nic Robertson
Filed under: General •Lebanon
Driving out of Amman at first light is always an inspiring experience. This morning was no different.
The first flush of mellow amber light awakening fresh life in the sandstone hues of this ancient city. The early hazy dust taking the edge off the seemingly endless urban sprawl of low-cost concrete apartments.
But my focus was already beyond the steep hardscrabble hills flashing past the windows. My thoughts lay about two hundred kilometers further up the road, in Damascus.
Jordanian producer Ranya Khadri had connected me to Khaled Meshaal, the political chief of Hamas. I'd interviewed him three years ago, but now peace talks with Hamas excluded were underway seemed the right time to talk again.
Ranya called Meshaal's office in Damascus. They wanted to know who would be coming, what we would ask. Two days later, we had a green light for the interview. That was Wednesday.
Now came the hard part, getting Syrian visas for camerawoman Mary Rogers and me. Typically they can take weeks, and, to be newsworthy, we needed the interview by Saturday at the latest.
As Mary and I sat nervously waiting in Ranya's apartment Friday, the visas finally came through, almost literally at the eleventh hour. So close to midnight, we decided it would be better to grab a few hours sleep and set off early Saturday.
It was to prove the right decision. As I focused ahead, bumping down the highway out of Amman, imagining I'd soon be interviewing the man the United States and Israel call a terrorist leader, I had overlooked one not so small detail.
Crossing in to Syria by road is not like landing at Damascus airport. Sure, you get the same scrutiny and brief holdups at immigration while they search for the telex confirming your visa, but any sense of a speedy process, with new arrivals to be quickly turned loose in the country, seems lost.
Parked up by the border in the now baking sun, time was standing still. Hour upon hour we waited for our camera gear to be checked. We'd faxed the list ahead but it was making little difference. Time was ticking down, no officials seemed to share our sense of urgency, we couldn't afford to be late.

The only sign of change the years had brought to the stifling customs hall were layers of dust and bureaucracy and we were caught in the middle. Stuck between customs agents and a myriad of intelligence officials. It was a suffocating feeling. We'd come so far, but every hour pushed the interview potentially further out of our grasp.
Finally it came down to one man. An official from two-one-one, military intelligence. He would have to look at our gear and say it was safe to bring in to the country.
After hauling the equipment out for inspection and more than 4 hours at the border we were finally on our way. The man from two-one-one had told us he'd come to our hotel and check the gear once we arrived.
After all the lost time it seemed odd he'd let us drive across country before looking at it. But this was Syria and we were playing by their rules. Our goal was that one interview, nothing else.
The man from two-one-one had barely finished checking the gear and Meshaal's men were knocking on Mary's door. They wanted our gear too, only they were going to take it away, along with our passports.
I've been through less strict US presidential security before, they'll let you bring your gear with you, check it out while you watch. Hamas it seemed were working to a higher standard. But at least now it felt that we would finally meet Meshaal.
Mary, who's been doing this longer than me, was yet to be convinced. Two years ago she told me she'd been through the same drill, even set up her camera for the interview only to be told he couldn't make it.
Meshaal has every reason to be cautious, a little more than a decade ago Israeli Mossad agents tried to kill him. The poison they used was so strong a backup team carried an antidote. The King of Jordan threatened Israeli Prime Minister Binyamin Netanyahu he'd break off relations if Meshaal, who was dying on a hospital gurney in Amman, was not saved.
Security was clearly on the minds of Meshaal's men who picked us up from the hotel. It was dark but Damascus's twisting thoroughfares still crowded with buses and post rush our traffic. They squeezed through impossible gaps at improbable speeds.
When a space tightened too far, they worked their siren. The Syrians only too happy to move from their careening path. On the final turn, I recognized the tree-lined street, it had been fast but I'd felt safe and now we were here.
As Meshaal strode in to the room, his staff all stood up. There is no question who is boss, no question whom they look to for leadership
Precisely 13 years to the day since the Israeli agents had tried to kill him, we were finally meeting Meshaal.
Posted by: CNN Correspondent, Nic Robertson
Filed under: Hamas •Israel •Palestinians
*CNN's Sr. Int'l. Correspondent,  Nic Robertson, filed this report describing  the frenzied mechanics of chasing a big Middle Eastern news story*
As we dashed to Abu Dhabi's International Airport last Tuesday evening we knew we had only a slim chance of catching up with Sarah Shourd.
We were frantically booking flights to Muscat and she was already in the air on a two and a half hour flight to freedom from a Tehran jail.
Sarah had probably reached cruising altitude, Tehran fading beneath the Royal Oman jet the Sultan had sent for her and we'd just got our tickets. But the race wasn't over. Just as we were heading for security we discovered an earlier flight, and after a crazy and slightly undignified dash to another terminal we took our seats on a BA 777 as the doors were closing.
It was exactly the kind of adrenalin pumping journalism that this profession pitches you in to without warning. We had one goal: talk to Sarah.
We touched down almost simultaneously with her flight. She was getting the Royal treatment, red carpet, VIP lounge, we were struggling to confirm she'd made it.
We hung around in international limbo, afraid to go through immigration for fear Sarah would take another flight to the US. By now we were booked on every flight leaving Muscat for the next five hours.
We stalked the transit halls and lounges scouring for a glimmer of her entourage. Our producer Raja Razek had worked her magic and found a source who was searching passenger manifests for us. But no sign of Sarah. Read the rest of this entry »
Posted by: CNN Correspondent, Nic Robertson
Filed under: CNN Coverage •Oman