October 15, 2010
Posted: 1516 GMT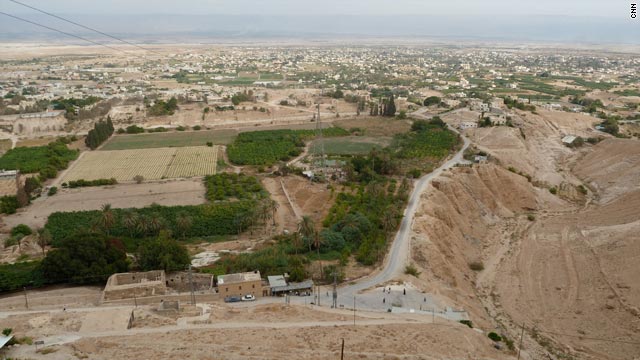 A view of the West Bank city of Jericho.
Editor's note: For more on this story tune in to the next Inside the Middle East show on Wednesday 3 November. Go to the showpage for more detailed showtimes.
Everyone loves a good birthday party until they reach an age when they'd rather forget.   For the West Bank city of Jericho it's a birthday to be proud of, a milestone no other city in the world has celebrated - 10,000 years .
It's believed to be the longest continually inhabited place on earth and it's one of the lowest on earth, skirted by the Dead Sea and the Jordan Valley.
A treat for any historian no matter how amateur, the city boasts one of the first examples of a man-made stone tower …  discovered by a British archeologist in the 1950s, dating back to around 8000 B.C., although its use - whether for religion or security - is unknown.
An eight-meter tower with the world's oldest known staircase descends from the top - 22 steep, well-worn steps to a tunnel below.
A cable car, opened in 1999, makes quick work of the journey to the summit of the Mount of Temptation, where Jesus is said to have spent 40 days and nights fasting and meditating, resisting the temptations of Satan.
Jericho is already popular for a West Bank city.  The tourism ministry tells CNN one million foreign tourists come every year, as well as 500,000 local visitors.  Only Bethlehem attracts more in the West Bank.
But by celebrating Jericho's incredible birthday, Palestinian officials are hoping to attract many more.  Palestinian Prime Minister Salam Fayyad tells us, "We've been around a long time and we intend to do the best we can to stick around until we can live as free people in a country of our own."
Mr Fayyad was front and center at the birthday celebrations, visiting one of the largest mosaics in the Middle East, unveiled for the occasion.  A 900-square-meter mosaic that is 1,200 years old, and covered by sand and canvas since the 1930s to protect it.
The PM opened a new road named after the late Mahmoud Darwish - considered the Palestinian national poet.  And Mr Fayyad was the first to use a brand new postage stamp designed specifically for Jericho 10,000.
A marathon, open air concert and many other projects contributed to the occasion, although for such a momentous  age, few tourists came.
Khloud Daibes, Palestinian tourism minister said, "Palestine as a destination is a very challenging one … we're using this occasion to draw attention to the fact it is an exciting destination."
Posted by: CNN Correspondent, Paula Hancocks
Filed under: Archaeology •Culture •Inside The Middle East •Jerusalem •Palestinians •West Bank
October 6, 2010
Posted: 2023 GMT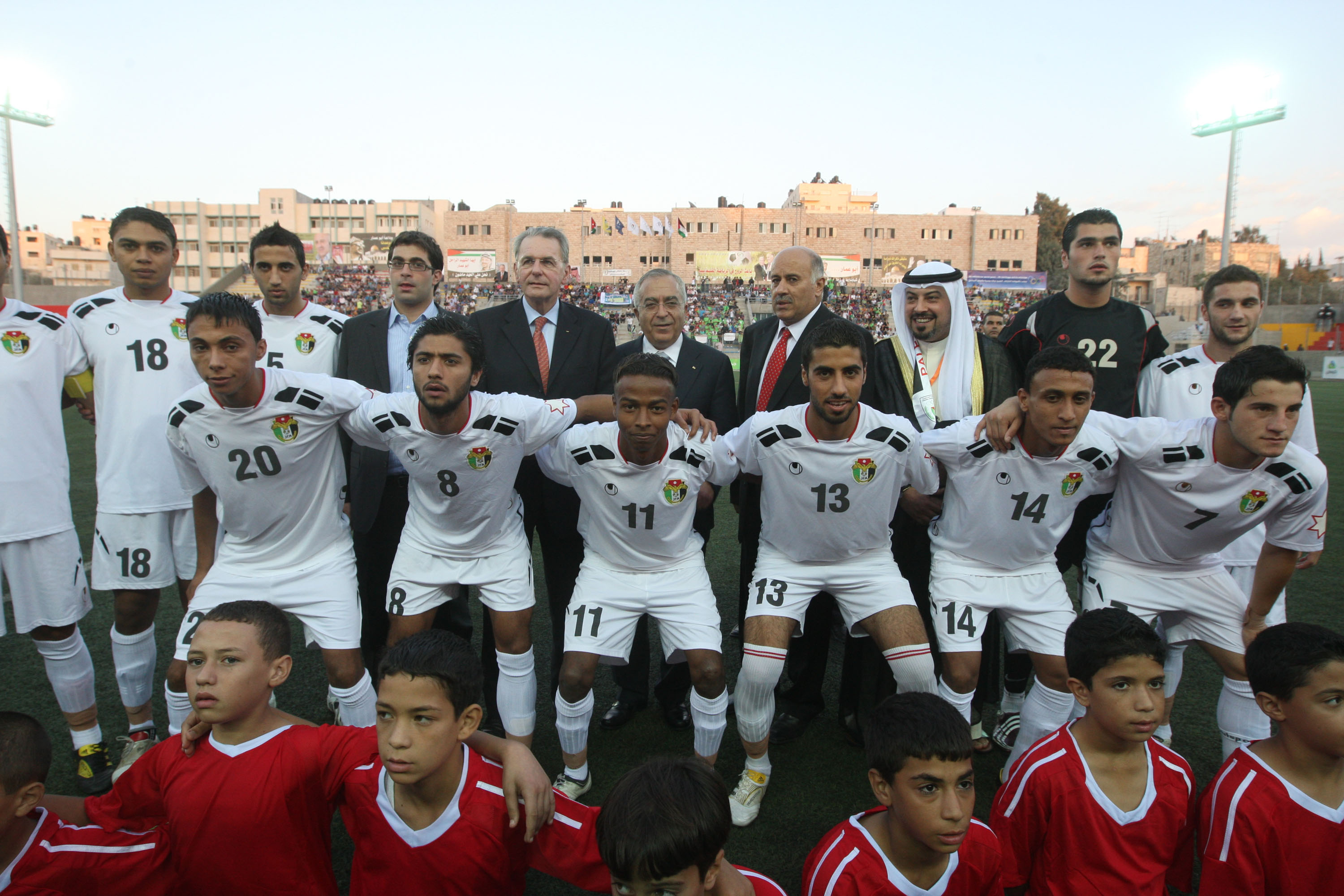 IOC Chief Jacques Rogge and Palestinian Authority Prime Minister Salam Fayyad at West Bank football match (Mustafa Abu Dayeh/Palestinian Authority PM Office)
I asked the Palestinian Prime Minister Salam Fayyad how it felt to be cheered by thousands of Palestinians while showing off his football skills at al-Ram stadium north of Jerusalem.
The reply… "Wonderful.  Just wonderful.  We should be the ones playing with the players watching."
 The "we" refers to him and Jacques Rogge, head of the International Olympics Committee on a whirlwind tour of Jordan, the West Bank and Israel.        
They were all suited and booted but from afar their skills looked pretty good.  But you should take into account I only attended my first football match two years ago – again here at Ram stadium, to watch the first ever Palestinian home match on Palestinian soil.
The IOC visit was high-profile and much welcomed by the leadership and fans alike.  The hope is Rogge can bring pressure on the Israeli authorities, who he is also talking to, to allow more freedom of movement for the athletes to attend competitions overseas.
Rogge has invited both sides to a sporting summit in Lausanne, Switzerland, the IOC headquarters to try to improve the status quo.  He told me he himself cannot be political but sport itself has the power of persuasion.
"Sport is a universal language, everyone understands a sports result around the world, the rules of sport are the same in every country in the world and sport brings people together irrespective of their ethnic origin, their culture, their language, their creed, so that's the value and strength of sport."
Posted by: CNN Correspondent, Paula Hancocks
Filed under: Israel •Palestinians •Sports •West Bank
September 26, 2010
Posted: 1148 GMT
Hanan Sufan welcomes us into her house with open arms. A resident of the West Bank village of Burin, she is accustomed to visitors. Over the years she has welcomed journalists, human rights groups, representatives from the Palestinian Authority and the Israeli military.

All said they would help and all documented her plight. Yet ten years on, she still lives in daily fear of attacks from the nearby Israeli settlement of Yitzhar, a settlement considered radical by many mainstream Israelis.
Her home is nestled in the hills of the West Bank, away from the village. A spot which would have been envied before the settlement arrived. Now it makes her target number one for violent settlers who throw stones at her house and family and even set fire to the house in 2003.
Her daughter has captured many attacks on a video camera given to her by Israeli human rights group B'Tselem.
While sitting with the family, sipping the customary arabic coffee, it's hard not to notice the iron gratings that cover every window – we're told to prevent rocks and Molotov cocktails from flying inside the house. Barbed wire covers the top of the railings around the house to try and prevent people jumping over and there's a bed on the roof. When I ask why, Sufan tells me it's for her son who stays the night outside to listen out for an imminent attack.
Sufan tells me her husband died of a stroke in 2003 after seeing the house set on fire by settlers. Even now, she breaks down when she talks about him, saying she wishes she'd lost the house rather than her husband. She calls him the backbone of the family.
Without that backbone Sufan has taken over the role of head of the family and everyone looks to her for guidance. Her two year old grandson Wadee' becomes distressed when she walks away, preferring to stay within a few meters.
We tried to speak to the settlement spokesman to ask what they are doing to try to stop this persistent violence against the family and the village as a whole, but he declined to comment, citing the Jewish holidays.
It's no way for a family to live. Never leaving the house unattended for fear of settlers moving in. Never allowing the few sheep they have to roam the land for fear of them being poisoned – Sufan tells me 20 of her sheep were poisoned, now they are all kept in the backyard.
Only walking up the hill towards the edge of the settlement to tend her olive trees when her son and many villagers are with her. She says she feels safe with us when we accompany her there as we have a camera and she thinks that will prevent any violence. Mourning 23 olive trees the settlers chopped down in January, she says she felt like she was losing a child as she had tended them so carefully for thirty or forty years.
And repeating her story time and time again to people who want to help but somehow fail to make a difference.
Posted by: CNN Correspondent, Paula Hancocks
Filed under: Israel •Palestinians
August 30, 2010
Posted: 652 GMT
Shocking words have come from the spiritual leader of Israel's ultra-orthodox political party, Shas. Rabbi Ovadia Yosef denounced the upcoming direct talks between Israelis and Palestinians in Washington this week and was quoted by Israel Army Radio as saying of the Palestinian President, "Abu Mazen and all these evil people should perish from this world... God should strike them with a plague, them and these Palestinians."
Instant condemnation of his weekly sermon came from the Palestinian government. Chief Palestinian negotiator Saeb Erekat called it incitement, saying in a statement: "The spirtual leader of Shas is literally calling for a genocide against Palestinians," adding that, "He is particularly calling for the assassination of President Abbas (Abu Mazen) who within a few days will be sitting face to face with Prime Minister Netanyahu. Is this how the Israeli government prepares its public for a peace agreement?"
The Shas party is part of Netanyahu's coalition and has issued no official statement. Netanyahu's office issued this statement: "These things do not reflect PM Netanyahu's approach nor that of the Israeli government. Israel comes to the negotiations with a will to advance towards an agreement that would put an end to the conflict and guarantee peace, security and good neighboring relations between the two nations."
In his weekly cabinet meeting, Netanyahu said he is aware of the difficulties of the upcoming direct talks, but the Israeli side is willing to advance towards peace.
Ahmed Tibi, an Arab Israeli and deputy speaker of the Israeli parliament says: "The Rabbi... has long been the leader of the unjust and evil, he speaks from hatred and calls for murder and death and this is a far cry from the values held by all heavenly religions."
This is not the first time the Shas spiritual leader has caused controversy with his sermons. Israeli media says in 2001 he called the Palestinians "evil and damnable" adding: "You must send missiles to them and annihilate them."
There's been widespread condemnation of the comments across the Arab media - coming just three days before the Israeli and Palestinian leaders meet to talk peace.
Posted by: CNN Correspondent, Paula Hancocks
Filed under: Israel •Palestinians