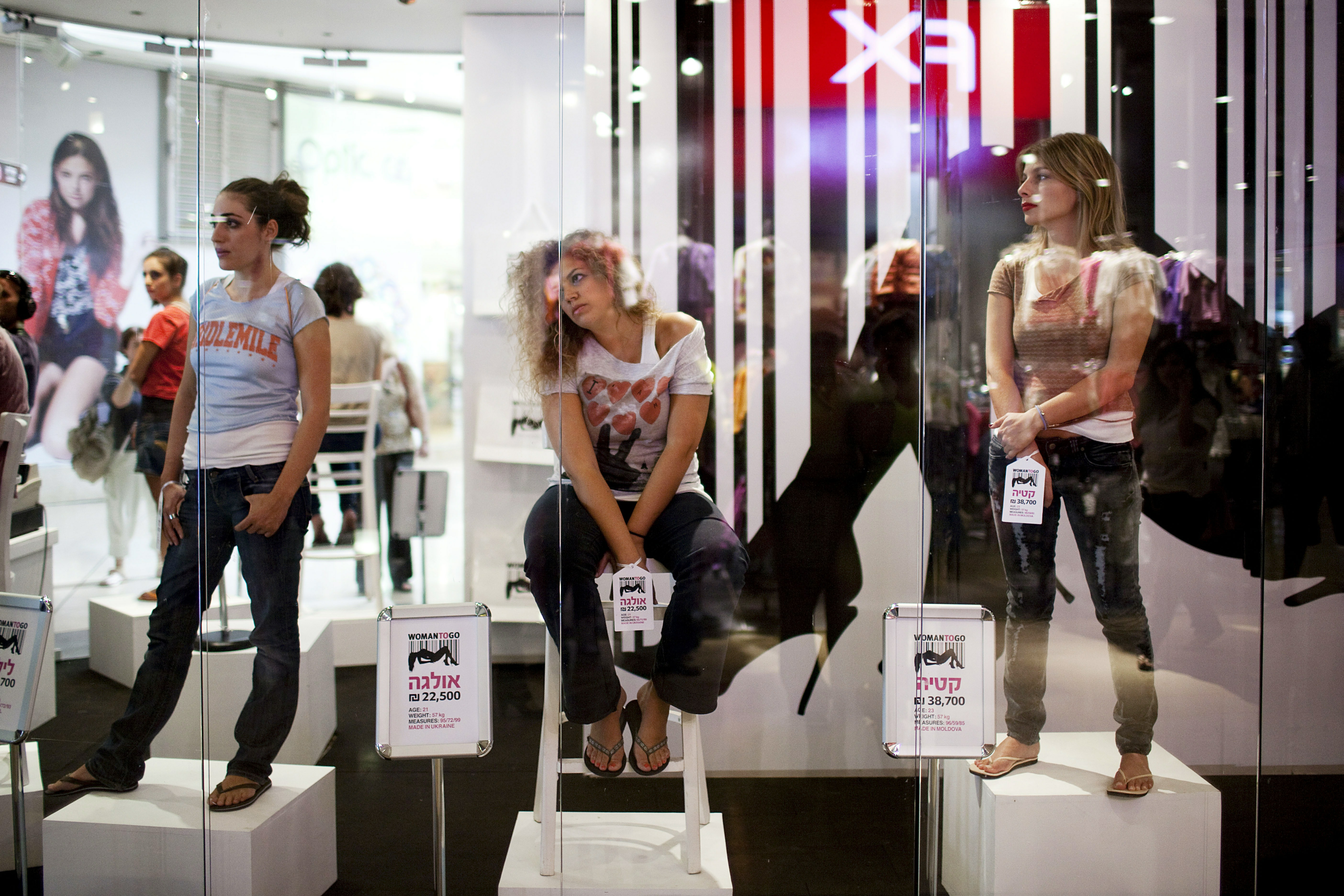 Women stand in a store window at a shopping mall with price tags on their hands (Photo by Uriel Sinai/Getty Images)
A designer clothing store, a comic book store, a tattoo parlor and a ... women for sale store.
This unusual window display shocked shoppers at a busy Tel Aviv mall last week when among the run-of-the-mill shops, they came across a group of young women standing in a storefront.
Hanging from their wrists were price tags detailing their age, weight, height, dimensions and country of origin.
Organizers said the campaign is designed to bring awareness to women trafficking. Through public events like these and a public website  they hope   to collect enough signatures to pressure the Israeli justice ministry to back legislation that makes it a crime for men to go to prostitutes.
This legislation is the next important step in the fight against women trafficking, said attorney Ori Keidar, one of the founders of the task force against the problem.
"The legislation against the prostitutes' customers will bring a reduction in the demand for prostitution and it will be a less lucrative business for crime organizations," Keidar said.
"This in turn will bring a reduction in the trafficking of women."
Keidar said the legislation is modelled after similar legislation in Sweden that has drastically reduced trafficking and prostitution.
Over the past decade, about 10,000 women have been trafficked into Israel in what Keidar calls "modern slavery."
The women are locked, beaten, raped, starved and forced to receive 15-30 men a day 365 days a year, according to the attorney.
About three years ago, Israeli police greatly reduced women trafficking by pouring resources into the problem. Security forces have also helped by stepping up patrols on the Israeli-Egyptian border as a result of Al Qaeda presence in the Sinai.
This 300-kilometer border was the main route for smuggling women into Israel, Keidar said.
"This legislation against the customers will bring a further reduction in trafficking and with a little more pressure we can make this go away" Keidar said.
Posted by: Shira Medding
Filed under: Israel •Women
For the first time in over three years, the Israeli government has allowed the transfer of cars into the  Gaza Strip. 
The move, said Guy Inbar, a spokesman for Israel's office of the Coordinator of Government Activities in the Territories,  was another step in "the expansion of the civilian policy towards Gaza strip". 
About 20 cars loaded on trucks were to pass through the Kerem Shalom crossing Monday and  be handed over to Palestinian car dealers. Another 60 cars are to be transferred over the next few days according to Inbar. 
Israel decided to ease restrictions on the Gaza Strip in wake of  international condemnation following an Israeli commando raid against activists on-board an aid ship bound for Gaza.  The raid left nine Turkish and Turkish-American activist dead. 
Gaza has been subject to an Israeli and Egyptian economic blockade since the Islamist movement Hamas seized power from the Palestinian Authority in 2007 though Israel has been allowing more goods to be imported recently except those it claims can be used for weapons manufacturing and building military fortifications.
Posted by: Shira Medding
Filed under: Gaza •General •Hamas •Israel