Connected fitness equipment is all the rage. From Peloton to Lululemon, people are spending big bucks to get buzzy, personalized exercise experiences in the comfort of their own home gym. For rowing enthusiasts, this formula is just as pricey, with popular high-tech rowing machines like the Hydrow and the Echelon Row-S starting at $2,500 and $1,600, respectively — and that's without the additional monthly subscription fee (which is not optional).
So what's a cost-conscious workout aficionado to do? For under $1,000, you can check out the Concept2 RowErg ($990), a rowing machine that conversely screams function over form. And, with no subscription fee and almost no connectivity, it offers excellent value as well as a simple yet efficient OG workout without the accompanying flash.
Concept2 has been making rowing machines for more than 40 years, and there's a reason the RowErg is the one used by the pros. You get everything you need for a simple, super workout, minus the subscription fee and high-tech hullabaloo. And, at under $1,000, it's also a heck of a good deal.
What we liked about it
This simple workout is an asset
It's been 10 years since I used the RowErg to train as a collegiate rower, and with the exception of some brighter colors in the logo and the device holder beneath the screen, Concept2's machines haven't changed a bit. Which, considering their utilitarian design and durability, turns out to be a good thing. In fact, you'll still find Concept2 RowErgs stowed in most competitive teams' boathouses and indoor training facilities across the world — not to mention gyms.
And though it's been a decade since I've used one, I was happy to find that the simplicity of the Concept2 RowErg's design elements still encourage you to row consistently and with proper form — without the added electronic form guidance or a virtual instructor telling you to "explode out of the catch."
The flywheel on the front of the machine uses air resistance, which means that similar to rowing on a water rower like the Ergatta Rower ($2,500), the harder you row the easier and smoother it feels. And if you start to lose power or your form begins to falter, it will be harder to tug the handle to your chest. It's just that simple.
Likewise, the RowErg's handle is attached to a steel chain — so if you're dropping your hands as you move up the slide or swinging them out to one side, the clanging noise from the chain will alert you to steady your hands and keep them level throughout the stroke. Not exactly high tech, but it does keep you honest. And the small, built-in PM5 Performance Monitor gives you just the stats you need to know if you're rowing fast and consistently: your split (or speed), average split, stroke rate, time rowed and distance traveled. There are also a few games on the monitor, but the rudimentary graphics remind me of the hours I spent playing Falling Numbers on my Motorola brick phone in the early aughts.
The rower does support Bluetooth and ANT+ (the technology a heart rate monitor uses to connect to a smartwatch), so while it's not a fully connected fitness machine, you can still interact with fitness apps if you choose.
For my first few sessions on the RowErg, I used the preset workouts (more on these later). And because you set your level of drag before you start, using the plastic arm on the side of the flywheel, I didn't have to adjust the resistance — before or during my row. I liked how this allowed me to listen to my body and the intuition from the rower rather than a virtual instructor, and ultimately led to better focus on every stroke.
This rower fits almost anywhere
Another perk of the Concept2's design? There's no plug, so you can place the rower anywhere in your house without worrying about proximity to an outlet. The monitor runs on batteries and the air resistance runs on, well, air. At 8 feet long, it is a bit longer than the Echelon Row-S and the Hydrow (though it's the same length as the $3,200 Peloton Row), and it's just 2 feet wide. However, since there's no large screen attached to the body, the Concept2 can fit in much narrower spaces. The rower also has wheels on the front end for easy maneuvering and can fold and stand on its own for simple storage.
Add apps for more variety
Though solidly low tech, the RowErg does come with some built-in, extremely basic workouts. In addition to a self-explanatory Just Row feature, there are interval workouts based on time and distance, like 500 meters on with one minute of rest as well as workouts that feature a set amount of time or number of meters. You can also create and add your own, but they will always follow this same structure.
That said, the device holder beneath the monitor allows you to secure a smartphone or a full-size tablet and use that to access apps and other workout videos.
Concept2 has its own app, ErgData, that lets you log your workouts, create new ones and, by connecting to the RowErg via Bluetooth, get a different display during your row than the one on the monitor. While free, ErgData is more like a training partner, helping you track your progress and design your approach, not a trainer that will guide you.
I also tried a few of the outside apps Concept2 recommends and especially enjoyed Asensei ($20 per month or $150 per year), a rowing-only app that mirrors the stats from the rower's monitor to your screen. The class I tried in the Regatta Fitness app ($20 per month or $150 per year) yielded more basic rowing classes, but I did appreciate that it includes yoga, strength, running, walking and cycling as well.
What we didn't like about it
It's a bare-bones machine
While the physical simplicity of the RowErg does reinforce quality rowing, it could be more comfortable. The seat is sadly unpadded, though at a generous 12 inches wide by 9.5 inches long, I didn't miss the padding as much as expected. The handle is made of a slightly hard plastic that gave me blisters faster than other handles I've tried — another painful reminder of my college years.
And, of course, the machine lacks the bells and whistles that come with many of the more expensive rowers on the market. Yes, you get the built-in interval workouts, but newbie rowers may miss the more engaging, well-produced studio classes of the higher-end rowers (500 meters is a lot longer than you think).
That said, because the RowErg is significantly cheaper, purchasing a subscription to an app that offers various types of classes will likely still put your total investment below that of those other machines.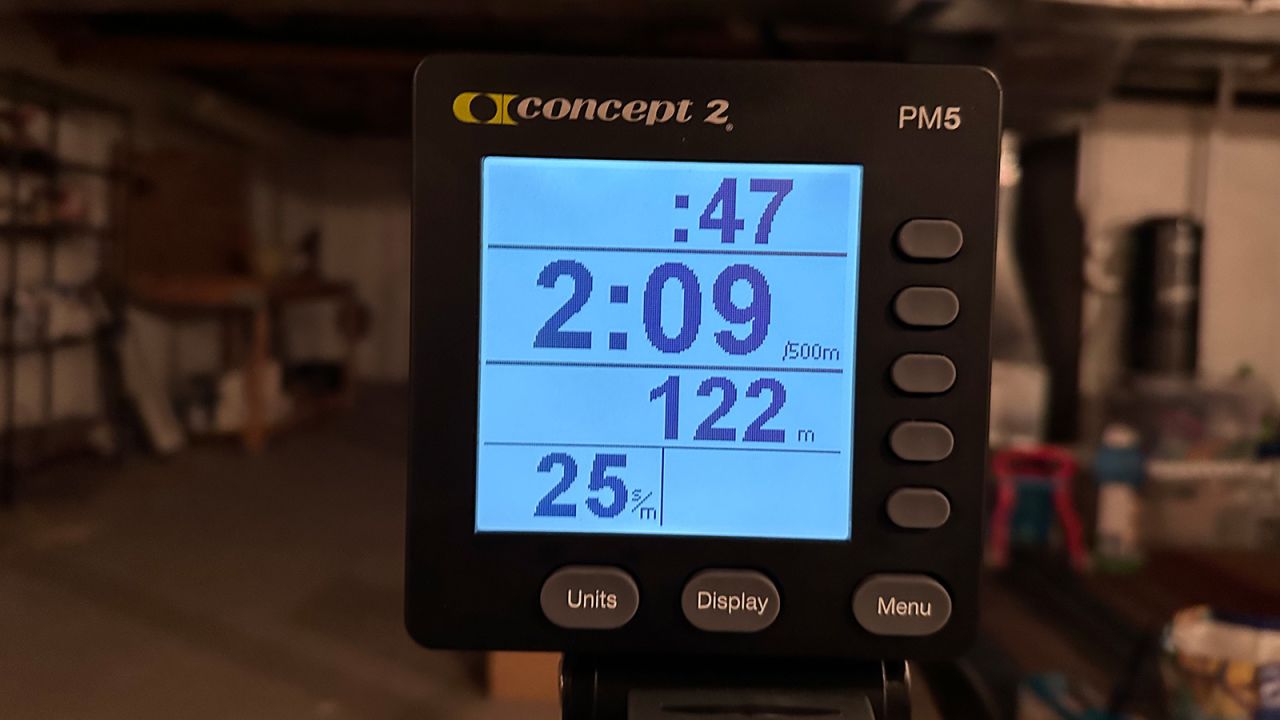 Not great for beginners
A beginner rower who unboxes a RowErg may have a hard time figuring out how to use it correctly. There is a page in one of the included manuals that describes proper rowing technique and directs people to the Concept2 website, where there is an intro to rowing technique page complete with a video. But that adds an extra step to seek it out. I can see this being a big ask for someone who has decided to try rowing for the first time.
The other manual has a diagram explaining all the numbers you'll see on the screen, but it doesn't provide any information on what those numbers should look like when you start rowing. By comparison, after turning on the Ergatta and the Peloton Rower, the machines leads you through a detailed set of introductory information and videos that break down how to row and put you through a fitness level calibration so you know exactly what numbers you should be seeing during workouts.
While the price point on the Concept2 is certainly beginner-friendly, I wouldn't recommend the RowErg for a beginner who doesn't have a trusted video, app or rower friend on deck to teach them how to row and get the most out of it.
How it compares
The Concept2 RowErg most closely compares to the Echelon Row ($1,000), which also features a device holder instead of a built-in screen. However, you are still required to purchase an Echelon membership for $35 per month, while there is no subscription required for the RowErg (though you can add one of your choice starting at a lower $20 per month).
In terms of the air-based rowing, RowErg feels most like the water-based resistance of the Ergatta Rower ($2,499).
Bottom line
When it comes to indoor rowers, Concept2 is the industry standard for a reason. The RowErg is affordable, sleek, durable and simple, and it will make you a better rower — if that's what you're looking for. It gives you just the tools you need and lets you focus on the stroke.
If you're a solid beginner or seeking more of the connected studio experience at home, you may need to look elsewhere — unless you're content using an additional app. But for those with some rowing experience, who may be looking to get stronger, faster and fitter, nothing will do it quicker than the RowErg.