What's the buzz on ... Super Bowl teams?
Each week, CNN.com takes a look at trends in the blogosphere by tracking one topic across gender and generation with the help of analysis tools from Umbria Inc. This week we focus on the Chicago Bears and the Indianapolis Colts, the NFL teams facing off in Sunday night's Super Bowl.
Overall opinion (January 24-30)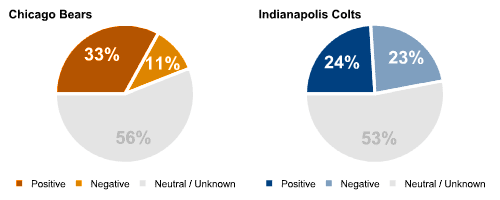 So what does this mean?
Neutral comments about both teams dominated the blog conversations, suggesting that they may not be able to confidently predict a winner. Many of the positive posts about the Bears commented on the 1985 team, the current team's strong offense and excitement over the possibility that Colts quarterback Peyton Manning's thumb injury might keep him from playing at his peak. Meanwhile, positive blog posts about the Colts focused on predictions that the Colts will win the game.
In their own words
Mac on Mac's Football Blog
Nobody is giving the Chicago Bears much of a chance in this one, and truth be told, I don't either. I'm rooting for them (my loyalty goes a.) team, b.) division, c.) conference), and I think that Brian Urlacher could outsmart Peyton Manning and will take away those seam routes to Dallas Clark that Manning loves to throw, but ultimately, I think that Indianapolis has too many weapons and the Bears can't account for all of them.
The Colts run defense has silenced all critics in the last month, so it could be up to Rex Grossman to beat the Colts secondary, a feat not even Tom Brady could adequately do.
Mac's Pick: Indianapolis 38, Chicago 13
Olivia Leigh on Chicagoist
We have no memories of the last time the Bears were in the Super Bowl, but boy, have we heard the stories. The Bears have always been an institution in our household, and in those of just about everyone we knew growing up. We're certainly glad the Bears have made it to the big game, finally giving Chicago some real hope that our unrequited longing for a new Super Bowl win might finally be fulfilled with a trophy.
The Night Writer on TheNightWriterBlog
For what it's worth, I'm rooting for the Colts in the Super Bowl this Sunday. ... In a league where people go to great lengths to secure even the tiniest advantage for themselves, and where one high-profile, brilliant mastermind publicly and pointedly snubs his former assistants, Coach Dungy has promoted and championed his assistant coaches for other jobs, even though it might have made things more difficult for himself. In fact, one such disciple or protégé is now the head coach of the Bears and will be one of the key factors trying to prevent Coach Dungy from winning a championship. Somehow I don't think he'd have it any other way.