What's the buzz on … Anna Nicole Smith?
Each week, CNN.com takes a look at trends in the blogosphere by tracking one topic across gender and generation with the help of analysis tools from Umbria Inc. This week the focus is on Anna Nicole Smith, the former model and reality TV star who died earlier this month at the age of 39.
Overall opinion (February 7-13, 2007)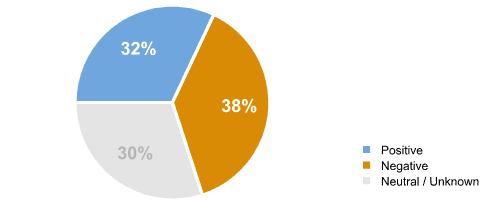 So what does this mean?
Bloggers are split fairly evenly on Anna Nicole Smith. Those who made positive comments about her focused on sympathy for her family, sadness over the loss of a woman some called a modern-day Marilyn Monroe, and anger over the tabloid attention she couldn't escape. Negative blog conversations included criticism of Smith's lifestyle and the media frenzy over her death.
In their own words
Perez Hilton on PerezHilton.com
Even though her untimely death didn't come as much of a surprise, Anna Nicole Smith's tragic passing was still shocking. And terribly sad. … Despite the ups and downs and the jokes and whispers, Smith was a star and we were fascinated by her. Like Marilyn Monroe before her, Anna Nicole's death will immortalize her. She was flawed. She was tragic. But above all, she was captivating. And her story -- the death, the inheritance, the baby -- will continue to grip us for months (if not years) to come.
Mark Spence on Tampa Pirate
It is shocking to see the media pander to all the Anna Nicole hype. They have compared her to Marilyn Monroe and Elvis. They have said she was brilliant and levelheaded. They also describe her as a kind, caring person of good character. All I am waiting for now is the media to insist we bump the Virgin Mary from her lofty position and put Anna Nicole in her place.
Jessica in a comment thread on Broadsheet, a women's blog on Salon.com
To everyone who thinks this story shouldn't be on Broadsheet, I would disagree. In this forum, ANS has been described as a "train wreck with tits," "self-interested prostitute," "gold digger," "a carcass to poke a stick [at] like a pinata," "bad mother, bad wife/girlfriend," and even "bad employee." I'd say that loaded language demonstrates the legitimacy of this story being on Broadsheet. Broadsheet is about gender issues in society, and sometimes those issues are manifested in news events, but they also show up in pop culture.