What's the buzz on … the Dixie Chicks?
Each week, CNN.com takes a look at trends in the blogosphere by tracking one topic across gender and generation with the help of analysis tools from Umbria Inc. This week the focus is on country music group the Dixie Chicks, who took home five Grammy awards in February for their new album and its politically charged song, "Not Ready to Make Nice." The awards came four years after the band was shunned by the country music industry over lead singer Natalie Maines' public criticism of President Bush.
Overall opinion (February 14-20, 2007)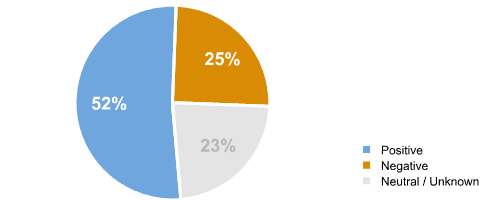 So what does this mean?
Blog comments about the Dixie Chicks' awards were mostly positive. Those conversations focused on praise for the group's defiance and a sense of vindication for their work. Negative posts about the group were split between conservative voices and Dixie Chicks fans who didn't think the current album really deserved all the awards it received.
In their own words
Rob W. in a comment thread on News as Gossip
As you know, these awards were not given by the people. This was not the People's Music Awards, but rather less than 11,000 members of professionals in the music industry. …. It looks like the Grammys jumped the shark last night, allowing politics to influence the outcome of not one but 5 awards and I personally could never look at them in any kind of positive light again, though that's been coming for a long time now.
Yesvirginia in a comment thread on Stereogum.com
I'm reading the 'gum as an indie rock girl, but I have to say that The Dixie Chicks are awesome -- hate on conventional country radio and its jingoism all you want, these girls rock.
Spencer on arubberdoor
It seems like such a short time ago when those … criticizing the Bush Administration were at best lonely, but at worse, branded as traitors in a time when our country needed everyone to blindly follow the President over the ledge. Last night at the Grammys I was reminded how much company we have these days.
BNJ on Cynical Nation
Okay, I like the Dixie Chicks. I don't love them, but I like them. I own all of their CDs and I'll continue to buy them as long as they make decent music. But this notion that they're somehow "victims" of anything other than their own intemperance is obnoxious. … The First Amendment gives you the right to speak your mind, but it does not guarantee that you can say whatever the hell you want and be immune from criticism of consequence. Reducing the concept of "free speech" to "license without responsibility" is a thoroughly infantile interpretation. Not surprisingly, however, it's one that resonates with a lot of liberals in the entertainment industry.