What's the buzz on ... Al Gore?
Each week, CNN.com takes a look at trends in the blogosphere by tracking one topic across gender and generation with the help of analysis tools from Umbria Inc. This week the focus is on former Vice President Al Gore, who recently accepted an Academy Award for the documentary, "An Inconvenient Truth," a film based on his lectures on the threat of global warming.
Overall opinion (February 21-27, 2007)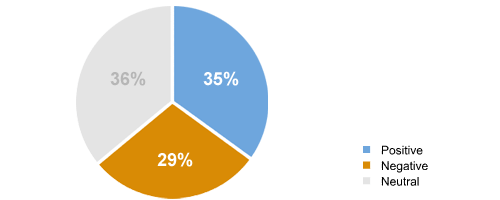 So what does this mean?
Blog posts about Al Gore were ever so slightly more positive than negative during the last week of February. Anticipation about a possible run for president for the former Democratic nominee and appreciation for the humor in his mock announcement at the Academy Awards ceremony fueled positive conversations. Negative posts focused on skepticism of Gore's "green" acceptance speech, noting a charge from a policy group that Gore's Nashville, Tennessee, home uses 20 times more energy than the average U.S. household.
In their own words
Michael on Ecorazzi
The Gore camp's acceptance speech was light and to the point. I especially like that it wasn't too preachy or political. Al's been doing a great job lately of blending party lines and attempting to stay (carbon) neutral on the subject. … It would be great if next year, the entire event could go carbon neutral with efficient lighting, massive recycling, a commitment to offering alternative-fuel vehicles as a free option for the red carpet, and more celebs wearing sustainable fashion. We need to get some more Stella McCartney designs out there! Overall, however, it was a step in the right direction, and I'm hopeful that a "greening of the Oscars" will become a yearly tradition and not some one-time trend to soak up the hype. Congrats to Gore and company on their win. Let's hope his own rising star continues to influence others to make a difference for the world.
Brian on IowaVoice
I couldn't care less if Gore has a mansion. Or Edwards. They worked for it; they deserve whatever house they want, whatever size it may be. But don't come and tell me that I'm the one causing the problems when your house is ten times the size of mine (or whatever) and you're using twenty times the energy I am, energy that, wherever it came from, could go to others who need it just as much, if not more, as you.
Plus, I'm not flying around the country in polluting jets, driving around in an SUV entourage, nor do I ride in limousines. Most people don't, as a matter of fact.
Becky in a comment thread on SavetheGOP
The idea of calling Gore a hypocrite because he's also dependent on energy is ridiculous. This isn't some new puritanical absention (sic) issue. This isn't Ted Haggerd saying homosexuals go to hell, and then getting high with his gay sex partner. The entire point of "An Inconvenient Truth" (for those of you who apparently missed it) wasn't that individuals need to sit around in their houses with the lights off. It was that we need to embrace both the small things we can do every day (i.e., switching to greener energy forms, switching light bulbs to energy saving varieties, etc), and also to grow the political will to do something as a nation to reduce our dependency on carbon-based fuels.
Doug in a comment thread on Treehugger
I think that having one of the most watched shows, with some of the most influential people around, talking about green and global warming is definitely a big step. Is it perfect? Of course not. But it's better than having the same show without anything about "the climate crisis."
John Hinderaker on AOL Newsbloggers
The one way the Democrats' Presidential sweepstakes could be bleaker is if Gore jumps into the race, and gains traction behind his Green campaign. For one thing, it would allow us conservatives to nail Gore as a living symbol of liberal hypocrisy.