What's the buzz on ... Alberto Gonzales?
Each week, CNN.com takes a look at trends in the blogosphere by tracking one topic across gender and generation. This week we focus on Attorney General Alberto Gonzales, who has been at the center of a political controversy over the firing of eight U.S. attorneys.
Overall opinion (March 14-20, 2007)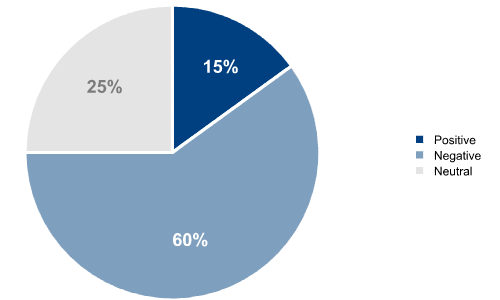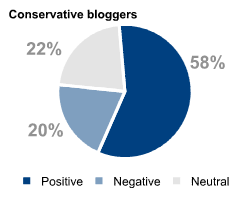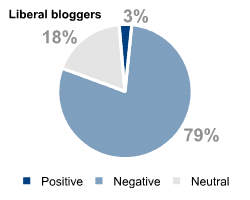 So what does this mean?
Blog comments about Gonzales were mostly negative for the week overall, with liberal and conservative bloggers predictably dividing along party lines. Negative conversations about Gonzales focused on claims he had lied about the motivations behind the firings and predictions that he's not long for the job. Bloggers who made positive comments about Gonzales cited the 93 U.S. attorneys President Clinton fired when he came into office and impressions that Democrats, now in power in Congress, are in search of a scandal.
In their own words
Paul on Power Line Blog
...Politics aside, Gonzales should not continue to serve if he lacks the president's confidence. I have no idea where Bush is on this, but my confidence in Gonzales, already shaky, would diminish if it turns out that Gonzales misrepresented his involvement in the firings to the press. As noted, though, it's not clear that Gonzales did this.
Michael Oliver in a comment thread on Dogwood Pundit
Bush also affirmed his support for [former Secretary of Defense Donald] Rumsfeld a few months before he was canned. Bush himself is the one who will continue bleeding while Gonzalez stays. Sooner or later, he'll push him out of the door.
Norman Horowitz on The Huffington Post
If Gonzales lied or misled the Congress he should resign or be fired.
If Gonzales allowed senior attorneys to be fired without his approval he should resign or be fired.
I wonder, as they said while I was growing up in New York, "which was woise."
Not complicated at all. Take your choice, lying or incompetence.
Pineapple on The Pineapple Report
...And we all know what ole Alberto is up to these days. Dismissing attorneys for doing their jobs. I can't even begin to tell you how that pisses me off. In the end, these attorneys will be better off because there are plenty of law firms and law schools that will hire them. However, most of these attorneys took these jobs thinking that they would be doing a great thing for this country. It must be a real blow to your self-esteem to be fired for doing your job. Not much justice in that, is there? Oh the irony.