What's the buzz on ... Scooter Libby?
Each week, CNN.com takes a look at trends in the blogosphere by tracking one topic, across gender and generation. This week, we focus on I. Lewis "Scooter" Libby –- the former assistant to the vice president for National Security Affairs. He was indicted by grand jury for leaking the name of Valerie Plame, a covert CIA operative, and lying about his involvement. Libby was charged with obstruction of justice and perjury and sentenced to 30 months in federal prison. After Libby's appeals failed, President Bush commuted his sentence. Let's look at how bloggers are reacting.
Overall opinion (July 4-10, 2007)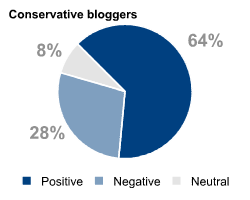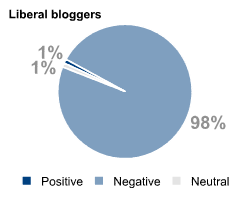 So what does this mean?
The overwhelming majority -- 82 percent -- of blog conversations about Libby were negative. Most focused on President Bush's commutation of his sentence. Liberal bloggers dominated the discussion –- making up more than three-quarters of the conversations for the week. Opinions between liberal and conservative bloggers clashed. The majority of conservative bloggers talked positively about Libby; many were unconvinced that he committed a crime, and some argued President Clinton took advantage of the executive privilege to pardon many more than Bush. Liberals were almost unanimously negative in their comments, with many accusing Bush of commuting the sentence simply because he and Libby are friends, and others speculating that Bush will give Libby a full pardon before leaving office.
In their own words
Alex Hammer on the Moderate Voice
Four wrongs don't make a right.
Libby was wrong to engage in the behavior for which he was found guilty. A significant number have concluded that Libby was prosecuted in a hyper-aggressive manner by a prosecutor unable to capture bigger fish, or used as a pawn in an attempt to do so. This would also, of course, be very wrong. What President Bush did, disregarding the decision of the jury, was wrong. And the Clintons' statements, given Bill's troubling pardon history, are hypocritical. And wrong.
So, there you have it. A sad, sordid (if that's the right word), sorry affair almost all the way around.
Psycheout on Blogs 4 Brownback
Convicted former top White House aide [and American hero] I. Lewis "Scooter" Libby has paid the fine of $250,400. The U.S. District Court has posted the canceled check on the docket this afternoon.
I would assume that when his appeal is successful he will get his hard-earned money back. Hopefully then he can sue the pants off the reckless prosecutor who dragged this fine American's name through the mud.
Steve u. in a comment thread on The Utah Amicus
Politics is fake -- on both sides of the aisle. You are quite correct that the reaction would be very different were Scooter Libby a Democrat in a democratic administration. Partisan Republicans (who are now saying the commutation was either good or no big deal) would be screaming for justice; partisan Democrats (who are now screaming for justice) would be saying the commutation was either good or no big deal.