What's the buzz on ... the CNN-YouTube Democratic presidential debate?
Each week, CNN.com takes a look at trends in the blogosphere by tracking one topic across gender and generation with the help of analysis tools from Umbria Inc. This week, we focus on the CNN-YouTube Democratic presidential debate, held July 23 at The Citadel's campus in Charleston, South Carolina. The debate was deemed "revolutionary" by the media because it used a new format in which ordinary people uploaded video questions to ask the candidates. It was also streamed live over the Internet. Although similar to town hall debates, in which citizens question candidates, this production was an unprecedented marriage of politics and technology that probably will be a template for future events of its kind.
Overall opinion (July 18 to July 24)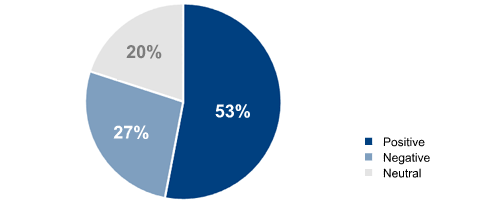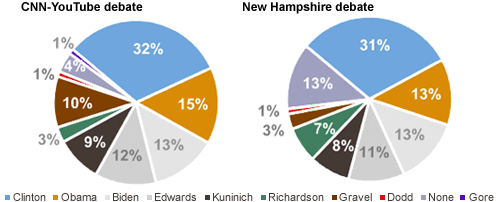 So what does this mean?
Comments about the debate were mostly positive. Bloggers said they enjoyed the questions and the diversity apparent in the debate. Some said the questions would have been hard to rehearse and thus put candidates to the test. Some watched just for the format, and others were eagerly awaiting September's Republican debate. Moderator Anderson Cooper of CNN got many high marks, but he also got a few comments from bloggers who thought he failed to fairly distribute the questioning time. Others among the group making negative comments indicated the debate didn't leave enough time to answer the questions. Finally, some said the debate was "more entertainment than politics" and felt that candidates failed to give substantive answers to the questions posed.
Among bloggers who declared a debate winner, candidate preferences mirrored a previous Democratic debate held June 3 in New Hampshire. Sen. Hillary Clinton grabbed nearly a third of the examined bloggers in both cases. Sen. Barack Obama, Sen. Joe Biden and Sen. John Edwards also took large shares in both cases. But the 13 percent who declared there were no winners in New Hampshire was reduced to 4 percent. These votes appeared to be distributed to actual candidates, with Sen. Mike Gravel showing a jump from 3 percent to 10 percent and Rep. Dennis Kucinich seeing a 1 percent jump. New Mexico Gov. Bill Richardson, on the other hand, saw a modest decrease from 7 percent to 3 percent in this latest debate. Interestingly, former Vice President Al Gore got 1 percent of the bloggers' support, whereas he had not appeared in the previous debate's numbers.
In their own words
Scott Warheit on Quo Vadimus
The format I thought was really interesting. Sure, a lot of the questions were the same ones we've seen before, some were silly (like the virtual snowman worrying about global warming) and the candidates vignettes weren't really necessary, but overall, it was fresh, and unique, and with it being so early before the primaries start, we needed a debate like this. And I do think the format was useful because it allowed questions to be asked that a normal moderator may have been uncomfortable asking ...
snichols on snicholsblog
I found this a very refreshing and sometimes disarming debate to watch. Anderson Cooper did a surprisingly good job of moving through the new format where the Democratic presidential candidates responded to crudely produced You Tube video questions. … What made the debate disarming was the candor of the questions. I'd judge that at least 50 percent of them were questions I simply would not want to field as a front runner - and only a few were out and out softballs.
chico haas in a comment thread on BuzzMachine
A microphone in the debate hall. Questions on index cards read to candidates. Having someone submit a video on YouTube. All the same. You can geek over it but questions from the mob is hardly a new concept. (Mr. Lane's cogent assessment of which mob notwithstanding.) Common to all is the old complaint as to how, and by whom, the questions are weeded out. What is new: by producing your own video question, you can make the question carry more weight, depending on your own imagination.
Dave Bellingham in a comment thread on techPresident
I liked it a lot, and thought that the YouTube videos were a neat gimmick that held my interest longer than just having Cooper read the questions would have. Unfortunately there was just too little time for each candidate to really get in a substantive answer. This is the real shame of the night because there were a few moments while they were discussing Iraq and health care that they really seemed to be getting somewhere, a serious policy debate was agonizingly close to breaking out on live television, but then time was up.