What's the buzz on ... Michael Vick?
Each week, CNN.com takes a look at trends in the blogosphere by tracking one topic across gender and generation. This week, we focus on Atlanta Falcons quarterback Michael Vick, who was indicted July 17 on charges of operating an alleged dog fighting operation named "Bad News Kennels" at his Smithfield, Virginia, home. Among the charges, Vick is accused of extreme violence against dogs, including brutally executing the animals that performed poorly. Vick denies knowing of such activities being conducted on his property. Let's look at how bloggers are reacting.
Overall opinion (July 11 to July 17)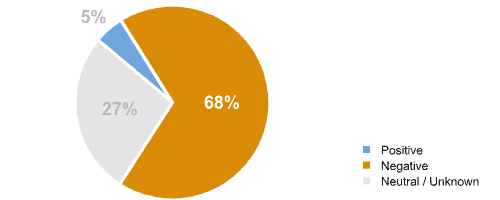 So what does this mean?
The majority of blog conversations about Vick were negative, most of which either illustrated a dislike for Vick as a person or firm disagreement with dog fighting and/or unethical treatment of animals. Just 5% of the blogosphere had anything positive to say about Vick, many of which were fans expressing sorrow toward Vick and a mistrust of media spin. More than a quarter of bloggers choose not to pass judgment on the NFL star before a verdict is returned.
In their own words
Ecthompson on Where's the Outrage
I really don't know what to say about this. Michael Vick is one of the most talented football players to lace up cleats in the last 5 - 7 years. He is fast. He throws lasers. He is Michael Vick. I don't know what to think about this dog fighting thing. Did he think that he was above it all? Was he used by people that he trusted? Is he being railroaded? I don't know. All I know is if you are a Black Athlete in today's world, you have to be clean. Period. You aren't going to get Scooter Libby breaks.
Forsythe on DogReader
Some of Mr Vicks' supporters minimize the seriousness of the investigation. For example, Mr Portis and Mr Samuels from the Washington Redskins do not see dogfighting as a crime. Perhaps, as the details of this investigation become public, it will become apparent just how criminal and how barbarian the activity is.
Raven on Quoth the Raven
Michael Vick would also like us to believe that although he funded a Pit bull breeding company (that is no longer available online), that he was in no way connected to dog fighting. Strange, isn't it. It is strange that the man could be involved with breeding the pit bulls that were likely found both dead and alive on HIS property, but he had nothing to do with dog fighting that was held on the same location!
Patrick in a comment thread on The Starting Five
It 'looks' bad, but you need evidence and prove beyond a reasonable doubt to convict Vick.
Is there audio evidence, phone conversations, video evidence? It seems like the government is going to try this case in the press..