What's the buzz on ... Harry Potter?
Each week, CNN.com takes a look at trends in the blogosphere by tracking one topic across gender and generation with the help of analysis tools from Umbria Inc. This week, we focus on "Harry Potter and the Deathly Hallows," the seventh and final book in J.K. Rowling's Harry Potter series. The book's highly anticipated July 21 release excited millions of devoted fans, some of whom pre-ordered the book online or attended midnight-release "Potter Parties" to get their copies. Rowling had leaked to the media that multiple characters would die in this final installment, tantalizing readers and spurring a media frenzy. Fans wondered who would die, and whether Harry Potter would be one of them. The book sold more than 11 million copies the first day and broke sales records worldwide.
Overall opinion (July 25 to July 31)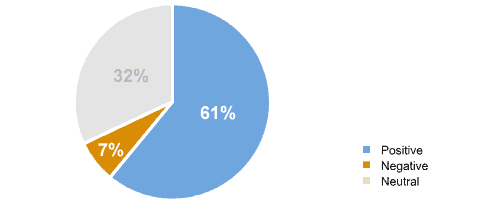 So what does this mean?
Most of the conversations about "Deathly Hallows" were positive, accounting for 61 percent of the analyzed comments. Many were neutral, making up 32 percent of the analysis. Just 7 percent were negative. Those with positive opinions about the final installment of the Harry Potter series said they admired the book as a whole and as an end to the series. Many intensely enjoyed the book and series, and wrote they liked the escape from the real world the book and its surrounding hoopla provided. Some said they were anticipating some sort of Harry Potter encyclopedia. But then, some readers felt unsatisfied or disappointed. They opined that the book was not as good as they expected, and there were too many unanswered questions. The epilogue angered some readers, who said it was "lame" and covered too much time without adequate explanation. Some readers said the writing and editing in this book were not as crisp as the others.
Several themes came up repeatedly. Some readers put their lives on hold to read the book, even if it meant going without sleep and skipping school or work. Some bloggers were sad, and even felt "post-Potter depression" to the point of crying. Bloggers who are also knitting enthusiasts posted pictures of Gryffindor scarves and other projects they created in honor of the series. Some discussed what they believe were the book's Christian themes --- including death, resurrection and resistance to temptation.
In their own words
aidan on A Dribble of Ink
I wasn't sure if Rowling would be able to successfully tie up the story of Harry Potter. Indeed, any story that evolves over the course of seven novels is in a lot of danger of being overwhelmed by its own weight. Rowling, however, has managed to craft a successful culmination to her mega-successful series. Rowling has earned her success, crafting a timeless series of seven novels full of charm, wit, depth and intelligence that will surely be read for many generations to come. "Harry Potter and the Deathly Hallows" is a fittingly grand end to a tremendous series.
Asad Raza on 3 Quarks Daily
... The real difference between [Rowling] and her predecessors is her willingness to think about what happens after the books end, beyond the fantasy. It's the parents' perspective, and genuinely new in the genre. That's why, at first, "Deathly Hallows" seems not quite up to the previous standard. … It often reads like a communiqué to faithful cultist-curators who have grown up (or gotten old) obsessing over the books, rather than with a sense of fresh invitation and invention. The massive popularity of the series, which must have encouraged Rowling to "Take Herself Too Seriously," may be to blame. (And don't think that old "It's only a kid's book!" excuse flies - compare it with her best books, "Prisoner of Azkaban" and "Order of the Phoenix.") In "Deathly Hallows," after 500 pages of strangely penitent plot starvation comes an emetic span in which the main storylines, and masses of other loose ends, are tied up within a hundred pages: plot bulimia.
mercutiom in a comment thread on Pink Raygun
... I loved it from beginning to end. I love what [Rowling] did with the characters ... certain deaths should have had some more focus. I also have to say that one of my least-liked characters from a previous book has now become one of my favorite, much to my surprise.
Becky T in a comment thread on Blogcritics
... I found the new book confusing, even though I have now read it through twice, I thought that instead of tying up loose ends J.K. created many new ones. The plot wasn't bad, it was interesting if not predictable, I thought that Snape made the book come alive toward the end. Without him, the end would have been anticlimactic and predictable. ... I thought that every death was necessary, but all were rushed ... The "Nineteen Years Later" was confusing, and had some gaping holes in it. ... This book asked more questions then it answered.