What's the buzz on ... Barry Bonds?
Each week, CNN.com takes a look at trends in the blogosphere by tracking one topic across gender and generation. This week, we focus on Barry Bonds. On August 7, the San Francisco Giants slugger hit his 756th career home run, passing Hank Aaron on the all time list. Bonds' historic chase has been mired in controversy. He is a central figure in the Balco steroid investigation, and players, fans and members of the media have accused Bonds of using illegal steroids. Bonds denies those claims. He has never failed a steroid test, or been convicted in any crime in connection with the Balco scandal. Let's look at how bloggers are reacting to the new home-run king.
Overall opinion (August 1-7, 2007)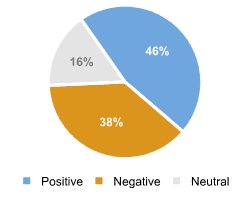 So what does this mean?
Bloggers were fairly evenly split in their sentiment about Barry Bonds. 46% of bloggers made positive comments about Bonds, commending him for his home-run record. Much of the positive sentiment focused on Bonds being a great player, despite his less than desirable personality. Others expressed outrage that Bonds should receive the brunt of fans' hatred since he is not the only player to be accused of using steroids. Negative conversations about Bonds focused on the steroid accusations. Many said that the home-run record itself has been tainted and that there should be an asterisk after his name in the record books. Others said Bonds had an unfair advantage by using an arm brace -- likening it to body armor -- which allowed him to maintain the same swing repeatedly. Much of the neutral sentiment focused on being tired of hearing about Bonds and his pursuit of the home-run record.
In their own words
Marc Cuban on blog maverick
You did it. Not only did you tie the record, but you have done it on your own terms.
No amount of discussion can minimize how difficult that must have been for him. No disrespect to Hammering Hank. I remember exactly where I was April 8, 1974. Hank Aaron had the mountains of his generation to climb to pass Babe Ruth. He took on segregation, integration and prejudice to pass Babe Ruth. There is not an accomplishment in sport that can reduce the importance of what Mr. Aaron accomplished. He will always be revered.
squirrelqueen on The Squirrel Queen
I don't have to like it. I don't have to cheer for him. I don't have to honor him for this.
I don't believe he was unaware the "flaxseed oil" was juiced full of illegal chemicals. I don't believe he was in the dark that the "clear cream" was loaded full of something you couldn't pick up in your local GNC store at the mall but you could get at BALCO.
I don't believe the human head should grow after the age of 40 to the size of a Macy's Thanksgiving day balloon.
Donald_Igwebuike on a comment thread on DeadSpin
So we are supposed to believe that he bulked up naturally over the course of 15 years, and managed to avoid doing any curls or bench-pressing that may have increased his arm size? I may not get all the screen name references either, but I am not dumb enough to think Bond's only lifted with his head.
John Feehery on The Hill's pundits blog
I have been trying to get my head around the national reaction to Barry Bonds and his pursuit of Hank Aaron's home run record.
The national mood towards Bonds' march to immortality is decidedly mixed. While San Francisco fans are deservedly thrilled, the rest of the country is ambivalent, if not downright hostile.