What's the buzz on ... the Sen. Larry Craig scandal?
Each week, CNN.com takes a look at trends in the blogosphere by tracking one topic across gender and generation with the help of analysis tools from Umbria Inc. This week, we focus on Sen. Larry Craig, R-Idaho, who was charged with lewd conduct June 11 for allegedly soliciting gay sex from an undercover police officer in a men's restroom at Minneapolis-St. Paul International Airport. The officer provided proof of intent by saying Craig was using behaviors recognized as signals given by those "cruising" for sex in public places. These behaviors reportedly included peering into the officer's stall, tapping his right foot against the officer's foot, and then sliding his hand underneath the stall partition.
Upon being arrested, Craig denied that he was looking for a sexual encounter and provided a business card stating that he was a U.S. senator. Still, he was charged with "disorderly conduct." Shortly thereafter, he paid a fine and signed a petition, in turn admitting guilt. News of the charges became widespread in the media on August 28 and four days later, Craig publicly announced his intent to resign from the U.S. Senate. Sen. Arlen Specter, R-Pennsylvania, persuaded Craig to change his mind, and on September 4, a spokesperson for Craig stated that he may not resign after all.
From the blogosphere (August 29-September 4)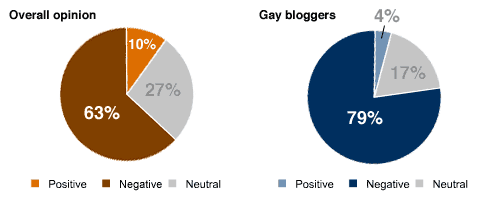 So what does this mean?
Most of the comments made about Craig were negative, and many bloggers said this is only the latest in a series of negative developments in the Republican Party. The question arose why Craig would admit guilt if he believed he was not guilty. He was called a hypocrite by some for having taken conservative positions in the past. Bloggers joked about "toe tapping" and a "wide stance" in the stall. A segment of those with negative views said the damage is done and Craig should resign. A greater percentage of liberal bloggers than conservative bloggers took a negative stance, at 66 and 53 percent, respectively. A portion of conservatives expressed feelings that the GOP was the target of a witch hunt. Some bloggers argued there is difference between being gay, having homosexual relations and supporting issues such as gay marriage. Among those writing positively about Craig, some said the issue was overblown; a similar straight encounter would have been dismissed as flirting. Others opined that the intent to have sex in public was not the same as actually committing a crime. Neutral perspectives accounted for a quarter of the bloggers, many of whom expressed a desire for more facts during the timeframe of this analysis.
Writers identifying themselves as gay accounted for 8 percent of those discussing Craig, and a greater percentage of these bloggers expressed negative sentiment than the overall group. They tended to say that homophobia was the driving force behind the scandal and pointed out that Craig had voted against gay rights. A discussion came up over the terms "gay" and "homosexual," frequently saying "gay" is a matter of identity while "homosexual" refers more to mechanical acts. Ninety-six percent of the gay bloggers identified with liberal perspectives, but the real-life numbers may be impossible to compile due to societal sensitivity about sexuality.
In their own words
Rex Wockner on Wockner
There are about 10 million other gay guys in America who, like me, are perfectly fluent in the language that Larry Craig was speaking in that Minneapolis-St. Paul International Airport men's room -- and millions more around the globe, because it's truly an international language.
Rod Dreher on Beliefnet: Crunchy Con
... I still can't quite shake the idea that the word "hypocrite" doesn't accurately describe what Larry Craig is. I take it for granted that he's a closeted homosexual in deep denial. Does his voting against various gay-rights measures necessarily make him a hypocrite? Suppose he sincerely believes that homosexuality is immoral, and has been fighting for years to conquer his desires. And suppose that he fails from time to time. ... If he were a legislator, would he be a hypocrite for opposing gay rights legislation? Or would he be a hypocrite of another sort for voting for it, even though he believed homosexuality to be intrinsically immoral? This is complicated.
John in a comment thread on samaBlog
Sure, there's something tragic about someone like Craig ... but so what? Ultimately he is an adult human being who, theoretically, is capable of thinking critically about his beliefs and his life and his own nature and working through the conflicts that might arise. He didn't; he led one kind of life, got some action on the side, and then used his position to try to make life harder for people like himself who took a different path. It may be tragic on a personal level, but that's a sidebar, not an excuse.
Eursoc in a comment thread on Iain Dale's Diary
Don't U.S. cops have anything better to do? There are thousands of assaults - and even murders - of homosexuals in the U.S. every year. Surely better to assign more resources to these cases, that to send cops to lurk in public lavatories in the hope of catching some cottage action?