What's the buzz on ... O.J. Simpson?
Each week, CNN.com takes a look at trends in the blogosphere by tracking one topic across gender and generation with the help of analysis tools from Umbria Inc. This week, we focus on former NFL star O.J. Simpson's September 16 arrest.
Simpson, 60, was arrested September 16 on charges related to an alleged armed robbery of sports memorabilia, including many items the NFL hall-of-famer and onetime murder defendant has said were his own property in Las Vegas, Nevada. He pleaded not guilty to 11 criminal counts, including robbery and assault with a deadly weapon, kidnapping, burglary and conspiracy charges.
Simpson was involved in an infamous police chase in Los Angeles, California, in 1994, as he ran from police who were arresting him on charges of murdering his ex-wife, Nicole Brown-Simpson and her friend, Ronald Goldman. In 1995, he was acquitted of the murders in what the media dubbed "the trial of the century."
Overall opinion (September 12-18)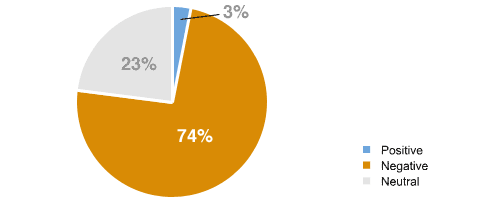 So what does this mean?
Roughly three-quarters of bloggers spoke negatively about Simpson this week, while only 3 percent spoke positively. The remaining neutral bloggers either offered factual reports about the arrest or expressed fatigue about the media frenzy surrounding the issue. Media polls show that more than 80 percent of Americans believe Simpson was guilty of the double murders. Among negative bloggers, 46 percent said that they firmly believe that Simpson is guilty of the double murders and belongs in jail. Some said he was seeking free publicity for his book, "If I Did It: Confessions of the Killer," which they decried. Bloggers were split on whether they wanted to read it and had mixed feelings on the Goldman family receiving profits. Some called Simpson a troublemaker, or even a sociopath or psychopath. Other bloggers said Simpson was "framed" and questioned why an audio tape exists in which Simpson can be heard speaking. Many of these bloggers said he that he is innocent of the 1994 murders or that the past trial needs to be kept separate from the current charges in media coverage.
In their own words
Jeff Fecke on Shakespeare's Sister
O.J. Simpson has been arrested on charges of armed robbery. But he claims that it's okay, because he was just stealing back stuff that had been stolen from him. Really? That's your defense, O.J.? I mean, I know that you're used to getting off after being obviously guilty, so I suppose you figure it doesn't matter what you'll say, if it was your stuff once, they'll only convict if they're...uh...a dunce. Yeah, that's it.
Slobokan on Slobokan's Site O'Schtuff
I have mixed feelings about this news. No, not because I am sympathetic to O.J. Simpson, but because I don't know if I could stomach yet another Simpson trial on the airwaves for the next 6 months. Think back to the days before Nicole Simpson and Ron Goldman were found dead and look how the press reacted. Now think about the media just a week ago. Talk about going nuclear. Talking heads will be exploding daily for months to come.
Bball in a comment thread on Pacers Digest
It's overcharged to the point Simpson would actually probably get some sympathy from a jury these days. I'm doubting it gets to a jury tho. I don't think the guy doing the recording seems to have had much to do with the planning and HOW things went down. But it is clear he figured he'd get something of interest on the tapes. And it's not (appearing) like the guys on the other side of this confrontation were angels. It also seems Simpson might've had a valid argument in the first place even if he did handle it 'badly' (to say the least).
Peter G in a comment thread on TalkLeft
What OJ needed to do was not get together a couple of thug friends and try to grab the stuff back himself, but rather go to his lawyer and get a civil injunction against the sale of the (allegedly) stolen merchandise until the question whether it had in fact been stolen from OJ at some point could be worked out. No one, even in all innocence, has the right to sell or re-sell stolen goods; they go back to the rightful owner -- as many art museums have learned the hard way. At the same time, no one -- even a theft victim -- has the right to take property from someone else by force.