What's the buzz on ... corporate Wikipedia editing?
Each week, CNN.com takes a look at trends in the blogosphere by tracking one topic across gender and generation with the help of analysis tools from Umbria Inc. This week, we focus on the editing of Wikipedia articles by corporations and other entities. According to its own Web site, Wikipedia is "the free encyclopedia that anyone can edit, featuring 7.9 million articles in 253 languages."
The open format of the Web site has drawn criticism from traditional encyclopedia editors and the media because anyone can edit the articles without directly identifying themselves. However, Wired.com reported August 14 that Virgil Griffith, now a computer science graduate student at the California Institute of Technology, created an application called WikiScanner that tracks edits that have been made to Wikipedia articles. Griffith's tool exposed the IP addresses of employees at several corporations who were making edits to not only their own companies' pages, but also those of competitors. Just a few of the corporations listed include ExxonMobil, Apple, Microsoft and Wal-Mart.
Overall opinion (August 14-21, 2007)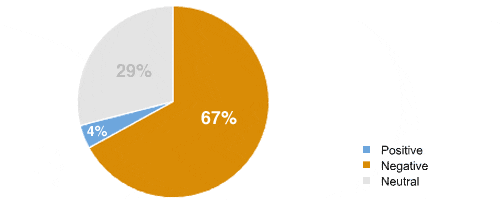 So what does this mean?
Bloggers engaged in mostly negative conversations about Wikipedia editing by corporations and other organizations, accounting for fully two-thirds of all comments. Only 4 percent had positive opinions, and 29 percent maintained a neutral stance. Many said corporate editing is morally questionable and a form of propaganda despite Wikipedia's open-source spirit. Overall, bloggers seemed to be unclear about whether or not the editing was done by public-relations staff or others within organizations, but said employees within corporations have tainted viewpoints. Those with negative viewpoints were split between blaming the open format and the entities responsible for the editing. Some went so far as to say that news of corporate editing isn't very surprising and that the controversy has finally provided "proof" that Wikipedia is not a fully credible information source. Others congratulated Griffith for his invention. Some bloggers also highlighted that corporations aren't the only organizations who have been accused of being involved in Wikipedia edits; government, religious, nonprofit, news and political organizations were also mentioned.
In their own words
Brian Oberkirch on LikeItMatters
I always strenuously argue that companies should not anonymously edit Wikipedia entries related to their business. Yes, I know errata can be maddening, but often it's just a change in POV. You might be shocked (shocked!) to find that people outside your company don't share the same vision of your company's actions. Or your motivations.
Joe on Dygiscape
If a company's PR team is sweating, there's really no need to. Just behave and understand that Wikipedia is a fully-disclosed entity, since that preserves the quality in their content. Maybe it's been said before, but your own Wikipedia page should be read as if it was from an encyclopedia, not an advertisement. Using superlatives are the easiest sign that flags bias. However, using them in conjunction with quoted material is generally acceptable. Is it just me, or do you think PR folks sometimes don't understand the Web?
RC in a comment thread on istartedsomething
I don't have a problem with people/companies editing information critical of them. … I've often read bios and other types of articles on Wikipedia and been a little skeptical to the prominence critical opinions are given. It gets cut right out, appropriately, if bias is put into the main body, but if it's put under the heading, "Criticism" or something, then any stupid comment is left in. Often it's a sizable chunk of the entire article and it gives a very skewed view of the topic.
Teresha in a comment thread on Social Capital
If you have no way of knowing who the author is it's hard to know whether or not to trust him/her. This becomes especially important with a resource that is cited as much as Wikipedia is.