A massive, howling tornado pulverized a vast swath of the Oklahoma City suburbs Monday, chewing up homes and businesses and severely damaging a hospital and two elementary schools. The storm, rated an EF5* on the Enhanced Fujita scale, carved a trail as much as 1.3 miles wide and 17 miles long, officials said. Related story »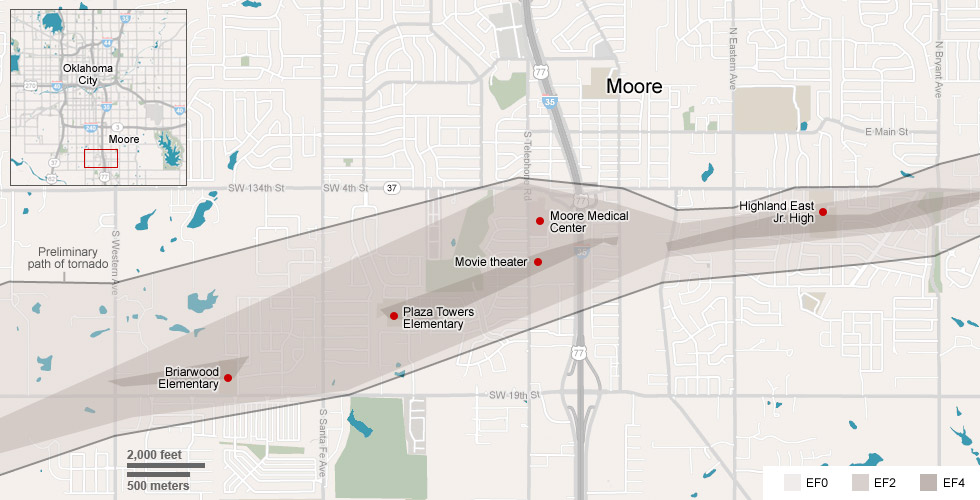 Source: National Weather Service | *EF5 damage reported at Briarwood Elementary, max winds 200 - 210 mph
The storm first struck near Newcastle, Oklahoma, at 2:56 p.m. CDT Monday, 16 minutes after the first warnings went out, according to the National Weather Service.
Moore residents had another 30 to 40 minutes before the massive storm entered the western part of the city, CNN meteorologist Sean Morris said.
On the east side of Moore, Briarwood Elementary was damaged, but everyone made it out alive.
At Plaza Towers Elementary, about 75 students and staff members were hunkered down when the tornado struck, CNN affiliate KFOR reported.
Several died at the school, including a number of children. The building was reduced to just a few walls.
Moore Medical Center was also hit. "Our hospital has been devastated," Mayor Glenn Lewis said. "We had a two-story hospital; now we have a one. And it's not occupiable." Many of the injured were rushed to three other area hospitals.
Population density
The map below shows the approximate population density of the areas affected by Monday's tornado.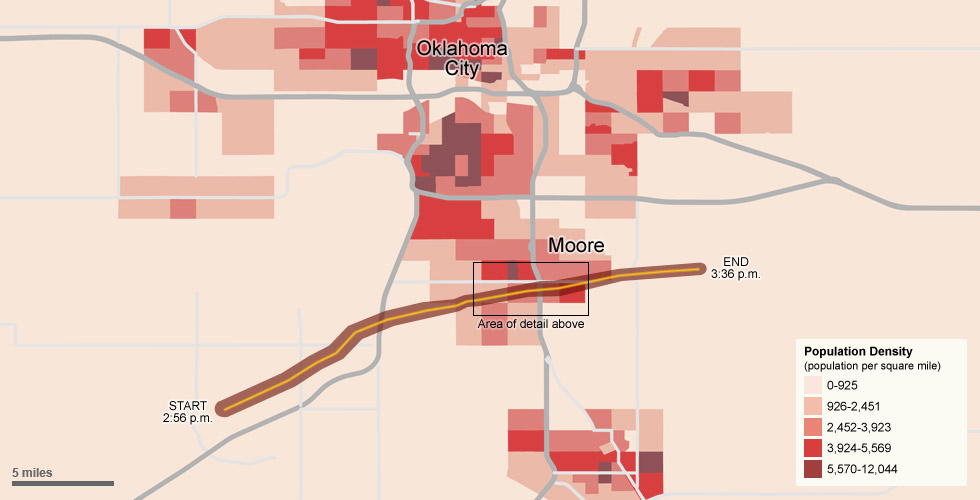 Source: U.S. Census Bureau, National Weather Service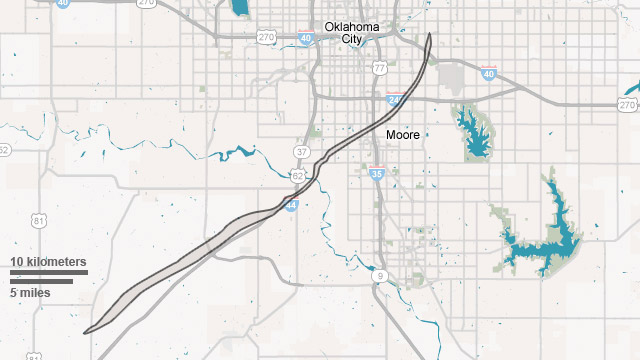 Moore has seen this before
On May 3, 1999, a total of 74 tornadoes pummeled Kansas and Oklahoma, according to the National Oceanic and Atmospheric Administration. The states counted a total of 46 dead. Thirty-six died in Oklahoma City.
The strongest tornado, rated a maximum EF5 on the Fujita Tornado Scale, tracked for nearly an hour and a half along a 38-mile path from Chickasha through south Oklahoma City and the suburbs of Bridge Creek, Newcastle, Moore, Midwest City and Del City.
Read more about the 1999 tornado »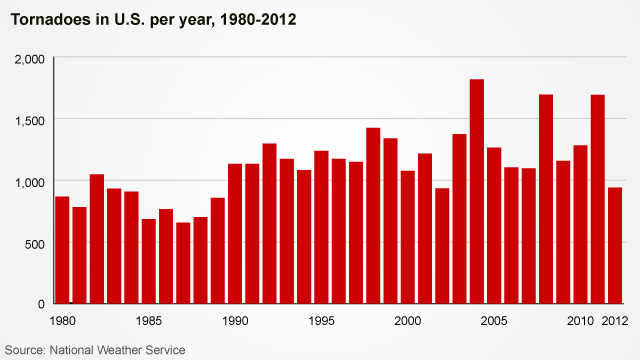 Tornadoes in the U.S.
This chart shows the number of tornadoes reported in the United States each year since 1980.
There are approximately 1,120 tornadoes on average each year, according to the figures. The most active year in that period is 2004, with 1,817 tornadoes reported.
Tornadic activity peaks in the spring, with May being the most active month on average, according to the National Weather Service.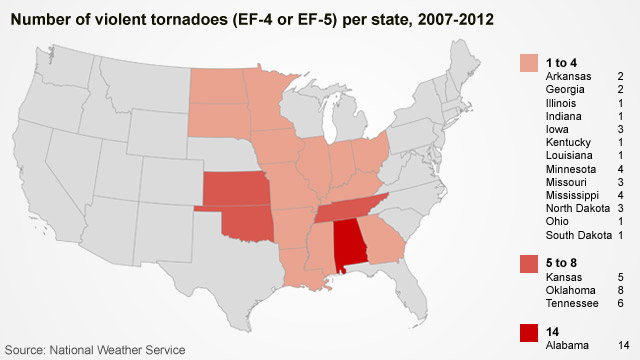 Where do violent tornadoes occur?
While most tornadoes strike in "tornado alley," some of the more violent tornadoes since 2007 have been reported in Alabama.
The National Weather Service adjusted the rating system used to grade tornadoes in 2007. Formerly the "Fujita Scale," the service now uses the "Enhanced Fujita Scale," which is determined based on wind speed and surveyed damage.