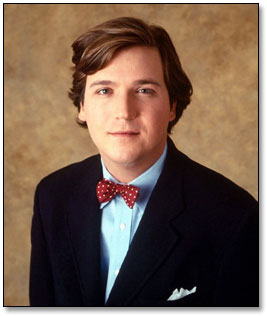 Tucker Carlson

Crossfire
co-host

Tucker Carlson is co-host of Crossfire, CNN's popular and lively political debate program. Crossfire airs nightly before a live studio audience from George Washington University's Jack Morton Auditorium in Washington, D.C. In 2002, Crossfire celebrated its 20th anniversary.

Carlson is also a political analyst for CNN, based in the network's Washington, D.C., bureau. Before Crossfire, Carlson was co-host of CNN's Spin Room. Since 1997, he has appeared weekly on Inside Politics with Judy Woodruff, the nation's first program devoted exclusively to politics.

Formerly a staff writer at the Arkansas Democrat-Gazette in Little Rock, Carlson is a contributor to New York Magazine and The Weekly Standard, as well as a columnist for Readers Digest. He has written for dozens of magazines and newspapers, including the New York Times, the Wall Street Journal, GQ and Forbes.

Carlson attended Trinity College in Connecticut.