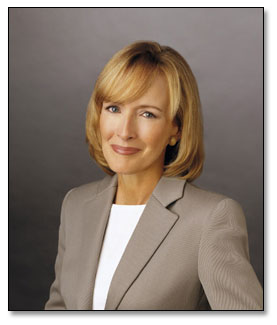 Judy Woodruff
Anchor

Judy Woodruff, a 30-year veteran of broadcast journalism who joined CNN in 1993, anchors Judy Woodruff's Inside Politics, the nation's first program devoted exclusively to politics. Woodruff also anchors Live From on weekdays as well as other major news events.

Woodruff helped anchor the network's coverage of the February 2003 Space Shuttle Columbia tragedy, interviewing experts and former astronauts about the risks and benefits of space exploration. Later in the year, Woodruff helped anchor the network's coverage of Operation Iraqi Freedom. She provided the latest reports and updates from the frontlines as well as from Central Command in Qatar and from Washington, D.C.

Following the Sept. 11 terrorist attacks on the World Trade Center in New York and the Pentagon, Woodruff provided award-winning continuous coverage from Washington, D.C., updating CNN viewers with the latest information and communicating with correspondents in the field.

In addition to her daily reporting duties, Woodruff reports on breaking political news stories and co-anchors CNN's special coverage of political events such as debates and major presidential speeches. In April 2003, Woodruff moderated the first debate between the 2004 democratic presidential candidates, sponsored by the Children's Defense Fund. Woodruff led the network's breaking news coverage of the death of Sen. Paul Wellstone, D-Minn., which occurred just weeks before the 2002 election. For CNN's Election 2000 coverage, she moderated the Phoenix Republican presidential debate that CNN aired in November 1999, the CNN and WMUR-TV/Imes Communications Republican presidential town hall meeting at Dartmouth College in October 1999, the CNN/WMUR-TV Republican presidential debate in January 2000 and the CNN/Los Angeles Times Republican presidential debate in March 2000.

In September 1995, she traveled to Beijing to cover the U.N. World Conference on Women. She moderated CNN's first two "Global Forums," international town meetings with former President Bill Clinton in 1994 and former President Jimmy Carter in 1995. She also anchored CNN's coverage of former President Richard Nixon's funeral.

She has covered politics and campaigns for most of her career. Woodruff moderated the 1988 vice presidential debate and has reported on every national political convention and presidential campaign since 1976. Before joining CNN, Woodruff was the chief Washington correspondent for The MacNeil/Lehrer NewsHour. From 1984 to 1990, she anchored public television's award-winning weekly documentary series Frontline with Judy Woodruff.

Before joining the NewsHour, Woodruff was chief Washington, D.C., correspondent for NBC's Today. She also served as NBC News' White House correspondent from 1977 to 1982, covering both the Carter and Reagan administrations. Woodruff joined NBC News as a general assignment reporter based in Atlanta in 1975. From 1970 to 1974, she was a correspondent for WAGA-TV, the CBS affiliate in Atlanta, where she reported on the state legislature for five years and anchored the noon and evening news. Her book, This is Judy Woodruff at the White House, published in 1982 by Addison-Wesley, documents her experiences as a journalist.

CNN received the 2002 Edward R. Murrow Award in the Continuing Coverage category for its Sept. 11, 2001, coverage of the terrorist attacks, anchored by Woodruff and Aaron Brown. In 1997, Woodruff won the News and Documentary Emmy Award for outstanding instant coverage of a single breaking news story for CNN's coverage of the Centennial Olympic Park bombing. In 1996, Woodruff and Bernard Shaw won the CableACE Award for Best Anchor Team for their work on Inside Politics. In 1995, Woodruff won the CableACE for Best Newscaster. In 1995, the Freedom Forum awarded Woodruff and her journalist husband, Al Hunt, the Allen H. Neuharth Award for Excellence in Journalism.

In October 2003, Woodruff received the International Matrix Award from the Association for Women in Communications. Also in 2003, Woodruff was inducted into the Georgia Association of Broadcasters Hall of Fame and honored by the Radio-Television News Directors Association and Foundation with the Leonard Zeidenberg First Amendment Award. In 1994, Woodruff became the first recipient of the National Women's Hall of Fame President's 21st Century Award. That same year, she and her husband were named "Washingtonians of the Year" by Washingtonian magazine for their fundraising work to fight spina bifida. And in 1986, for Woodruff's series on national defense issues, the NewsHour was awarded the first Joan Shorenstein Barone Prize by the Washington Radio and Television Correspondents' Association.

Woodruff is a founding co-chair of the International Women's Media Foundation, an organization dedicated to promoting and encouraging women in communication industries worldwide. She serves on the boards of trustee of the Freedom Forum, the Carnegie Corporation of New York and the Urban Institute.

Woodruff earned a bachelor's degree from Duke University, where she is a trustee emerita.