Story highlights
Software developers are adding new features to in-flight maps
The new maps include destination guides and fun facts, and might soon be a portal to make purchases
In time, progress maps could earn airlines extra revenue
On a long flight, there is something tortuously satisfying about making frequent check-ins to the route map.
So much so that the moving map is actually the most popular feature on the in-flight entertainment system. Perhaps we can chalk it up to our inner child, who still demands to know "are we there yet?"
Despite their popularity, these cartographic progress reports have met with little innovation over the years, offering passengers barely more than the time to their next destination and current GPS coordinates. Seeing the untapped potential, some companies have started pushing the map to the next level.
This month, Singapore Airlines started trialing Hidden Journeys, a geo-entertainment program curated by The Royal Geographical Society with IBG and developed by software company Airborne Interactive.
The map, which so far is only available on the Singapore-London route, comes pimped out with a range of nature photography and geographic fun facts. Information is doled out in real time, so that while a passenger is passing over the United Kingdom, for example, he'll be met with a pop-up that explains the origins of the English Channel.
"I think people just love to know where they are, and what's down there. It's quite a simple thing, really," says Ben Jarman, the project manager for Hidden Journeys.
"Many people look out the window and are amazed by what they see, but many aircraft don't give them the tools to learn about what's down below."
Of course, about 70% of what's below is ocean. While some might assume the lack of landmass would make for a very limited show, Jarman says that some of the most interesting tidbits about the Earth take place under the sea.
Read more: Inside the Airbus A350 XWB
"It really is the most interesting part of the flight path. Over the Bay of Bengal, for instance, there are these enormous underwater habitats," he notes.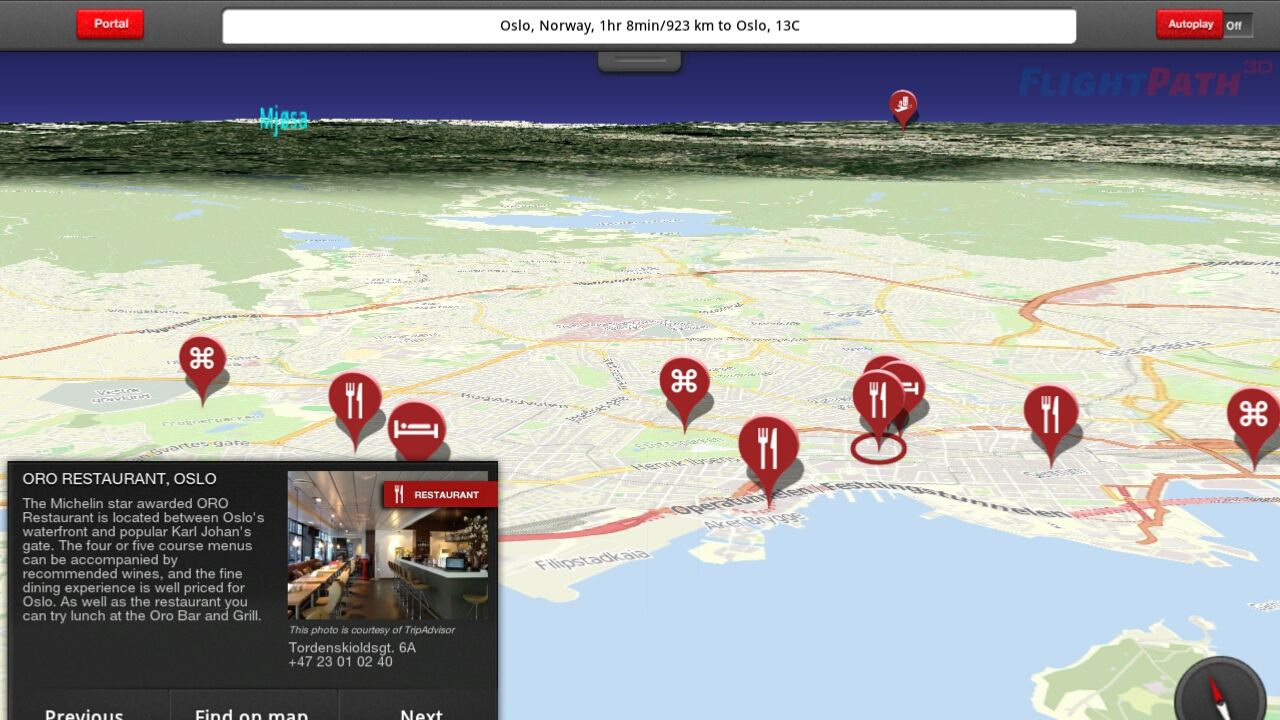 Beyond merely providing educational material for an antsy and captive audience, the progress map could also prove a lifeline to business travelers.
Last August, Norwegian Air Shuttle ASA launched Betria Interactive's new FlightPath3D moving map, which doubles as a destination guide complete with recommendations for restaurants, hotels and city tours.
"When traveling for pleasure, you have a guide book in your pocket. When traveling for business, you don't. You just know the hotel you have booked and the plans for your next business meeting," says Boris Veksler, Betria's president.
Veksler says the biggest vote of confidence his product has received is the fact it has managed to keep his eight-year-old son engaged for an hour straight.
"When you take an eight-year-old on a 12-hour journey on a plane, it can be quite an effort to keep him in the seat. Anything that can provide information that is interesting enough to achieve that is in my mind a huge winner," he says.
Veksler is in fact developing features specifically geared towards children in future versions of the software.
Read more: Can the Arctic airship change the world?
"The goal is to entertain, educate and engage the passenger, and put richer information into their hands," says Veksler.
"Realistically, all we're trying to do is feed the information addiction we all have."
Information, however, is only a small part of what the next generation of flight maps will be able to offer customers. Soon, they might even become the portal through which passengers can rent cars, book hotel rooms and buy tickets to major events.
"I would say that's the part that has airlines more excited than anything else," says Michael Planey, co-founder of H&M Planey Consultants, a consulting firm specialized in in-flight entertainment and communications.
"They can earn a lot in ancillary revenue by advertising destination-specific features. Airlines could coordinate with ticket selling services during major events – like the Winter Olympics. As long as you have connectivity, you can sell people items in real time," he says.