Your epic Greek vacation is about to start and all you can think about is all the delicious food you'll get to taste while you're there.
Fortunately we've got the perfect thing to tide you over until then – a selection of food blogs and vlogs that'll keep your mouth watering, and possibly even inspire you to try a recipe or two.
Here are five Greek food gurus you should be following right now.
Diane Kochilas
Chef, author and cooking show host Diane Kochilas hails from Ikaria, the Greek island famous for the longevity of its residents.
She's an ambassador of healthy Greek cuisine and features countless Greek recipes on her website ranging from classics such as spanakorizo (Greek spinach rice) and dolmades (vegetarian stuffed grape leaves in fresh tomato sauce) to more creative ones like pumpkin sweet potato moussaka, mushroom "gyro" pitta wrap sandwich or mastiha-spiced hot chocolate.
Kochilas' current favorite Greek dish is a roasted whole eggplant with crumbled feta and crisped sardine bones with crunchy sea salt from MeZen, a small meze eatery in the mainland port of Volos.
"Athens is an amazing food city, especially for a look at the hip, modern take on Greek food," she says.
"Thessaloniki is an awesome food city, too. But everywhere you travel here you notice how close Greeks are to the land. That is the real secret to great food, understanding ingredients and seasons, and knowing how to use all the beautiful things that grow wild."
Her most recent cookbook "Ikaria: Lessons on Food, Life, and Longevity from the Greek Island Where People Forget to Die" is based on the Ikarian wisdom on all things food-related.
My Little Expat Kitchen
Magdalini Zografou's passion for food and cooking is what makes her blog My Little Expat Kitchen tick.
It consists of a variety of recipes, from traditional Greek food to more international ones and her detailed, personal posts are pulsating with skillful photography that is sure to send you straight to the kitchen.
The Athens-born blogger loves experimenting with new flavors, but tends to return to traditional dishes in her everyday cooking.
Briam, a vegetable dish of eggplants, zucchini, tomatoes, peppers, potatoes and onions baked in a tomato sauce, is her current favorite recipe.
"Served with freshly baked sourdough bread and feta on the side, it's a meal made in heaven," says Zografou, who has been living in The Hague, Netherlands for the last eight years.
Greek barley bread, gemista (baked, meat-stuffed tomatoes and peppers in tomato-olive oil sauce) and tiropita (Greek cheese pie) are My Little Expat Kitchen's top three recipes.
Athens is Zografou's top pick for a foodie traveling to Greece as "you can find everything, from traditional Greek to modern food."
She also recommends mezedopoleia, Greek eateries which serve only meze (small plates of traditional Greek foods) so you can try all the different dishes.
READ: Athens street food – A taste of Greece's culinary revolution
OliveTomato
Chicago native Elena Paravantes' love affair with cooking was sparked by her mother, who cooked exclusively Greek food for her family.
She's now a registered dietitian, nutritionist and writer specializing in the Mediterranean diet and has lived in Athens with her family for the past 15 years.
With OliveTomato, she aims to spread the word about the real Mediterranean diet, combining her professional knowledge with her own experiences. Authentic recipes from the Mediterranean diet, personal antidotes, tips on cooking the Greek way, updates on new research and food guides for those visiting Greece are all on the blog's menu .
Green beans (fasolakia lathera) and roasted okra (bamies) are her go-to recipes in summertime.
"Consumed at room temperature, ideally the next day of cooking, they pair perfectly with feta cheese and are ideal for the summer," she says.
Her recipe for tender Greek roasted beans in tomato sauce (gigantes plaki) is among the blog's most popular.
Peloponissos, which boasts simple Greek cuisine and quality products such as the world famous Kalamata olives, is her top food tip for anyone visiting Greece.
Among the region's cuisine-related highlights are the traditional casserole dishes of Arcadia, the fir tree honey of Vytina village, the eggplants of Leonidio, traditional cured pork (known as syglino) of Mani and the Nemea wineries with the popular Agiorgitiko grape for the wine lovers.
In Athens, Paravantes' favorites include the savory pies of Lykavittos Bakery in Kolonaki, Vlassis for traditional, casserole type Greek dishes, Café Avissinia for meze, fun and people-watching and the restaurants 2Mazi and CTC for creative dishes with a strong Greek influence.
Eat Yourself Greek
Based in Athens, Eugenia Makrogianneli founded cooking blog Eat Yourself Greek to collate Greek family recipes and stay in touch with friends in the UK, where she had spent a few years working.
For her, Greek cuisine is about heritage and memories, as well as flavorful, simple, healthy food like grilled sea bass with olive oil and lemon.
"I love the lesser known dishes like artichoke stews or black-eyed beans with greens. Simple and quick recipes that are very nutritious and require few ingredients," she says.
Homemade marinated anchovies perfectly complimented by a glass of cold ouzo are Eugenia's current favorite.
Makrogianneli's beef youvetsi recipe, a slow-cooked stew with spiced tomato sauce and orzo pasta is one of the blog's highlights.
"The pasta is baked in the sauce and then you add a generous helping of cheese to melt on top just before you serve. It is delicious and very easy to make," she says.
Crete is her top foodie destination in Greece as she feels it showcases the best of the Greek diet – plenty of vegetables, a few delectable meat-based dishes, a great variety of cheese, and raki, the signature drink of the island.
Besides the blog, Makrogianneli also runs the "Eat Like a Greek" supper club (along with fellow food blogger Artemis Tsipi), which is aimed at travelers looking to enjoy homely Greek meals.
MORE: Which destination has the best food?
Cooking Economy by FT Bletsas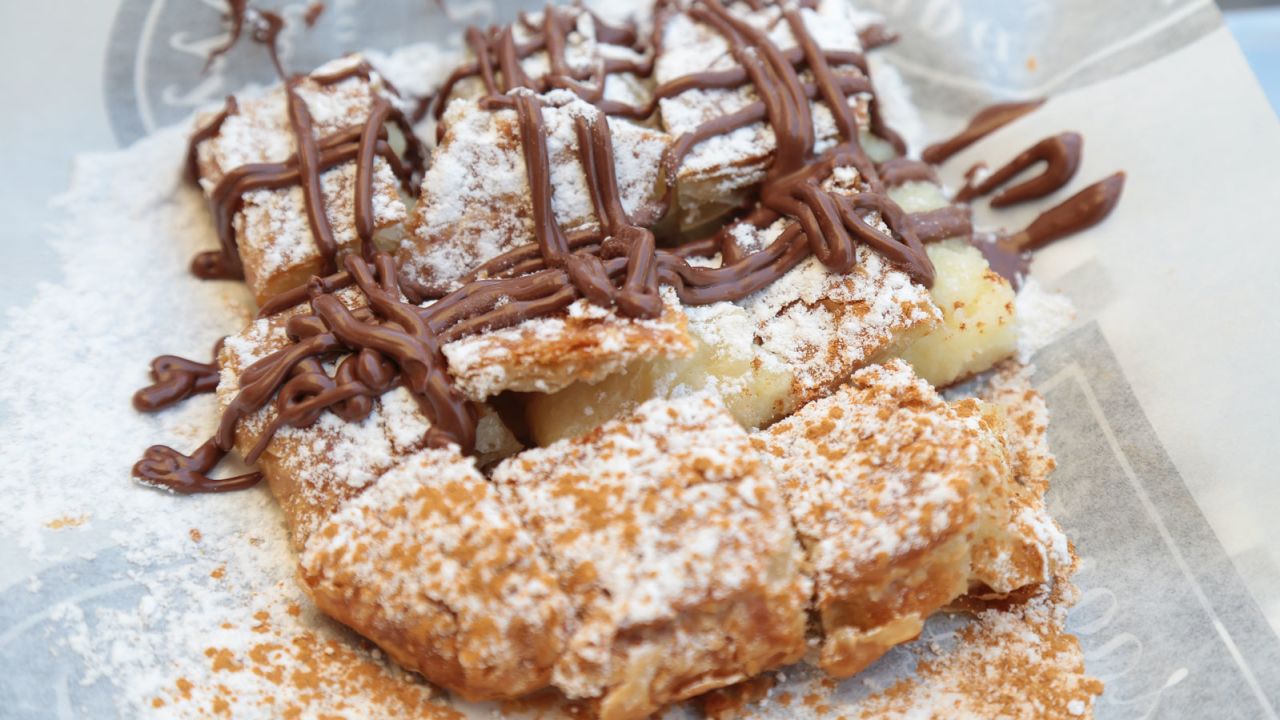 Eftychis Bletsas (aka FT) is a food, travel and music junkie who has been presenting food and travel TV shows in Greece for over a decade.
Based in Thessaloniki, FT also has his own YouTube channel, Cooking Economy by FT Bletsas, where he uploads vlogs and recipes as well as his worldwide travel adventures.
Gemista (tomatoes and peppers stuffed with rice), imam bayildi (stuffed eggplant), simple grilled fish with lots of fresh vegetables, and a simple salad with top-quality olives, feta cheese and Cretan rusks are among his top dishes.
His most popular videos are his recipes for aloe vera juice and a Greek pie called Kixi (pronounced kee-hee)
"Thessaloniki is one of the top destinations for foodies in Greece, and possibly in Europe as well," he says.
For quality dining with top Greek products from local producers, FT suggests visiting Zithos Dore, a classic eatery popular with locals.
Zagorohoria in the Epirus region, a destination known for its exquisite traditional Greek pies, is another of his preferred foodie stops.