One minute you're boarding a Hong Kong junk boat, surrounded by glossy skyscrapers, their glass and steel facades reflecting off the water.
Just 45 minutes later, you find yourself in a remote bay enjoying fresh snacks, ready to plunge into the aqua-blue waters for a swim.
Fortunately, you don't need to be a yacht owner to enjoy this quintessentially Hong Kong experience.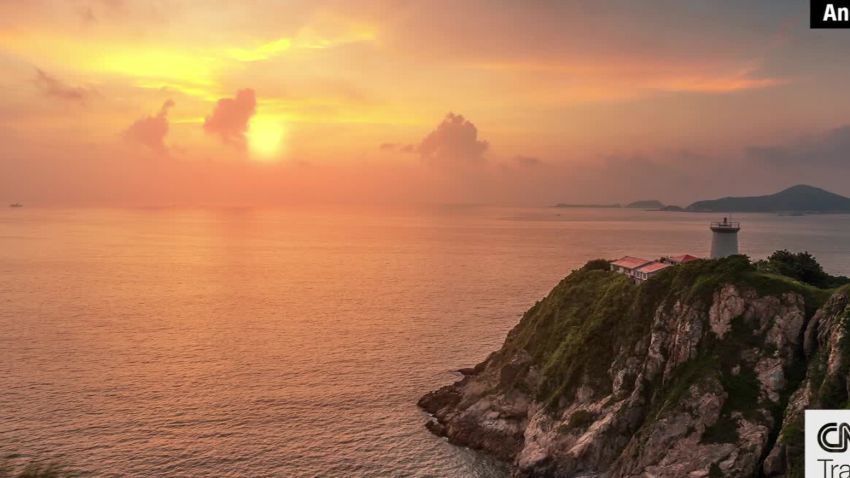 A visual tour of Hong Kong's beautiful places
Though the word "junk" traditionally refers to Chinese wooden sailboats dating back to the Han Dynasty – still used in Hong Kong's natural harbors and islands – these days it's a catch-all phrase that refers to any Hong Kong boat charter.
Today's junk boats come with modern luxuries and, this being Hong Kong, food and drink are central to the experience.
We contacted several leading junk operators to find out more about the numerous packages and boats, which offer everything from wakeboarding to on-board spa sessions.
Hong Kong's most scenic drives
For the classic junk experience
Michelangelo
The classic Hong Kong junk follows a sophisticated design invented centuries ago to withstand the challenges of ocean travel.
Today's recreational engine-powered versions have retained that traditional feel but come with built-in luxuries and conveniences.
For instance, the 80-foot Michelangelo is about preppy, old-school charm.
With teak, brass and mahogany finishes, this luxurious three-decked yacht includes plush bedrooms, bathrooms, a dining room, a living room and a kitchen with its own chef.
WiFi, air-conditioning, karaoke, a Bose sound system and a rooftop camera remind you that you're still in the 21st century.
The sizeable upper deck can be turned into a dance floor, while the dining table accommodates 10 to 12 people for a seafaring meal.
Where to sail it?
Michelangelo's Dao Te Lagger recommends Joss House Bay, near Clear Water Bay, a short distance from Victoria Harbour and which "gives a stunning panoramic view of Hong Kong's coasts and islands."
"The Ninepin Group (or Kwo Chau Islands) has some of the clearest waters I have seen in Hong Kong and islands around for you to explore," adds Lagger.
For those willing to travel further, Lagger says Double Haven, the remote harbor in the northeastern New Territories, is another gem.
Aqua Luna
If it's the classic red-sail junk experience you're after, try Aqua Luna.
It offers everything from 45-minute sightseeing tours of Hong Kong Harbour to Symphony of Light evening cruises where you can enjoy a ten-course dinner while watching the nightly laser show.
Expect cocktails and dim sum in an air-conditioned wooden interior.
Visit www.luxuryjunk.com.hk and aqualuna.com.hk/flash for more info. Prices available upon request.
Hong Kong: Insider Travel Guide
For pure luxury
Lazydays
This is for those who really want to be pampered.
Standard Lazydays packages include prosecco, craft beer and water toys.
Menus and catering can be customized – there's even a paleo option.
A baby-friendly paddling pool ensures the little ones won't miss out on the fun, while DJs and live bands can also play on board.
The pampering doesn't stop when you leave: The company has joined forces with "hydration and wellness specialists for the post-cruise boost," with spa, manicure and butler services on offer.
"if you can get away, a weekday trip is fantastic," says Lazydays' Irene Moore.
"The best months for boat trips are September and October when the weather is slightly cooler but still nice and the water still warm – a much better way to enjoy the outdoors rather than the really humid months," Moore adds.
Visit www.lazydays.com.hk for more info. For adults, prices for packages range from HK$940 (US$121) to $1,175. The minimum charges for their boats are HK$14,100 (US$1,818) to HK$17,625 for 15 adults, and HK$23,500 to HK$29,375 for 25 adults.
Hong Kong Yachting
Twin boats named Jungle Jane and Tarzan are this Australian company's crown jewels.
Their open decks step down into 22-feet-wide, custom-designed swimming platforms.
"We sailed them over 4,000 nautical miles from Australia," says Hong Kong Yachting's Jess Harris.
The junks come with "an inflatable slide, inflatable lounge, a bar with waitresses, king sunbed and beanbags with a top-of-the-line Fusion sound system."
With capacity for 100 people, they're a popular choice for corporate events, weddings and large parties.
Tips from the owner?
"If you want a bargain, try requesting a public holiday or weekday or hiring a junk in March and April, or October and November, on the edge of the hot summer months," says Harris. "You can often pick up a boat for half the price."
Hong Kong Yachting's junk trips start from HK $8,500 (US $1,096) for 30 people for one day.
Check out www.hongkongyachting.com for more info. For junk trip packages including food and drink, prices start at HK $650 per person. The price for a day charter on Jungle Jane is HK$25,000, and HK$27,000 for Tarzan. For an evening charter, the prices for the two boats are HK$23,000 and $24,000 respectively.
Breakaway
Depending on your energy level, with Breakaway you can enjoy a full day, a romantic dinner for two, or simply breakfast or brunch by the water.
This is ideal for those who're looking for a more intimate trip or don't want to assemble a big party.
Want to stay a little longer? Book an overnight camping trip on the beach, with next-day pickup.
This luxury yacht operator offers all-inclusive packages with a range of tailored choices.
A private event planner is available for consultation.
Breakaway's Jenny Kuo's top destination pick would be Tai Long Wan, where the sand and water are soft and clean.
"Once you get to Tai Long Wan, it gives you an illusion that you have been somewhere else other than Hong Kong," says Kuo.
Check out www.breakawayhk.com for more info. HK$14,850 (US$1,915) covers food and drink for 15 people for a full day.
How to be a Hong Kong local: 10 tips
For parties, feasts and adventures
Delicious
For home-cooked meals with generous portions, go with Delicious.
Founder Dennis Villanueva tells us it has catered to celebs including Naomi Campbell, Macy Gray and Jack Black.
"Anouska, my wife, and I have always wanted our own small food business," says Villanueva, who comes from the Philippines.
"We have always loved our food. Working for some of the top restaurants and bars in Hong Kong, we got to taste good food and wanted to create our own brand."
As a caterer, Delicious uses boats provided by Nextwave Charters.
Villanueva promises the prosecco, craft beer, wine and sangria will flow.
What about his signature junk dishes?
"Lemongrass and garlic-infused roasted chicken, freshly made mixed vegetable quiches, rocket with figs, artichoke and shaved parmesan salad [and] our very famous chocolate cake" are some of the treats on offer.
As for scenery, he recommends Lamma's Turtle Bay and Tai Long Wan.
Extra services available include speed boats and banana boats for water sports.
Visit www.delicious-hk.com for more info. Prices: HK$5,500 (US$709) to HK$8,500 for the Chinese Junk. HK$6,000 to HK$8,700 for the Western White Cruiser, which has capacity for 38 people.
Jaspa's Junks
When it comes to food, Jaspa's Junks doesn't mess around.
"We provide welcome snacks cooked on board, followed by a buffet lunch or dinner prepared by our on-board chef on every charter," says Jaspa's Junks' Brian Parfitt.
He also assures us that, whether you've been lounging or in the water or on floats all afternoon, you'll be greeted with "hot pizzas and decadent chocolate cake" on the return journey.
All this goes down on a traditional Chinese junk with "a fully loaded iPod of great party music."
Water sports can also be arranged.
Check out www.casteloconcepts.com for more info. HK$2,500 (US$322) for a day trip.
Hong Kong's best dim sum: How to yum cha like a Cantonese
Eat your way through Hong Kong's history
Editor's note: This article was originally published in 2011. It was reformatted and republished in 2017.