Story highlights
Hong Kong is divided into three parts: Hong Kong Island, Kowloon and the New Territories
Kowloon offers some of the city's best dining and hiking experiences
Though to newcomers Hong Kong might seem like one big city, it's actually divided into three main areas.
There's Hong Kong Island, Kowloon – which lies across Victoria Harbor – and the New Territories, which is closest to Mainland China.
People who live on Hong Kong Island call Kowloon the city's "dark side."
Those who live here prefer to think of it as the better side.
Nearly half of the city's population lives here. And while many Islanders don't venture over because it's considered "too far," the reality is it's a 3.5-minute ride on the MTR in the underwater tunnel, or a five-minute ride across the water on the Star Ferry.
To tempt you over to the "dark side" we've put together this in-depth list of some of Kowloon's best experiences.
Lion Rock
Lion Rock sits 495 meters above sea level and towers over the city's vast skyscraper jungle, offering great views of Kowloon, Hong Kong Island and the New Territories.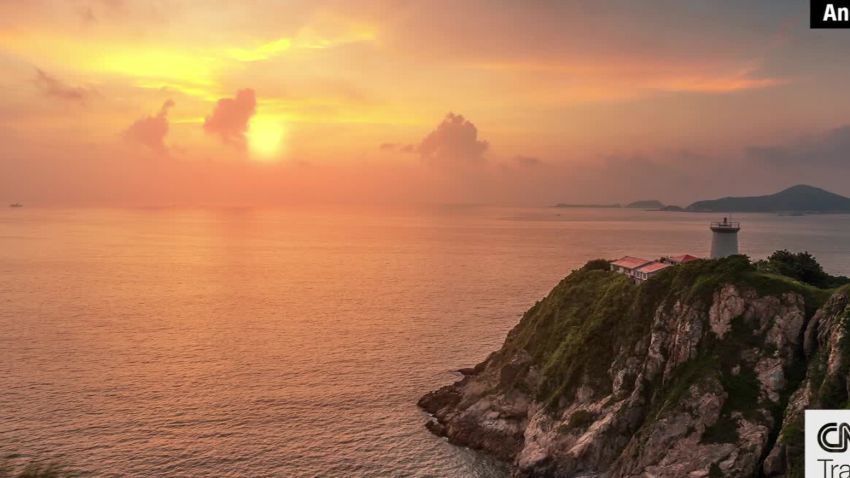 A visual tour of Hong Kong's beautiful places
It takes about three hours to make the seven-kilometer hike to the top.
Especially adventurous hikers may want to go late afternoon to catch the sunset and then take in the night skyline, lit up by the millions of lights below.
Just be sure to take a flashlight – or at least a battery pack for your phone – so you'll have something to light the way back down.
Getting there: Trail starts at Sha Tin Wai Railway Station
Devil's Peak
For those wanting stunning views without the long hike there's Devil's Peak.
At the top of the 222-meter hill is a redoubt built by the British military in 1914.
You can perch on top of the old structures and look west down Victoria Harbor, taking in Central on Hong Kong Island to the south and Kowloon to the north.
Scores of photographers venture up to the peak with their cameras and tripods to catch the sunset. The hike is relatively easy and can be completed in around 90 minutes.
Getting there: Section 3 of the Wilson Trail is a short walk from Yau Tong Station Exit A
MORE: Incredible new views of an over-photographed city
Wong Tai Sin
One the eve of the Lunar New Year, hundreds of people line up at the front gate of Wong Tai Sin temple. At the stroke of midnight a mad race begins to be the first to make an offering to Wong the Immortal.
It's believed that doing so will ensure luck in the year ahead.
On any other day, you'll see dozens of worshippers at this Taoist temple shaking metal cylinders containing "fortune sticks" until one falls out.
Each stick has a number, and the number on the stick that is drawn is then used by the soothsayers in the booths on the side of the complex to answer a question about the future.
Visitors, no matter what their beliefs, are welcome to give it a try.
Or they can just take in the atmosphere and admire the bronze statues of deities and unique architecture of the temple, which dates back to 1921.
2 Chuk Yuen Village, Wong Tai Sin MTR Exit B2
Chi Lin Nunnery & Nan Lian Garden
The Chi Lin Nunnery, a Buddhist Temple renovated in 1990 to resemble architecture from China's Tang Dynasty (618-907 AD), offers tranquility amongst the frenetic energy of Hong Kong.
The complex is massive, featuring buildings constructed of dark wood and towering golden statues of Buddhist deities.
The adjacent Nan Lian Garden is a public park also modeled after the Tang Dynasty.
The centerpiece is the golden Pavilion of Absolute Perfection and the stunning Zi Wu Bridge.
5 Chi Lin Drive, Diamond Hill, MTR Exit C2
Lei Yue Mun fishing village
Tucked away on the east side of Kowloon is a tiny fishing village where locals live as they have for decades.
Lei Yue Mun is known for its seafood restaurants but visitors should stroll past the fish stalls into the village itself to see the unique architecture and get a feel for village life.
The main path leads to the Tin Hau Temple on the edge of the water, where locals often cast their rods in hopes of catching that night's dinner.
Getting there: 15 minute walk from Yau Tong MTR station, or catch Minibus No. 24 opposite Yau Tong Center
Temple Street Market/Fortune Tellers Lane
You can find any souvenir under the sun at this kilometer-long open-air market in Jordan.
If you're hungry, there are seafood restaurants at the very front – they're easy to spot because they're crowded with diners.
But it's the streets on the outer edges of the market that are the real draw.
Fortune Teller's Lane is a strip of around 10 to 15 tents occupied by people who claim to be able to read tarot cards or analyze your palm, face and even the shape of your teeth.
If you walk to the end of lane and hang a right you'll find two open-air karaoke bars where locals sip beer and belt their hearts out to classic Canto-pop songs and even operas.
Getting there: Jordan MTR Station Exit A or Yau Ma Tei MTR Station Exit C
Mong Kok Goldfish Market
You're unlikely to be buying pet fish if you're just visiting Hong Kong, but the Mong Kok Goldfish Market is still worth a wander for the incredible photo opportunities.
Hundreds of plastic bags containing goldfish and other varieties of fish hang from a floor-to-ceiling rack.
Inside the shops are huge aquariums with fish of all different sizes as well as turtles and lizards.
Getting there: Prince Edward MTR Exit B2 or Mong Kong MTR B3 and follow the signs to Tung Choi Street
Sai Yeung Choi Street
If you thought Causeway Bay on Hong Kong Island was crowded on a weekend, wait till you see Sai Yeung Choi Street in Mong Kok.
Throngs of people come out to watch and listen to the buskers to perform on the street, while political activists have also taken advantage of the crowds to set up stations to transmit their messages to anyone who'll listen.
The street is closed off to vehicles from 4 p.m. to 10 p.m Monday to Saturday and noon to 10 p.m. on Sundays.
The crowd is always lively and it's definitely a unique Kowloon experience.
Getting there: Mongkok MTR Exit E2
Cycle around West Kowloon
Cycling isn't very popular among Hong Kongers, mainly because the streets are so hilly.
But the new West Kowloon Cultural District, now under development, offers cheap bike hire.
Renters can cycle around the art park, winding their way through the trees and along the waterfront to take in the Hong Kong skyline across the harbor.
It's a fun way to get some exercise, soak in the fresh air and take in the scenery.
Getting there: About a 10-minute walk from Kowloon MTR Station Exit E4 or E5
Ozone
There's no finer way to end a day in Kowloon than with a drink at one of the highest bars in the world.
Ozone sits on the 118th floor of the Ritz-Carlton hotel. The outdoor area offers views of the city and the harbor from 490 meters above sea level.
Still not as high as Lion's Rock, but you can get up here in a matter of seconds instead of hours.
The dinner menu includes a selection of sushi and tapas.
We recommend trying one of their innovative cocktails, such as a Dragontini or a Kowloon Buck.
118th Floor, Ritz-Carlton, Hong Kong, International Commercial Center, 1 Austin Road West, Tsim Sha Tsui
MORE: Hong Kong's best hotels for amazing views
Where to eat
Hutong
Hutong, which serves northern-style Chinese cuisine, offers stunning views of the city's central business district skyline across the harbor.
Flavors in dishes served at this high-end restaurant aren't as in-your-face as Cantonese cuisine, but the subtlety is what makes them delicious.
We recommend the crispy deboned lamb ribs and braised tofu and minced shrimp in salted egg sauce.
Hutong; 28/F, 1 Peking Road, Tsim Sha Tsui; +852-3428-8342
Happiness Seafood Restaurant
Happiness Seafood Restaurant is a popular local joint in Lei Yue Mun, serving fresh fish, lobster, crabs, clams, mussels and other delights of the deep.
You can handpick the seafood you want and how you'd like it prepared.
The razor clams are especially delicious. But be prepared to splurge – your standard meal of four seafood dishes will cost in excess of US$300.
Happiness Seafood Restaurant; 53 Hoi Pong Road, Lei Yue Mun; +852 2340 1998
One Dim Sum
No trip to Hong Kong is complete without dim sum – or yum cha.
While you can get the latest in modern dim sum fusion at one of the five-star hotels on either side of the harbor, the best traditional Hong Kong-style dumplings, steamed buns and other delights are at One Dim Sum, a tiny, no-frills establishment in Prince Edward that earned itself a Michelin Star in 2012.
Arrive before opening at noon or after 4 p.m. Otherwise, be prepared to wait outside for 30-45 minutes – this place is super-popular among locals.
One Dim Sum; Kenwood Mansion, 15 Playing Field Road, Prince Edward; +852 2789 2280
MORE: Hong Kong's best dim sum
Tiffany Restaurant
Back in the 1970s, Tiffany Restaurant was the place to take a date: Western-style food with a Chinese twist served by staff wearing tuxedos.
It was the closest you could get to fine dining.
These days Hong Kong is one of the world's culinary capitals, but Tiffany has retained its charm (its decor doesn't appear to have changed, either) and its food is still a unique and tasty fusion of east meets west.
We recommend the roasted beef rib: a giant serving of meat marinated in soy sauce that's crispy on the outside and succulent on the inside, best shared between two people.
Tiffany Restaurant; 48 Prince Edward Road West, Prince Edward; +852 2380 8029
Mido Cafe
This cafe is like stepping back in time.
The tiled walls, large windows and booths give it the feel of a greasy 1960s diner.
It's the perfect place to have breakfast or brunch and gaze down at the hustle of local life.
The menu offers a variety of Hong Kong breakfast favorites such as instant noodles with fried egg and spam but the must-have here is the French toast.
Mido Cafe; 63 Temple Street, Yau Ma Tei; Closed Wednesdays; +852 2384 6402
MORE: Michelin launches 2017 Hong Kong and Macau guide
Hing Kee
Hing Kee is the place to go for a bowl of Cantonese roasted duck noodle soup.
The restaurant is small but gained fame by serving some of Hong Kong's top celebrities.
As a result, the staff don't feel the need to impress so don't expect high quality customer service.
One bite of the roasted duck leg and the soft, light rice noodles and you won't care.
The restaurant also has a wide selection of Hong Kong-style seafood dishes.
Hing Kee; 1F Po Wah Commercial Building, 180 Nathan Road, Tsim Sha Tsui; +852-2722-0022
Ethnic eats
In addition to the fantastic Hong Kong and Chinese-style food mentioned above, Kowloon also offers some of the city's best ethnic dining experiences.
If you're craving a warm Indian curry, check out the restaurants inside the infamous Chungking Mansions (38-44 Nathan Road).
The complex is also worth a wander as it sells everything from cheap electronics to Indian groceries and clothing.
The best Japanese ramen in Hong Kong can be found at Yokozuna Noodle Shop (466-472 Nathan Road, Yau Ma Tei).
The generous cuts of braised pork melt in your mouth, but avoid going during peak hours because seating is limited.
Hong Kong's Korean expats will tell you the most authentic Korean fried chicken in the city can be found at Chicken HOF & Soju (84 Kam Kok Mansion).
Kowloon City also offers the best Thai, Vietnamese and Cambodian cuisine thanks to the area's large Southeast Asian expat population.
And if you feel like some European fare, try the meat platter at King Ludwig Beerhall (Shop 32, East Tsim Sha Tsui MTR) – the pork knuckle is to die for – and there's a fine selection of German beers served by the liter.