As we wander around the little lanes of Sai Ying Pun – well-known in Hong Kong for its dried seafood markets and open-air shops – street photographer Christopher Lim stops in his tracks.
He has his eye on a sliver of light across Des Voeux Road West, which seems to cast a spotlight on a retro diner, known locally as a cha chaan teng.
Lim waits for a passerby to complete the picture and snaps a single shot with his Yashica T4 Super D, a film camera with a waist-level viewfinder that helps frame subjects from a low angle for discreet shots.
"People often think street photography is a spur-of-the-moment kind of thing," Lim tells CNN. "But to compose the right shot, sometimes it's a waiting game. You have to know what you want to capture, layer the image, think about the light … and then wait for the pieces to fall into place."
Originally from Melbourne, the Cambodian-Chinese artist got his start as an automotive photographer in Australia. He moved to Hong Kong on a whim in 2015 and began shooting commercial work for the automotive, fashion and audio-visual industries.
Like many who travel, when he landed in Hong Kong his first instinct was to whip out his camera and start shooting.
After all, the city lends itself to street photography, from the dense towers and intersections, to the islands, markets and old-school neighborhoods like Sham Shui Po.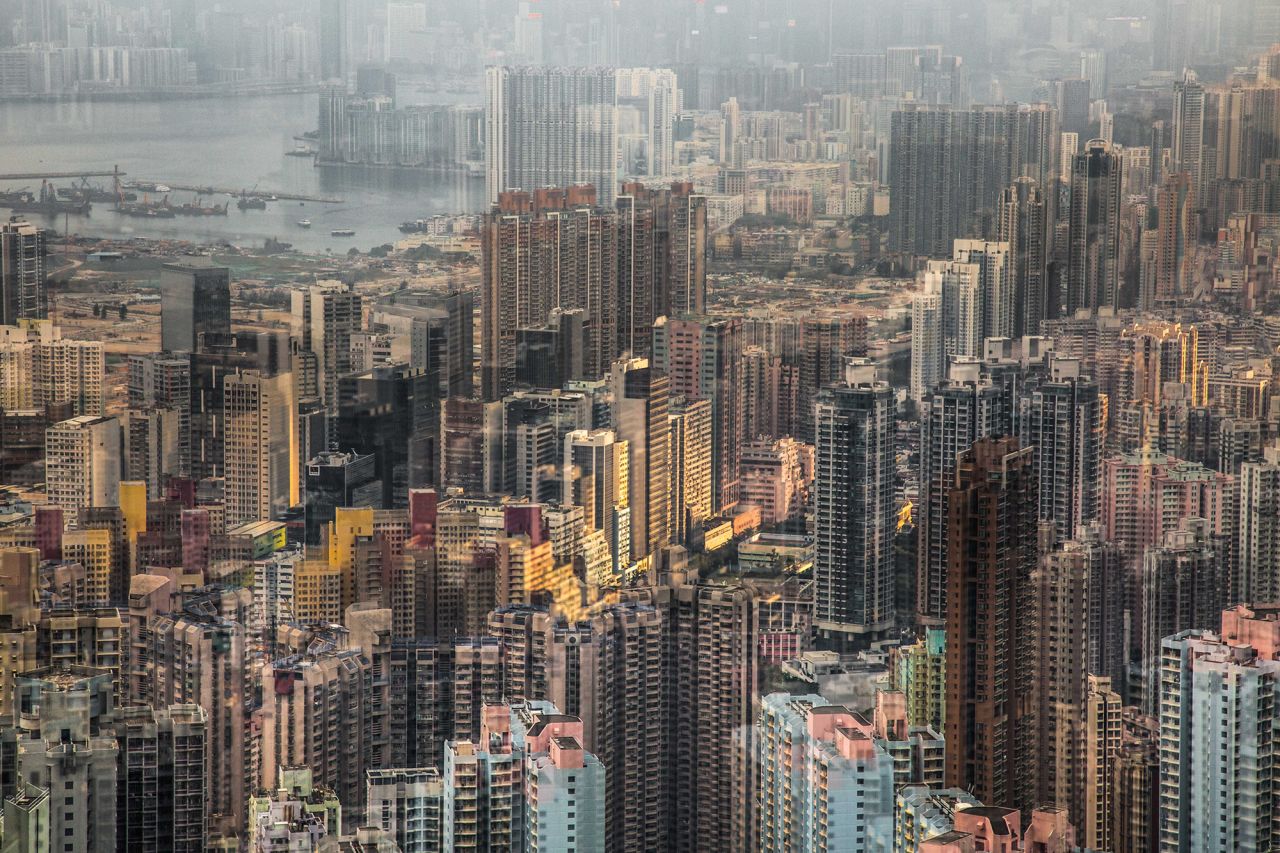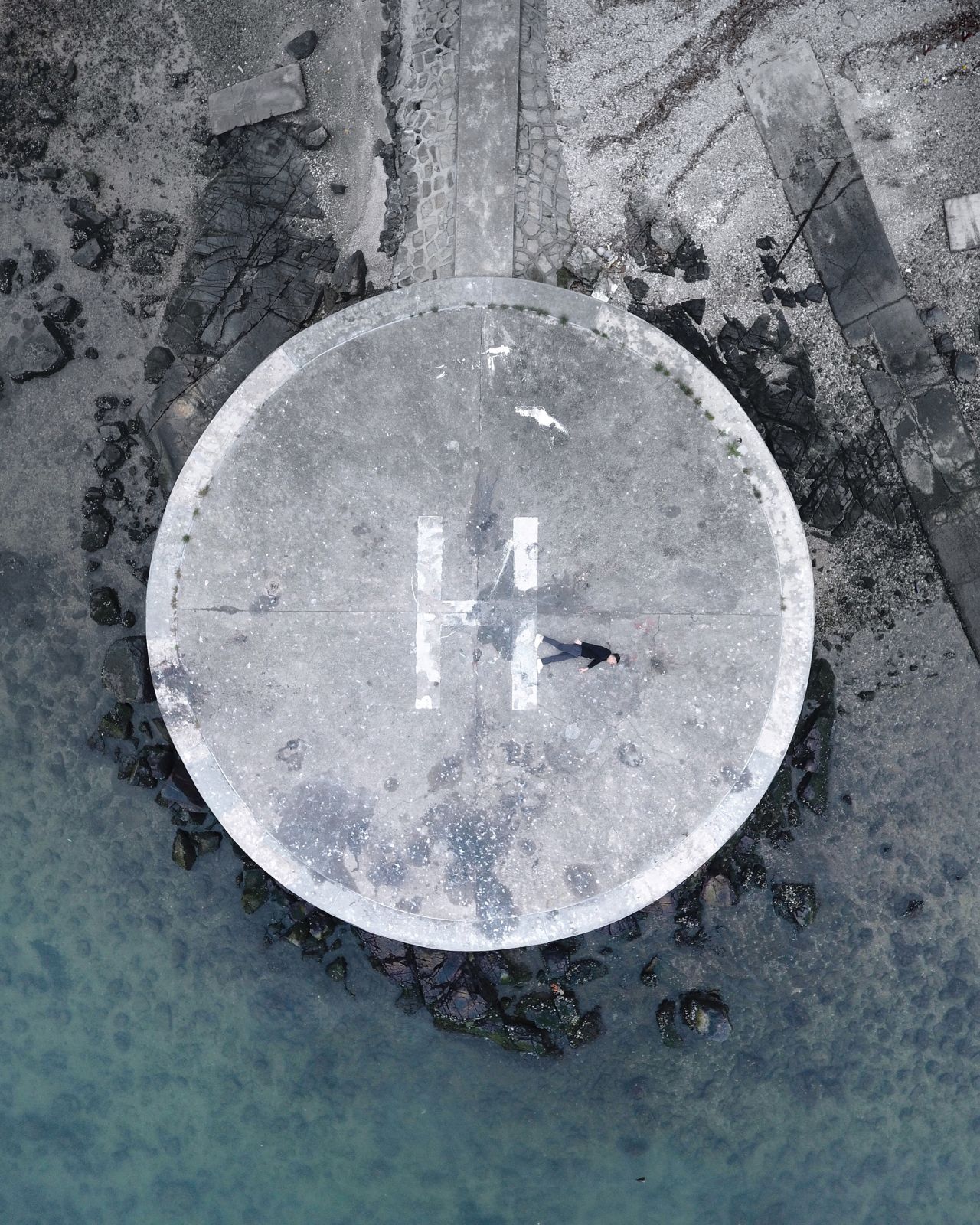 Hong Kong Perspectives
"When I moved here, I would go out and shoot almost every day. I think that is very much the Hong Kong 'hustle' mentality and I was trying to keep up," says Lim. "Now, I usually just shoot when I feel like it. It's like my vice – I shoot when I'm really craving it, when I need it … and I think that creates better images."
From tram-top street shots to moody Mong Kok market scenes, a selection of Lim's work is currently part of "Hong Kong Perspectives," an online exhibition curated by Bamboo Scenes. The Hong Kong-based art initiative champions local talents and donates 10% of each sale to charity.
CNN tagged along with Lim on a tour of Sai Ying Pun, where he shares a few street photography techniques, divulges his favorite neighborhoods, and offers some friendly advice for snapping photos in a foreign place.
Follow the light
"I live in Sai Ying Pun and love to shoot around the neighborhood. Generally, on a good morning, the towers cast shadows and create these beautiful golden streaks of light, especially on streets like Des Voeux Road West, where the tram runs," says Lim.
"I go around looking for these little slivers of light that cast a spotlight on a scene.
"It adds more depth to the image and more character. Sometimes it's just a waiting game, where I'm waiting for someone to walk through or for something to happen."
Think in layers
"At the same time, I am always thinking about how I'm going to layer my images."
"Often, I prefer to have something in the foreground (like construction), the middle ground (maybe the tram), and perhaps the subject is actually a cha chaan teng diner across the street with the sun shining on it.
"That's what I love about Hong Kong – you can get always build layers because there's so much happening. For me, construction contrasted with something peaceful is a really nice mix."
Color coordinate
"The other wonderful thing about Hong Kong are the colors. Whoever decided to paint all these buildings in different colors wanted Hong Kong to stand out. It gave photographers this wonderful background and foreground to use – that building's pink, that one's yellow, that one's light blue.
"There's so much color here, from the buildings to the constant construction to people with quirky fashion, the dried fish market, the butchers, the convenience stores, the neon signs – there is so much life in the street all the time."
Mix it up
"Even if you're shooting something that's been photographed a million times before, try to find a new perspective. If you see that 'Transformers: Age of Extinction' building in Quarry Bay (a composite building of five interconnected mansions called the 'Monster Building'), everyone has taken that picture.
Fall in love with Hong Kong in 2 minutes
"Instead of doing the exact same angle, change your orientation to the opposite of what's expected. Or, if you see that the building looks really chaotic, find an area that looks minimal and contemporary.
"If you just try to experiment a little bit, there's very little to lose, assuming you're shooting in digital with a DSLR or with an iPhone (as opposed to film)."
Embrace the crowds
"Hong Kong is a haven for photographers because you can get so much character into a single frame. Movement can play a big role in photographs, bringing the scene to life. I think in terms of texture, layers, and the amount of people you can see on the street, the action and energy can definitely be to your advantage."
Visit overlooked corners
"I spend a lot of time in Chai Wan (on the eastern end of Hong Kong Island), where I worked in an industrial space for a while.
"When I was shooting cars and automotive subjects back home in Australia, these types of industrial areas were the go-to locations.
"I really enjoy Chai Wan – the grittiness, the warehouses, and the open space. It's just one of those areas that people don't really go to and photograph, and that really attracts me."
Go old school
"Sham Shui Po is probably one of my favorites – it was one of the first places I used to go and shoot street photography.
"I love the feeling of old Hong Kong, the old apartment buildings, the chaotic street stalls and flea markets.
"Walking around the streets and wandering into the markets, you really see a great variety of people and scenes."
Get outta town
"Within just 30 minutes to an hour, you'll be in the middle of nature or hiking or on the beach. It doesn't even feel like you're in Hong Kong anymore.
"I love going out to the islands. You can easily take a ferry out to Peng Chau or Cheung Chau, Lantau and Lamma from Central.
"These islands are great for capturing landscape and a bit of nature, and very different types of street scenes as well."
Be respectful
"I think it's really important to understand the local culture and principles before turning up in a place and just shooting away.
"In Hong Kong, people don't like to be photographed as much as say, in Thailand or in Bali – most places in Southeast Asia for that matter.
"Yes, there are rights to shoot in public areas but I also think you should respect people's spaces.
"For a lot of people, it's invasive and jarring when a camera just flies up into their face.
"So if I'm planning to compose a portrait, then I would try to give a nice gesture, like a smile, and ask them nicely to take a portrait of them."
Put down the camera
"Putting the camera down and taking it all in – that's important too.
"A lot of people don't get to travel, they don't all get to see what you see – and sometimes it's good to simply appreciate the experience and absorb everything you can."
Hong Kong photography tips
Camera stores:
•Champagne Court in Tsim Sha Tsui: Find a variety of camera brands and models
•Apliu Street in Sham Shui Po: Go digging for cameras and equipment
Best Neighborhoods:
•Sham Shui Po, Sai Ying Pun, Chai Wan, Prince Edward, Tai Kok Tsui and the outlying islands
Film Developers:
•Dot-Well Photo Workshop in Tsim Sha Tsui: Expect competitive prices and handy email service (they scan negatives and send via email)
Tips for Travelers:
•Travel light, bring water, get lost