Editor's Note: CNN Insider Guides are thoroughly checked for accuracy. Given the fluid nature of the travel industry, however, some listings may fall out of date before guides can be updated. The best practice is to confirm current information on official websites before making plans to visit any business or attraction.
You want pizza, but not just any pizza. You need a coffee but nothing ordinary.
You want to discover one of humanity's most history-rich cities, but you have limited time and don't want to get run down by a Vespa doing so.
We know. And we know how to do it.
From ancient monuments like the Ara Pacis to the designer shops of Via dei Condotti; from the best places for a square of pizza as well as picking out the Italian capital's best coffee bar (OK, we narrowed it down to two), our scroll-down guide to the best of Rome is your ticket to condensed culture.
Hotels
Luxury
To really discover the best of Rome, there's a lot of walking to do – so choosing a hotel in the city center is wise.
The Trastevere area is great if you want to be near the thriving night scene, while hotels around Piazza Navona, Piazza del Popolo and Campo de' Fiori also provide short walks to good pizzerias, restaurants and bars from which you can also organize an efficient sightseeing plan of attack.
The area around Termini has excellent hotels, but be warned that this is a less peaceful part of town, and you might not feel comfortable walking the streets around the station late at night.
The First
This super-chic, five-star art hotel just around the corner from Piazza del Popolo attracts well-heeled guests who want a base in the heart of Rome's shopping district (it's near Via di Ripetta).
The ground floor bar and restaurant are quiet havens away from the hordes of Vespas and shoppers, but the real attraction is the seventh-floor terrace.
The hotel offers one of Rome's best views: roof-top tiles, domes and bell towers – best enjoyed at sunset, with a Negroni cocktail in hand. The restaurant also provides kosher food on request (a hat-tip to the building's Jewish history).
The 30 rooms (many are suites, some with private lounge-terraces) and the public spaces have been decorated with 150 original artworks, including an inquisitive looking white cow in the foyer. As with all hotels in Rome, check their website for discounts.
Hotel Lunettam Rome
This four-star hotel near Campo de' Fiori will wow you with its ultra-modern black-and-white marble interiors (and 30 recently refurbished rooms), but it's a surprise in the basement that'll have you posting on Facebook – the original Roman-era walls of the Theater of Pompey, where Julius Caesar was murdered on the Ides of March, 44BC.
Hotel Lunetta doesn't have a restaurant (you're a skip away from plenty of Rome's best eateries – for excellent pasta or northern Italian fondue try Taverna da Lucifero on the other side of Campo de' Fiori; Via dei Capellari, 28) – but there's a luxury spa and rooftop terrace for guests.
The historic hotel (there's been a hostel at the site since the 14th century) was re-opened after renovation in July 2011.
Hotel Campo de' Fiori
The best thing about this hotel is its private rooftop terrace, with a 360-degree city view so good that people sit up there even on cold winter evenings.
Guests are positively encouraged by the hotel's friendly staff to take a book, a bottle of wine and/or a pizza to the roof. This homey, four-star pad has comfortable baroque-style rooms with expensive drapes, wooden beams and sparkling chandeliers.
The hotel is about 10 meters from historic Campo de' Fiori, home to a busy market from Monday-Saturday until 1:30 p.m. These days the market sells vegetables and fish as well as flowers – and the piazza is a magnet for wine-loving, café-bound locals and tourists come evening.
Mid-Range
Hotel Sunset Roma
This modest guesthouse is a good spot from which to see the best of Rome in the day and explore the narrow streets of Monti in the evening.
With its small bars and trattorias – try L'Asino d'Oro on Via del Boschetto 73, it does a great lunch for €12 ($16) – this residential quarter has an old-Rome feel to it.
The building dates from 1870, but has recently been renovated and the clean, airy rooms are a comfy, cheaper alternative to some of the city's more luxurious hotels.
It also offers free Wi-Fi.
The hotel is on the street that runs between Via Nazionale (where you'll find one of Rome's biggest galleries, Palazzo delle Esposizioni) and the Colosseum.
There's also a modern apartment, ideal for two adults and two children, with a lounge and kitchen.
Brunetti 28
This family-run guest house is a short walk from Piazza del Popolo – but also a stone's throw from the Museo dell'Ara Pacis, the altar to peace built by Augustus, first emperor of the Roman empire. It's among the most impressive monuments in the city.
Brunetti 28 has seven rooms on two floors – the double rooms aren't huge, but they're big enough and well appointed. There are also triple rooms. Some rooms have Jacuzzis. Guests can breakfast on a small terrace in summer, or retreat there after a long day of walking around the city.
Budget
Hotel Navona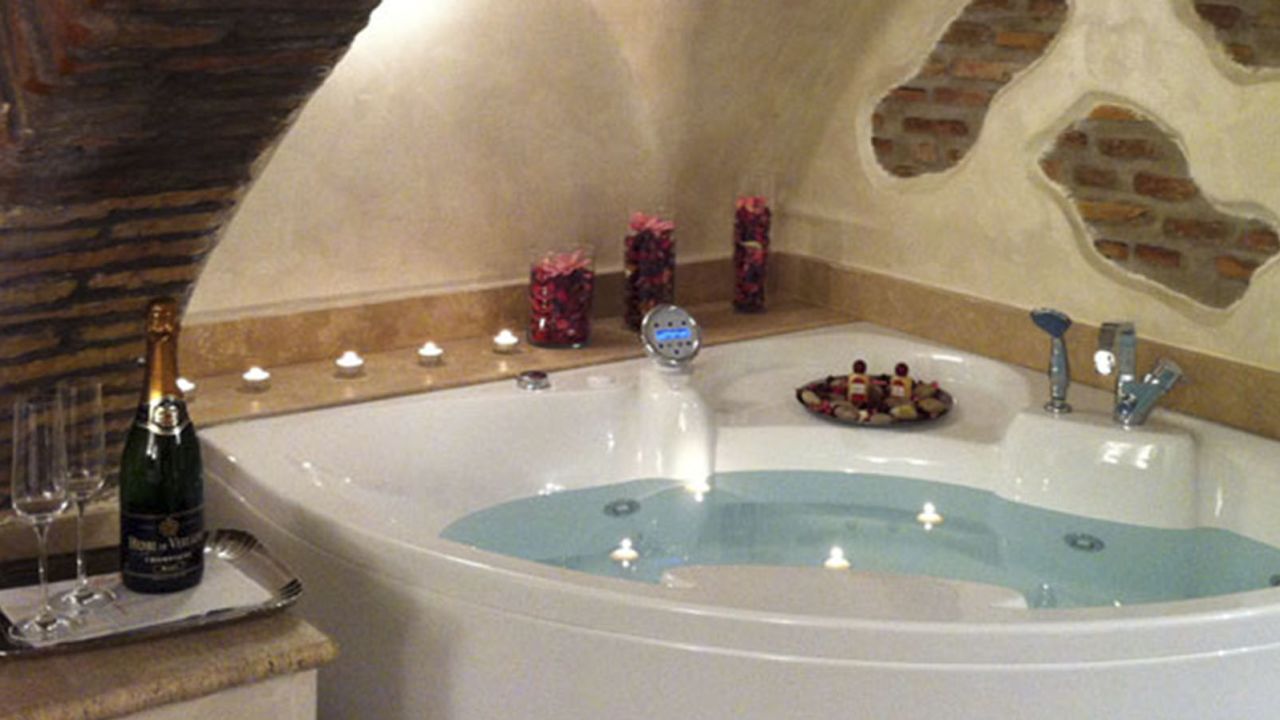 Location is really the key to this unpretentious establishment. As the name suggests, it's a mere hop away from the famous Roman piazza in the heart of the city's ancient monuments, restaurants and nightlife district.
Brandishing just two stars, you'd expect facilities to be spartan – yet the rooms are clean, comfortable, and have free Wi-Fi, A/C, TV and private bathrooms. The hotel is within easy walking distance of Campo de' Fiori and the Pantheon and, despite the hubbub around the center, Navona is on one of the quieter streets, situated in its own 15th-century building.
10 things you need to know before you go to Sicily
Restaurants
Food plays a major part in discovering the best of Rome. But you need to know that many of Rome's restaurants serve lunch and dinner at certain times.
For dinner, most restaurants give you a three-hour window from 8 to 11 p.m. Some do stay open later. Most Italians eat at 8.30 to 9 p.m. every night, though if a restaurant is geared towards tourists it will serve earlier, even 5 p.m.
Lunch is invariably served from 12:30 to 3 p.m.
Spirito DiVino
Tucked away in a quieter part of Trastevere, this gem of a restaurant serves up mouth-watering local dishes such as homemade pasta with pumpkin and gorgonzola, artichoke clafoutis or orange-perfumed guinea fowl.
Chef Eliana Catalani began her career as a scientific researcher, alongside Nobel Prize winner Rita Levi-Montalcini, before opening Spirito DiVino with her husband and son Francesco. Her scientific approach hasn't been lost in the kitchen, with a menu that emphasizes and combines quality local meats, cheeses and vegetables, all carefully sourced from slow-food producers.
The restaurant is located in a historic part of the city, once the Jewish quarter before it moved across the river. In fact, the building was once a synagogue, its basement – now a well-stocked wine cellar – dating back to 80 BC.
Bistrot del Mare
This bistro in the city center, a 15-minute walk from Piazza Navona, is one of the best fish restaurants in Rome. The raw fish tartare starter and sea urchin ('ricci di mare') spaghetti are two of its revered signature dishes.
You can choose from the menu or from a display of the day's catch.
The emphasis here really is on the locally sourced seafood, brought in daily from Lazio's ports and cooked to your taste. It's pricey, but the general consensus is that it's worth it for the professional service, intimate ambience and fresh ingredients.
All desserts are made on site, with chocolate and seasonal fruit featuring heavily. This restaurant is a favorite with Romans and visitors alike.
Mò Mò Republic
This grand old palazzo, with its dark wooden staircases, big leather armchairs and muted lighting, has the warmth and elegance of a 1930s colonial villa. The restaurant specializes in meat and fish dishes, but the large menu includes plenty of pasta, pizza, salads and desserts, including vegetarian options.
Mò Mò Republic can seat up to 600, so it gets very busy. Even so, the waiters rarely miss a beat.
The wooden terrace is a great spot in summer, but the best way to enjoy this place is by sipping a cocktail in the garden after dinner, admiring the ghostly spherical tree lights and watching the wild dwarf rabbits play around your feet. Yes, the rabbits have free run of the villa's grounds.
Because of the space, it's a great place for groups and provides good value. You may even spot a young Serie A footballer among the crowd.
Il Cortile
This family-run trattoria is one of the best in Monteverde, the area on the Janiculum hill above St Peter's and Trastevere. This is simple but delicious Italian cuisine at its best – freshly made pasta in classic sauces (including plain tomato with basil, pesto, ragù or porcini mushrooms with black truffle) and fresh fish and meat.
The best item on the menu is arguably the buffet antipasto – a rich array of vegetable dishes such as Roman artichokes, baked eggplant, breaded fennel, omelets, cheeses and salads – all prepared with great attention to quality, detail, taste and presentation.
The wines are excellent, desserts impeccable and the place is immaculately clean.
Il Cortile may not be easy to reach – figure on a €10 cab ride from the city center – but it's worth every Euro of the fare. After dinner, the belvedere on the Janiculum hill provides one of the best views of Rome at night.
La Gatta Mangiona
Another fine eatery in Monteverde Vecchio is the pizzeria and restaurant La Gatta Mangiona ("the greedy cat") on Via F. Ozanam.
Getting there requires a cab, car or strong pair of legs – it's 1.8 kilometers (just over a mile) from Trastevere train station.
These pizzas are thicker than the usual thin Roman variety. The dough is the long-rising kind and is light, crisp and tasty. Toppings come in unusual combinations, which are displayed on the monthly pizza menu.
Some of the fried starters (supplì, or asparagus and saffron arancine) are also great, but the falafel has been adapted to Italian palates, so lacks a bit of authentic spice. Then again, only a die-hard falafel fanatic would place such an order at one of the greatest pizzerias in town.
There's a wide variety of specialty beer and wines to accompany the pasta, meat and fish dishes.
Pizza Roman-style
Naples may be famous as the birthplace of pizza, and the typical thick, light Neapolitan dough base has become the accepted model of the perfect pizza the world over.
In Rome, however, pizzas are slightly different.
Most pizzerias make them with very thin, crispy bases.
Find the best of Rome's Roman style pizzas here: Try Pizzeria Li Rioni near the Colosseum or Pizzeria Panattoni: Ai Marmi/L'Obitorio.
If you're staying near St Peter's, La Fornace and La Rustichella, both on Via Angelo Emo, are good.
In the center, La Montecarlo is open late, with service that's fast and friendly.
The pizza is thin and served on metal plates with paper table sheets.
La Foccaccia near Piazza Navona does good, slightly thicker-bottomed pizzas.
Pizza-al-taglio (pizza sold by the square) is also a great way to get a quick snack or a cheap lunch if you're on the go.
Il Forno Roscioli (Via dei Chiavari 34) near Campo de' Fiori is legendary. Forno di Campo de' Fiori is popular with local office workers (Vicolo del Gallo 14).
One pizza-al-taglio that really stands out is Pizzarium.
It may not look impressive and is a bit out of the way (near Cipro metro station), but it has a devoted following among Romans in the know.
Chef Gabriele Bonci uses high-quality ingredients to create a light and crispy base with just the right amount of sponginess, and some inventive toppings that change daily.
Artichoke and gorgonzola is impressive, but then so is plain margherita.
Perhaps only a gourmand would go out of their way to Pizzarium just for a square of pizza.
Your average Giuseppe might think that paying two or three times the normal price for a bit of pizza is excessive.
Nightlife
Bars in Rome are a world away from the sweat-drenched, alcohol-fueled venues you'll find in London or New York.
You don't really get what you might call a "coffee shop" either.
You just get bars, and most bars sell food.
All bars make coffee, either hoping to cash in on or cultivate the average Italian's penchant for drinking espresso two or three times a day.
They also offer a range of spirits.
Some double as pasticcerias, selling cakes, bicuits, cornetti (croissants), desserts and the kind of things you'd get in a French patisserie.
Many sell ice cream.
So, bars are multi-use, good for breakfast (capuccino and a cornetto), coffee and snacks (a "spuntino"), aperitivos before lunch and dinner and "tramezzini," triangular sandwiches at lunchtime.
There are many to choose from, but below are our picks for the best of Rome's bars.
Circolo degli Artisti
This relaxed venue is one of the places in Rome where no one is going to notice or care what brand of shoes you're wearing.
It attracts a young-at-heart crowd that comes to sip cold drinks under leafy branches on hot summer evenings, or take evening walks around the maze-like garden.
Bands perform regularly – including many up-and-coming indie acts – and there are comedy and house music nights too.
Check their website for events.
Food is a primary consideration – pizzas, starters and other main courses are available at the al fresco restaurant.
Black Market
This shabby-chic music venue in the ever-lively Monti area of Rome is a stone's throw from Termini station and the Colosseum.
Trademarks include comfy beaten-up armchairs, a gigantic lampshade at the entrance and ice-breaking portraits on the walls (the oil painting of Lenin is guaranteed to lift any flagging conversation). It all adds to the relaxed but trendy atmosphere that's proving very popular with a young ex-pat crowd that doesn't seem to mind that the cocktails are served in jam jars.
The bar showcases young artists in its gallery and there are regular 'Unplugged in Monti' private evenings for members (it's pretty easy to become a member through the club's website), with live acoustic music, food and drinks. It's a homey corner to sit down and read a book with a beer for an afternoon, but be warned: on the weekends it's packed to the rafters.
Vicious
This is probably Rome's "It" club of the moment, but forget about Italian style. In fact, definitely don't bother dressing up – this is really not a place to see and be seen.
Inside it's as dark and claustrophobic as the left pocket of Donnie Darko's rabbit costume. Vicious is really just about the music and the dancing – the sweatier the better.
The schedule takes a relaxed intro into the week with cocktails and DJ sets on Tuesdays and Wednesdays, open from 10 p.m. 'til late. Club nights at Vicious include Butter on Thursdays, billed as "the coolest underground club in town" and inspired by the 1970s and '80s New York club scene.
If that's not to your taste try Alchemy on Saturdays or Rock'n Yolk's indie-rap vibe on Fridays. Just remember to bring a flashlight or infrared glasses.
Micca Club
This stalwart of vintage Roman burlesque nights is in its eighth year and has recently moved to new premises in the center of town, just round the corner from Piazza Barberini.
Spread over two floors, Micca's live dance shows take place at around 11 p.m., but arrive early for an aperitivo (a glass of wine and a snack), which is sometimes included in the entrance fee (check website for details). It's a glamorous venue with its tongue firmly lodged in cheek, where a fun-seeking clientele tends to be on the riper side of 30.
If burlesque isn't your jam, the vinyl DJ sets will keep you on the dance floor till the early hours with tunes from the 1950s, '60s and '70s.
Bar Gelateria Pompi
There's just one name when it comes to tiramisù in Rome – Pompi. Nothing else comes close to the little dishes of creamy almost runny mascarpone layered with rich coffee-soaked pavesini biscuits that Giuliano Pompi has been making in Rome since the 1960s.
The bar in Via Albalonga (near Piazza Re di Roma in the San Giovanni area) is where it all began. Pompi has since branched out from the traditional coffee and chocolate recipe. They now do a pistacchio tiramisù and other flavors including banana, strawberry and Nutella. Classic coffee is still king, though.
They've also opened a second bar in the heart of one of Rome's nightlife hubs – Piazzale di Ponte Milvio, a 30-minute walk north up Via Flaminia from Piazza del Popolo.
Bar Gelateria Pompi, Via Albalonga 7B/9/11; +39 06 700 0418; and Via Cassia 8B/8C; +39 06 333 3488
Cristalli di Zucchero
When Gambero Rosso, one of the most prestigious publishers of restaurant/food guides in Italy, awards three coffee beans and three espresso coffee cups to a bar, it can only mean one thing: that bar is hot.
In the world of coffee bars and pasticcerias, these symbols carry the same weight as a Michelin star, so Cristalli di Zucchero is well endowed.
Locals go crazy for its croissants and panettone. Is it the best in Rome? Well, the only other bar in Rome awarded three cups and three beans from Rosso is the Stravinskij Bar in the Hotel de Russie.
The "Healthy Hour" cocktails, created by award-winning barman Massimo D'Addezio, are delicious, but so are the hedonistic alcoholic ones.
Caffè Capitolino
Exploring the wonders of the Roman Forum or the breathtaking Capitoline Museums is undeniably thirsty work. Don't miss the colossal head, hands and feet of Constantine the Great in the museum's internal courtyard or the impressive bronze Marcus Aurelius on horseback.
Caffè Capitolino is a perfect place to take a break from the history and it's open to the public, not just Capitoline Museum ticket holders. Standing on the Campidoglio, with your back to Via del Teatro Marcello and the grand flight of steps, take a right around the side of the Capitoline Museums and you'll see Palazzo Caffarelli on your left, in front of Piazzale Caffarelli.
The side entrance will take you to the second floor and Caffè Capitolino, where you can have a relaxed lunch, cake, coffee or drinks. The café's terraces offer excellent views across the Roman Forum and city rooftops.
Sant'Eustacchio il Caffè
The best coffee in Rome? Much has been said and written about the best coffee in Rome, but there seems to be consensus that it's found within a stone's throw of the Pantheon.
Sant'Eustacchio il Caffè is a small bar in the piazza of the same name where they make their espressos behind a screen to keep the process secret. The bar also sells small packets of coffee that make great gifts. But Sant'Estacchio has a rival in the form of Tazza d'Oro, on the other side of the Pantheon. Many visitors try both, get wired and then decide which is the best of Rome.
Other bars
Many other bars in Rome are also worth a mention, including:
– Pasticceria Mondi is legendary among locals for its exquisite ice cream, pastries and cakes. A must if you're in Piazzale Ponte Milvio.
– At Doppio Zero, the aperitivo buffet is a feast in itself. The surrounding area of Garbatella is also worth exploring.
– Oasi della Birra is half-tavern, half-shop, a fascinating locale jammed with quality wines, beer, artisan-made chocolate and other superior comestibles. In addition to an extensive wine, beer and snacks list, there are more than 150 types of cheese on the menu and, for the brave, about 10 kinds of (flavored) lard. There's also a good pre-dinner buffet.
– Open Baladin, near Campo de' Fiori, is the place for tasting and revering beer in the same way that sommeliers drink wine. If that's not your style, it's still a quiet spot where the beer, with hints of bergamot and coriander, isn't your usual Heineken.
– Angelina is just off Via del Tritone in the city center. A perfect pit stop from shopping, this is a cozy little café adjoined to a restaurant where you can usually get a seat. The tiramisù and fruit tarts are great.
Shopping
Rome can't compete with Milan for high-end designer shopping, but the glut of boutiques along Via dei Condotti and Via del Babuino provide a panoply of options for anyone looking for a Prada handbag or Gucci gown. Shopping in Rome isn't just about the high fashion.
For interesting and less expensive clothes and shoes, explore the small side streets off Via del Corso and Via dei Condotti.
Other good shopping streets include Via di Campo Marzio, Via dei Giubbonari (near Campo de' Fiori) and Via del Governo Vecchio.
San Lorenzo (the area south of La Sapienza University) is also dotted with unique boutiques with humane prices, and the same can be said of Monti (around the Viminal Hill and Via Panisperna).
Look out for the small artisans' workshops and family-owned businesses selling locally made products – several are mentioned below.
Città dell'altra Economia
Città dell'altra Economia (CAE) in Testaccio is an eye-opening place, run by Rome's city council and a group of non-profit organizations whose aim is to develop a space and community dedicated to production and commercial activities that are fair trade and eco-friendly.
Occhio del Riciclone is one of the organizations that sells its products at CAE. It works with the local Roma community to recycle objects that others discard. There are bags made of old truck seat belts, rings made of bicycle inner tubes, reconditioned clothes and much more.
Nearby is a small café and a supermarket selling local organic produce. Here you can find "pecorino Romano" sheep's cheese and pasta made of spelt wheat – look for "spaghetti al faro" – from the Sabine hills outside Rome.
CAE and the surrounding area is worth at least half a day.
It's not easy to find (there's a map on the CAE website), tucked away behind Monte Testaccio, a small hillock and ancient Roman rubbish dump.
It's made entirely of fragments of terracotta dolia, used during the Roman Empire to import olive oil from provinces in Spain and north Africa into the hub of ancient Rome. Two millennia later, restaurants and bars have nestled at the base of Monte Testaccio.
Checchino dal 1887 is renowned for its traditional Roman fare. Opposite is the Macro, one of Rome's best contemporary art galleries.
Rome's fashion district
Rome may not be Caput Mundi for the world of high fashion, but you're not going to be stuck for choice either.
For the best of Rome's high-end designer clothes, shoes and bags, Via dei Condotti (between Via del Corso and Piazza di Spagna) has all the big names. This is where Rome's fashionistas like to stroll.
You'll lose count of the high heels and small dogs. But there's much more to Rome's shopping scene than Via dei Condotti.
Other small streets around Via del Corso are worth exploring for their small boutiques – including Via del Babuino, Via Vittoria and Via Belsiana.
Via Margutta is home to a series of small artists' ateliers and is a good place to scout for an original or antique artwork.
An elegant lunch spot is Il Margutta (Via Margutta 118), a vegetarian restaurant that puts on regular contemporary art exhibitions.
Two Italian-owned stores that stand out for quality (with medium to high prices) are Empresa and Ethic. The latter is geared mainly toward younger women and sells pretty printed dresses and quality knits – 85 percent of their products are made in Italy and there are 10 stores in Rome.
Empresa sells quality tailoring and footwear for men and women. There are five stores in Rome and one in Venice.
Ai Monasteri
This extraordinary old-fashioned herbal apothecary's fame is well deserved. Owned by the local Nardi family since 1894, it specializes in herbal balsams, elixirs and creams, as well as chocolate, honey, grappa and limoncello, all of it produced in Italy's abbeys.
A star product is the Balsamo Francescano, a secret herbal concoction containing 14 plants first made by Franciscan monks in Viterbo in the 15th century.
It's said to cure many maladies – one customer who bought huge quantities said, "It's great for when my cows catch cold!"
Other potions on sale include elixirs for happiness, love and long life. As the shop owners explain, herbal distillations help cleanse and regenerate the kidneys and liver, providing a boost of energy and well-being. A bottle of Balsamo Francescano will set you back €23.
Negri
This small silversmith's workshop and boutique on Via Campo Marzio has been in the Negri family for over 60 years.
Now owned by the third generation, Fabrizio Negri specializes in micro-sculptures in precious metals including silver, gold and colored titanium. Many of the modern designs are unique or limited editions.
The Parole series of silver jewelry incorporates your choice of phrase into its sleek rings and bracelets. The MyOtto jewelry range is inspired by pets, dachshund dogs in particular, as the "bassotto" is a popular breed in Italy.
Negri also uses natural minerals and wood combined with silver to create unusual brooches, earrings and pendants. They also produce bigger items, such as lamps. Artisans can often be seen at work through the shop window.
Negri, Via di Campo Marzio, 36; +39 06 687 1192
Profumum Roma
Established by the Durante family in 1996, Profumum produces a range of more than 20 unisex perfumes in its four Rome stores.
Three Durante brothers and one sister (Giuseppe, Felice, Luciano and Maria) produce their perfumes with a high concentration of essential oils for long-lasting effect.
One of the most popular products is Acqua di Sale, a fresh, marine perfume with notes of myrtle. The streets around Via del Corso, Via del Babuino and Via di Ripetta (the three streets that fork southeast from Piazza del Popolo) are dotted with perfume shops, but this Rome-based business is a great place to go if you want to take home scents of the eternal city.
Profumum Roma, Via di Ripetta, 10, Rome; +39 06 320 0306
Attractions
St. Peter's Basilica and the Vatican, the Colosseum and the Roman Forum are the star attractions on most tourist itineraries. It would be a shame to visit Rome without a glimpse of these iconic sites – but if you're short on time and can't stand queues, there are some smaller attractions that give an interesting insight into the best of Rome's history and culture.
The Colosseum
Rome's most photogenic landmark, the Colosseum looks good from just about all angles, even from below ground. You can see for yourself if you visit one of the tunnels (where gladiators waited before a fight), which have been opened to the public in recent years.
Tickets are €12 at the gate and include entrance to the Roman Forum and Palatine Hill. Tickets and guided tours in English can be booked online through Coopculture.it.
The Vatican Museums
Michelangelo's Sistine Chapel is another must, but the Vatican Museums also hold some of the most precious sculptures from ancient Rome and Greece (such as Laocoön and His Sons), not to mention an extensive Etruscan collection.
You can book your entrance ticket to the Vatican Museums and the Sistine Chapel online (recommended, there are often long queues). For adults it's €15 plus a €4 booking fee. Admission for children 18 years and younger, or students under 26, is €8 at biglietteriamusei.vatican.va.
Private Guided Tours in Rome and Vatican Museums | Viale Vaticano, 00101 Rome Italy | +39 06 6988 3145; closed on Sundays (except the last Sunday of the month, when it's free from 9:00 a.m.-12:30 a.m.) as well as on certain religious days (see the website for a full list).
St Peter's Necropolis
The necropolis under St Peter's is as interesting as the basilica above – try to book as far in advance as possible through the Vatican's excavations office. There is an interesting virtual tour of the "scavi" here.
St. Peter's Necropolis, +39 06 6987 3017; ticket from $16.50; entrance and guided tour is €12 and reservations should be made by e-mail to scavi@fsp.va, stating the number of visitors, preferred dates and times and preferred language. Visitors must be 15 years old or older.
St Peter's Basilica
St Peter's Basilica is unmissable if you're in Rome – its 453-foot-high dome can be seen from most points in the city. The queue to get in often snakes around St Peter's colonnaded square – but it usually moves quickly.
You have to go through security and the dress code is strict – no short skirts, shorts or bare shoulders, even in summer. Once you're in, the sheer size of the basilica and the richness of its interior is astounding. Don't miss Michelangelo's touching Pietà or Bernini's spiral baldachin.
Case Romane al Celio
This archaeological layer cake of a monument takes you inside a Roman apartment block, a wealthy Roman house, a church and a Roman street. All were built around and on top of each other over a period of several centuries.
The house belonged to two martyrs in the fourth century AD: John and Paul, who were officers in the court of Constantine the Great, but who were killed under the rule of Julian the Apostate.
The houses have been beautifully restored – there are remarkable Roman-era frescoes in many of the rooms – and were reopened to the public in 2002. Guided tours are available in English, French, German and Spanish.
Villa Farnesina
On the banks of the Tiber, this quiet Renaissance villa is home to some of the most splendid frescoes by Raffaello.
Built for the banker Agostino Chigi in the early 16th century, the grand internal galleries and rooms were painted by Raffaello and several other Renaissance masters, including Baldassare Peruzzi and Il Sodoma, between 1508 and 1519. Raffaello's celebrated representation of Cupid and Psyche on the ground floor was done in 1517 for the wedding of Chigi to Francesca Ordeaschi.
Also on Via della Lungara is the International House for Women, which has a women-only café and restaurant called Luna e l'altra.
Basilica of San Clemente
If you have time to visit just one church during your trip to Rome (there are more than 900 to choose from), then San Clemente should be it.
It's a few blocks from the Colosseum and makes other churches look like ornate cupcakes. San Clemente is more akin to a gargantuan club sandwich, with layer upon layer of history spanning over 2,000 years.
At street level you can let your jaw drop at the mosaics of the Norman-era basilica.
Admission to the crypt leads into what remains of a 4th-century basilica (the Normans built on top of it), but go down another level and, in the foundations of the 13th-century and the 4th-century structures, there is a Mithraic (pagan) temple. There are also the remains of a Roman-era house and a Roman street, where the gush of water from a stream can still be heard.
The Jewish Quarter
This historic quarter is centered on Via del Portico d'Ottavia, the main street that runs from the Roman Theatre of Marcellus (Teatro Marcello) to Via Arenula.
It's a short walk from Piazza Venezia, Campo de' Fiori and the island Tiberina. A pleasant morning can be spent walking around here before hitting one of the many restaurants for a kosher lunch.
Giggetto is a well known place to try a Jewish artichoke (carciofo alla giudia), in season from January to April.
There are also several small cafés selling bagels and other snacks.
Nearby is the Great Synagogue of Rome, built in 1904. With its art deco façade and distinctive square dome, it's also home to the Museo Ebraico di Roma (Jewish Museum of Rome), where you can arrange guided tours of the Jewish quarter in English.
Other places of interest in the area include the wonderful turtle fountain in Piazza Mattei. Bartaruga, in the same piazza, is a great place for an aperitivo. Around the corner, Acqua Madre is a spa where you can steam away the city grime.