Story highlights
Washington's new marijuana laws have generated a host of new business ideas
Legalized recreational use is expected to draw visitors from other states
Federal laws do not align with the new state laws
Despite legal uncertainty, cottage industries are growing up around marijuana
Seattle, Washington
CNN
—
If you think 2013 will be a half-baked year for tourism in Seattle, you haven't been paying attention to the curiously pungent smoke signals emanating from this city.
On a recent chilly evening, an unmistakable smell has drifted across the street from an industrial space in the SODO neighborhood. Inside, a DJ spins an eclectic mix of rock while a man in a tie-dyed hoodie distributes cannabis-infused buttered rum and root beer-flavored hard candy to a diverse crowd of revelers. Another volunteer passes around a 12-foot-long "vape bag" filled with marijuana vapor – one way to get around the city's indoor smoking ban.
Four glassblowers demonstrate the art of making bongs while attendees sip beer, munch on Greek meatballs, and dip an assortment of fruit, marshmallows and gummy worms in chocolate fountains.
If only the party wasn't running low on grilled cheese sandwiches.
This "Member's Frolic," hosted by the organizers of a huge "protestival" called Hempfest, is but a fraction of the size of the annual pro-pot rally that drew an estimated 250,000 people to the Seattle waterfront last August.
Problem in Seattle: Cash smells like pot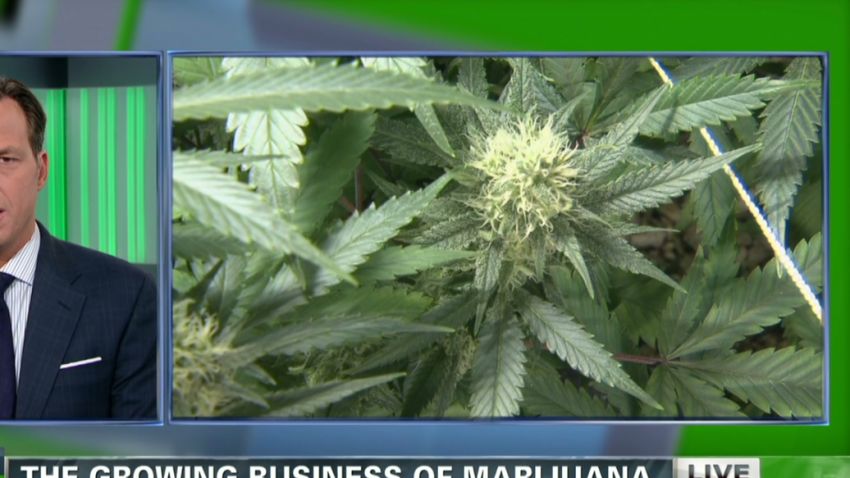 The growing business of marijuana
But with last year's legalization of recreational marijuana use for adults in both Colorado and Washington State, the gathering offers a telling preview of how a creative counterculture may be poised to go mainstream and reap the rewards of a new "green economy" based on pot tourism.
Just imagine how much the food truck vendors are salivating.
Despite a host of unanswered questions – not the least of which is whether federal authorities may harsh the mellow by filing a lawsuit that voids all recreational use – many so-called "ganjapreneurs" are treating the potential for marijuana tourism as a serious business. Recent calculations by a state-hired consultant projected that Washington State might earn up to $180 million in yearly tax revenue from marijuana sales (yes, retail pot shops), not to mention the revenue from a quickly growing list of related cottage industries.
On his blog, travel guru Arthur Frommer wrote that observers should expect a "torrent of new tourism to Seattle and Denver" due to marijuana legalization, and added both cities to his shortlist of hot destinations for 2013. Officials in New Zealand, British Columbia, and multiple U.S. states have openly wondered whether pot tourism might help fill their own coffers.
Sorting out new laws
In Washington State, residents over the age of 21 can now possess up to an ounce of cannabis, one pound of "a solid marijuana-infused product" like peanut butter fudge brownies, or 72 ounces of an infused liquid like a green tea smoothie. But as the Seattle Police Department helpfully notes in "Marijwhatnow? A Guide to Legal Marijuana Use In Seattle," public puffing is still illegal, just as the state's open container law prohibits public consumption of alcohol.
Pot smokers enter legal limbo in Washington, Colorado
Buying or selling marijuana won't be legal until December, after Washington's Liquor Control Board has ironed out all the necessary licensing and enforcement regulations. Police will be able to arrest drivers above the legal limit of 5 nanograms of THC, the psychoactive ingredient in pot, per milliliter of blood (officers already use roadside sobriety tests to issue DUI tickets, but the new law establishes a defined impairment level). And the police department dutifully notes that because it's still illegal to grow, sell or possess any amount of marijuana under federal law, "you probably shouldn't bring pot with you to the federal courthouse (or any other federal property)."
Naysayers have warned that an open embrace of pot tourism and ads that position Seattle or Denver as the Amsterdam of America could tarnish the cities' reputations and invite illegal activity. Then again, both destinations already allow medical marijuana and have had a long history of tolerating the occasional toke.
In Seattle, Hempfest is a major tourist draw as one of the largest annual events in the Pacific Northwest, and minor pot possession has been the lowest enforcement priority of the police department for nearly a decade. Hempfest executive director Vivian McPeak has held brainstorming sessions on marijuana tourism with some city boosters – he calls it "vision-questing." Publicly, however, government and tourism officials have taken a conspicuously low profile – a defensive posture that advocates say is likely due to fear of federal intervention.
Optimists assert that the Obama administration is unlikely to take a hard line against the end of pot prohibition here, and have been buoyed by a new Pew Research Center poll that is the first to show majority support among Americans for legalizing the drug. Pessimists, however, point out that the federal Drug Enforcement Administration has regularly exercised its authority to shut down medical marijuana growers and dispensaries around the country. The clear contradiction between state and federal laws has left nearly everyone guessing whether parts or all of the new pro-dope reality may be, well, nipped in the bud.
Entrepreneurs making business plans
Even so, the opportunities are proving hard to resist. Hilary Bricken, lead attorney for the Canna Law Group, a practice area of Seattle-based law firm Harris & Moure, has fielded dozens of pitches from enthusiastic entrepreneurs seeking help in developing business models and navigating the legal issues. One company in the adult entertainment industry even sought her advice on branching out into hemp-based adult products.
"I've heard everything pitched to me from gaming lounges, where there would be a series of recliners and you can get stoned and play Xbox all day, to cannabis cafes where there's a full menu that really adheres to the cannabinoids (the chemicals in cannabis) and how they affect your taste buds and your interaction with food," Bricken says. Some entrepreneurs have talked up the idea of "evaluation bars," where people could bring their own marijuana and experts would educate them on each strain's composition and its potential effects, and Bricken says the sophistication level could eventually rival that of high-end wine purveyors.
Washington's wine industry, in fact, is often cited among cannabis enthusiasts who envision similar tours through bucolic, organic pot farms. Bricken says she has already spoken with winemakers and commercial farmers in eastern Washington who are considering whether a certain new crop might help them tap into a big curiosity factor and generate new revenue. Cannabis farmers markets – currently limited to medical marijuana patients – also are popping up around the region and poised to expand their customer base.
Following the lead of several establishments in Colorado, at least two bars in the Seattle region have opened BYOP (bring your own pot) private clubs, while party promoters are gearing up for this month's big "Studio 4/20" bash, complete with acrobats, food trucks, a beer garden and a latex fashion show. Toking while drinking at local watering holes may be a fleeting attraction, however: the Washington State Liquor Control Board has begun a rulemaking process aimed specifically at banning marijuana consumption in bars that serve alcohol.
Christopher Russek, who runs a cannabis bakery called Zzyzyx out of his home in suburban Issaquah, is betting on marijuana edibles instead. Russek, who has a medical marijuana license due to a heart condition, provides fully-loaded confections like Chocolate Raspberry Hazelnut Brownies and Tie Dyed Rasta Cookies to other patients. He has fielded multiple inquiries from people who have come to Seattle on business or vacation, however, and views Washington's new law as an "incredible" opportunity to add tourists to his business model. Does he see a baked goods storefront in his future if the law remains intact? "You can bet on it," he says.
Seattle's takes on pot tourism
Most tourists will need a guidebook, of course, and Brendan Kennedy, CEO of Seattle-based startup Leafly, is positioning his company to become the Fodor's, ZAGAT and Yelp of cannabis. The company's Leafly iPhone and Android apps, among the most popular of a burgeoning class of electronic ganja guides, help medical marijuana users chose among more than 500 strains (with names like Wonka's Bubbilicious and Blue Dream), find nearby dispensaries, and then post their reviews.
Kennedy says the app already has the necessary code to add on retail locations in Colorado and Washington once they come online. In the meantime, he and two partners are using their Privateer Holdings equity firm and its $5 million-plus in capital from private investors to scout out other promising cannabis startups. In essence, Privateer is helping to fill the void left by skittish banks that have all but refused to grant loans to pot-friendly businesses until they discern which way the legal winds are blowing.
Despite the uncertainty, Bricken says companies are still rushing to join what she calls the "secondary risk market," the modern-day equivalent of Seattle's early entrepreneurs selling pickaxes, supplies, and services to prospectors seeking their fortune during the Yukon Gold Rush of the 1890s. Instead of directly providing marijuana – a model that may prove too risky for many – businesses are positioning themselves as experts in enhancing the experience.
"They're coming up with things like 'Cannabis Crawls,' going from dispensary to dispensary and showing you how to get there and providing you with food and transportation along the way," Bricken says. Others are creating art and merchandise ranging from coffee mugs to hand towels that depict some of the most popular marijuana strains.
Whatever tourism model emerges here, many observers say it's likely to be uniquely Seattle. With the region's long tradition of art glass, glassblowers are already setting their sights on the high-end cannabis crowd. One recent ad touting a $175 "Create Your Own Bong" class fizzled when only one person inquired. But other glass studios in the area say it's no longer taboo for people inquiring about one or two-hour lessons to specifically ask whether they can make a bong or pipe instead of a "modified vase."
At the recent Hempfest party, one of the four artisan glassblowers holds his partially molten creation aloft at the end of a blowpipe and parades it through the crowd as the bidding begins. It's a detailed, richly colored and surprisingly large bong in the shape of a monkey wearing a yellow top hat and suit coat, and it fetches a winning bid of $350.
Behind a nearby table laden with smaller, handmade pipes fashioned from art glass and recycled guitar wood, a volunteer points out the grand prize for a raffle at Hempfest's own upcoming "420 Fest": a colorful hand-stitched quilt with a stylized marijuana leaf in its center panel. On the reverse side, a dark green camouflage motif features a grinning Scooby Doo in various poses.
Aspiring comic book artist Joshua Boulet has set up shop at a smaller table, with a duffel bag full of several issues of his tongue-in-cheek comic, "The Green Reefer," which follows the antics of a pot-smoking anti-hero and his beer-drinking sidekick, Six-Pack. In many ways, Boulet is the embodiment of Seattle's new entrepreneurial optimism. After attending Hempfest as a tourist last August, he fell in love with the city and moved from Dallas two months later. Boulet says he is now hoping to sell his comic books in Seattle's thriving head shops – for $4.20, of course.