Porsche announces four-door car
Panamera will be introduced in 2009 and will feature coupe-like design.
July 29, 2005; Posted: 9:27 a.m. EDT (1327 GMT)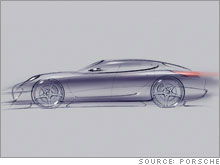 Porsche released this sketch of the Panamera.
Correction
Sales figures originally used in this story were for the U.S, while the projected sales figure for the Panamera was worldwide. The figures currently used are for worldwide sales.
NEW YORK (CNN/Money) - Porsche will build a four-door car starting in 2009, the company announced Wednesday.
To be called the Panamera, the car will have four doors and four seats but will have a swooping, coupe-like profile. It will have a front-mounted engine driving the rear wheels. Pricing for the car, which is still under development, has not been announced.
The company expects to sell at least 20,000 Panameras per year, according to the announcement In its most recent fiscal year, Porsche is sold about 13,000 Boxster sports cars, about 24,000 911 sports cars and about 40,000 Cayenne SUVs.
The Panamera has been rumored for several months and alleged "spy photos" of the car have been published on the Internet and in some publications.
The car, which will be created on an entirely new fundemental architecture, will be built solely by Porsche and will not involve a joint venture with any other company. The Porsche Cayenne SUV was created in cooperation with Volkswagen which sells its own version as the Volkswagen Touareg.
"The Panamera is a perfect fit for Porsche," said Dr. Wendelin Wiedeking, president and CEO of Porsche in a prepared statement.
"It has all the typical DNA characteristics of a genuine sports car," he said. "In terms of performance, design, and driving dynamics, it meets Porsche's high standards in every respect. Through this sports coupe we are making our customers a highly attractive offer in the top performance segment."
Porsche vehicles details and photos