Bush arrives for New Orleans tour
Police back off forced evacuations; death toll outlook improves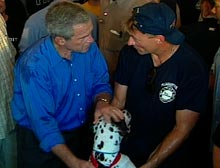 President Bush pets a Dalmatian during a Sunday visit with firefighters in Algiers area of New Orleans.
NEW ORLEANS, Louisiana (CNN) -- President Bush arrived in Louisiana Sunday as the official death toll from Hurricane Katrina climbed past 400 and the search for bodies continued nearly two weeks after the storm hit the Gulf Coast.
The visit is Bush's third to the region but his first chance to get a first-hand look at the streets of New Orleans, which were flooded after levees protecting the low-lying city broke.
Criticism over the federal government's response to Katrina is chipping away at what became Bush's biggest asset four years ago after September 11, 2001 -- leadership in a time of crisis. (Full story)
Two days after the storm hit, Bush surveyed Katrina's destruction from Air Force One on his way back to Washington from Crawford, Texas, where he'd spent a month's vacation. He visited other parts of the region in two subsequent visits.
But this trip will be the president's first ground tour of New Orleans, where officials believe thousands of holdouts have ignored a mandatory evacuation order despite the fetid floodwaters that still cover large parts of the city.
A police spokesman said Sunday that authorities will not forcibly remove the holdouts.
Capt. Marlin Defillo said authorities will continue to go house-to-house informing residents that they are in violation of mandatory evacuation orders, "but we will not physically force them out of their homes."
Also Sunday, the general leading the military's relief effort said Katrina's New Orleans death toll will be "a heck of a lot lower" than officials had feared. (See video on signs of hope -- 1:59)
Lt. Gen. Russel Honore told CNN's "Late Edition" the death toll in New Orleans is unlikely to reach 10,000, a figure Mayor Ray Nagin had estimated based on how many people appeared to have evacuated and how many had stayed behind.
That number, Honore said, "came out at a very emotional time, with not a lot of facts."
He emphasized that officials still do not know how many people died in the storm and flooding that ravaged New Orleans.
Bush visits New York firefighters
Louisiana officials on Sunday raised the death toll in their state to 197. Officials in five states put the overall total of dead at 426.
In Louisiana, New York firefighters and police officers helping victims of Katrina held their own 9/11 services. (Full story)
Those observances came as the co-chairmen of the 9/11 commission told CNN that the government's response to Katrina showed little was learned from 9/11 about how to handle disasters.
After landing at New Orleans Louis Armstrong International Airport, Bush boarded a helicopter with Nagin, who colorfully criticized Bush in the initial days after Katrina hit.
On the USS Iwo Jima, the command center for federal relief efforts, Bush and Nagin were greeted by Honore and Vice Adm. Thad Allen, who is heading the federal relief effort.
Allen replaced Michael Brown, the embattled director of the Federal Emergency Management Agency, who was called back to Washington on Friday.
Bush visited New York City firefighters participating in the recovery efforts, and their canine mascot "Louie," a Dalmatian rescued from an abandoned, destroyed home.
Bush also got a first-hand look at "The Spirit of Louisiana," a fire truck initially given to New York City by New Orleans after the 9/11 attacks, and returned as a gesture of kindness after Katrina.
Some 400 New York firefighters are part of a nationwide coalition of firefighters helping with hurricane relief efforts.
After sleeping on the USS Iwo Jima which is docked off New Orleans, Bush will be briefed on the recovery effort Monday morning before heading out to tour New Orleans and parts of Mississippi.
Tough decisions
Honore said his troops will continue to assist New Orleans residents who refuse to leave their homes.
When asked if the assistance his forces are providing -- bottles of water and food for people who won't leave -- is in opposition to what the city and state want, Honore said local officials are also giving out supplies.
"These are tough decisions," he said. "But there is a greater good for the community, I've said in many meetings at the state and the city level."
After an initial evacuation order issued on August 28, Nagin Tuesday cited safety concerns when he authorized the forced removal of remaining residents.
Officials conducting house-to-house searches -- breaking down doors to look for survivors and victims -- have attempted to coax holdouts to leave their homes.
New Orleans resident Kay Vereen said Sunday she was told by members of the California Highway Patrol that she "will be refused food and water."
"They were polite but firm and said that there was a mandatory evacuation, and was I aware of it; I said yes, but I was choosing to stay," she said.
Nagin, appearing on NBC's "Meet The Press," said he wants the city to bounce back swiftly.
"The big thing," he said, is getting "the test results from the water that we sampled."
If the results are favorable, he said, "We will definitely accelerate and make sure that not only the French Quarter, but Algiers and some of uptown and our airport comes back on line so we can get the city going quickly."
The Army Corps of Engineers revised Saturday its timetable for draining the floodwaters from New Orleans, saying the process should be completed in October. (Full story)
Airport officials said Sunday they expect limited commercial traffic to resume Tuesday.
Public health officials said the Air National Guard will begin spraying pesticide over the area Monday to ward off the threat of mosquito-borne disease. They also said that five area hospitals are in operation.
And in a reversal from two weeks earlier, long lines of cars waited to enter suburban Plaquemines Parish, which re-opened Sunday.
Senators blast 'spin'
Democratic Louisiana Sen. Mary Landrieu on Sunday criticized what she described as an effort by the White House to blame state and local officials for shortcomings in the governmental response to Katrina. (Full story)
"Over my dead body will you put the blame on mayors, city council members -- Republicans or Democrats -- [and] local elected officials," Landrieu said.
"The buck's going to stop right here in Washington when all is said and done," Landrieu said.
And Sen. Barack Obama, an Illinois Democrat, criticized Bush for responding to the crisis with a "spin operation" but no apparent sense that the government had failed its people.
Almost two weeks after Katrina ravaged the Gulf Coast, some of the cities hardest hit by the storm are waiting for more help.
"Clearly the FEMA response has been slow," Matthew Avara, mayor of Pascagoula, Mississippi, told CNN Saturday night.
Slidell, Louisiana, Mayor Ben Morris also slammed FEMA, saying when the storm hit, "everything we did was on our own."
The situation was gradually changing, he said.
FEMA said Sunday it has paid $758 million to more than 364,000 households affected by the storm.

Home Page

CNN.com gives you the latest stories and video from the around the world, with in-depth coverage of U.S. news, politics, entertainment, health, crime, tech and more.

Home Page

CNN.com gives you the latest stories and video from the around the world, with in-depth coverage of U.S. news, politics, entertainment, health, crime, tech and more.