Jeep Wrangler gets four doors
The famous off-road brand also introduces a new crossover vehicle.
April 13, 2006; Posted: 11:23 a.m. EDT (1523 GMT)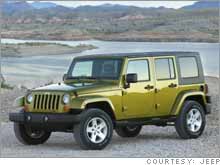 2007 Jeep Wrangler Unlimited
NEW YORK (CNNMoney.com) - The iconic Jeep Wrangler adds an unheard-of feature in a version unveiled Wednesday at the New York Auto Show. For the 2007 model year, Wrangler buyers can get one with four doors.
That addition seems to fill a fairly obvious need for Jeep buyers. Two-door vehicles of any kind simply aren't popular these days.
The Jeep Patriot, also officially unveiled Wednesday, is an entirely new product for Jeep. It's a crossover SUV available in three trim levels, only one of which gets Jeep's Trail Rated badge, meaning that it can tackle tough off-road conditions.
The redesigned Jeep Wrangler Unlimited has a set of removable back doors for easier access to back seats. Like the two-door version unveiled at the Detroit Auto Show in January, the Wrangler Unlimited will have a removable plastic top that comes off in sections, allowing for different open-top configurations. The roof comes off in two separate sections over the front seats and one section over the rear seats.
The new Wrangler Unlimited will be powered by a 3.8-liter V-6 engine producing a maximum of 205 horsepower. It will be offered with a six-speed manual or four-speed automatic transmission. The Unlimited, with a 116-inch wheelbase, is 20.6 inches longer than the redesigned 2-door Wrangler.
With the Patriot, Jeep is taking another step -- which some think is risky -- in putting its name on more products that are not intended for off-road use.
Another new Jeep, the Compass, introduced in January at the Detroit Auto Show, is intended for on-road use only.
There is clearly a market for these sorts of Jeep's, though, pointed out Angus MacKenzie, editor-in-chief of Motor Trend magazine.
"You could look at the number of Grand Cherokees that are sold with two wheel drive only and there's a significant number of them," he said.
The Grand Cherokee is Jeep's popular midsized SUV.
Photos: New York Auto Show cars