Bush welcomes Chinese president for talks
White House ceremony disrupted by Falun Gong protester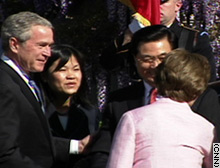 President Bush and Laura Bush welcome Chinese President Hu Jintao on Thursday.
WASHINGTON (CNN) -- President Bush welcomed Chinese President Hu Jintao to the White House on Thursday for talks expected to focus on trade, human rights and the diplomatic standoff over Iran's nuclear program.
Bush and first lady Laura Bush honored Hu and his wife, Liu Yongqing, with a military ceremony on the South Lawn that included a brass band and colorful flags of both nations.
The ceremony was disrupted by a screaming protester who appeared on a platform used by news photographers and shouted in English, "President Bush, stop him from persecuting the Falun Gong!" (Full story)
The spiritual movement Falun Gong is condemned by the Chinese government as a cult. It began a crackdown on the sect in 1999.
The woman also shouted in Chinese, "President Hu, your days are numbered," according to a translation by reporters on the scene.
Uniformed Secret Service agents led the protester away.
Dozens of Falun Gong protesters, many in traditional Chinese costumes, also gathered outside the White House gates.
The ceremony marked the start of the first White House visit by Hu, who emphasized the need for a U.S.-China relationship based on "respect and equality."
Chinese officials placed great emphasis that Hu's visit had all the ceremonial trappings of a "state visit," including a 21-gun salute.
However, the White House described it as a less prestigious "official visit."
During his remarks, Bush said the United States and China "intend to deepen our cooperation in addressing threats to global security, including the nuclear ambitions of Iran; the genocide in Darfur, Sudan; the violence unleashed by terrorists and extremists; and the proliferation of weapons of mass destruction."
"As the relationship between our two nations grows and matures, we can be candid about our disagreements," Bush said. "I'll continue to discuss with President Hu the importance of respecting human rights and the freedoms of the Chinese people."
Bush called for expanded Chinese freedoms to "assemble, speak freely and to worship."
Hu promised help to ease nuclear tensions with North Korea and Iran.
"We're ready to enhance dialogue and exchanges with the U.S. side on the basis of mutual respect and equality to promote the world's cause of human rights," Hu said, speaking through a translator.
Hu arrived late Wednesday at Andrews Air Force Base in Maryland.
Earlier Wednesday, the Chinese leader toured the Boeing Co. plant in the Seattle suburb of Everett, Washington.
In a speech to Boeing factory workers, Hu said China wants to open its markets to more American goods and investment, but he urged the United States to relax laws that keep products out of China. (Watch what Hu is doing for U.S. companies -- 1:56)
China in November agreed to buy 80 Boeing 737 jetliners for more than $4 billion, according to a company statement.
The United States had a $200 billion trade deficit with China in 2005, meaning Americans spent $200 billion more on Chinese imports than the Chinese spent on U.S. goods.
Hu said Wednesday that China is working hard to level the playing field by opening its market to more American goods, but he placed part of the onus for the trade imbalance on the United States.
The United States restricts the sale to China of technology that has both civilian and military purposes, and it has urged the European Union to maintain an arms embargo put in place after the 1989 crackdown on pro-democracy demonstrators in Tiananmen Square.
The United States wants China to crack down on software piracy and enforce intellectual property rights. Both are initiatives that Hu has promised to pursue.
Another complaint in Washington is that China has kept international goods out of the country by keeping its currency, the yuan, artificially low.
Beijing said last year it would set the yuan's value against several international currencies, which has allowed it to rise some. However, U.S. analysts say China must do more to revalue its currency if it is serious about opening its markets to international trade.
As one of the U.N. Security Council's veto-wielding permanent members, Beijing plays a key role in the diplomatic standoff over Iran's nuclear ambitions. But any move to impose sanctions on Iran if it refuses to halt its uranium enrichment program may be a tough sell in China, which receives much of its oil from the Islamic republic. (Watch how Chinese energy demands affect oil prices -- 1:52)
Hu's visit to the United States is his first since becoming president of the world's most populous country in 2003. Bush and Hu have met in Beijing and on the sidelines of the U.N. General Assembly. Hurricane Katrina forced Hu to postpone a planned visit to the White House in September.

Home Page

CNN.com gives you the latest stories and video from the around the world, with in-depth coverage of U.S. news, politics, entertainment, health, crime, tech and more.

Home Page

CNN.com gives you the latest stories and video from the around the world, with in-depth coverage of U.S. news, politics, entertainment, health, crime, tech and more.