Irate HK man unlikely Web hero
By Marianne Bray
CNN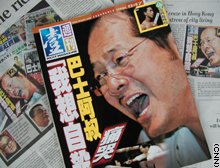 A still picture of "Bus Uncle" taken during his rant makes the traditional media.
HONG KONG, China (CNN) -- Hong Kong's new hero is under pressure these days. And he's also in hospital after three people beat him up at the job he had just started.
Roger Chan, otherwise known as "Bus Uncle," burrowed his way into the city's psyche a month ago after he ranted for six minutes at a passenger who tapped him on the shoulder asking him to talk more quietly on his phone.
The late-night tirade became a cult hit when a passenger across the aisle taped it on his phone and the video wound up on YouTube.com, a new and massive Web phenomenon that tells users to "broadcast yourself."
"I face pressure. You face pressure. Why do you provoke me?" Chan yelled at 23-year-old Elvis Ho that April night. He was seen leaning over the top of his seat on the top level of the double-decker bus, his finger just inches away from the young man's nose.
Ho, a real estate agent, addressed the man as uncle, a sign of respect for older people in Hong Kong.
The encounter, which takes some unexpected turns and features some profane language, became the most viewed video on YouTube.com in May, with nearly three million people flocking to see the original and its incarnations, like the Karaoke version, the rap remix and the dance and disco take.
The Internet propelled the 51-year-old unemployed Chan to an online celebrity status, and local reporters soon caught on, chasing him down and making him front page fodder in a city known for its reserve.
Now Chan is rarely seen without an entourage. A business sells T-shirts and handbags. "Bus Uncle" Web sites have emerged, while there is an entry on the online encyclopedia Wikipedia. His words on pressure have become an oft-repeated catchphrase in this teeming city.
Perhaps what is most surprising is how popular "Bus Uncle" has become. Local commentators say the man who lives with five cats and has made a bid to become chief executive of Hong Kong in the past became a hero because of a confluence of events.
The Internet has created unlimited space for ordinary Hong Kongers to have their say, says pop culture and Internet expert Anthony Fung, giving them the power to generate news that used to focus only on top officials and the elite.
"People used to be consumers of the media, but when we have the Internet, people don't just consume, they also produce," Fung says.
"Bus Uncle" is also seen as real, strong and honest, using language close to the heart of Hong Kong people and catching the collective emotional pulse in a city where people live cheek to jowl, and don't generally socialize with strangers or say how they feel, local experts say.
"He is not pretending to be someone great," says Fung, who says Hong Kong's youth can't find heroes in the textbooks they read. "But he is expressing the true feelings of ordinary people."
Chan's phrases reflect the pressure that comes from living in a city where 6.9 million people are squeezed into 1,104 square kilometers (426 square miles) of land. In its most densely populated parts -- like the old airport area of Kwun Tong -- as many as 50,820 live in one square kilometer.
And while the former British colony is widely touted as being the luxury car capital and has some of the world's most expensive real estate, most people work 47 hours a week, earning an average wage of just HK$10,470 (US$1,348) a month.
"Hong Kong people work very hard to earn a living although the big companies make a lot of money," Fung says.
Families live in high-rise apartments of between 30-50 square meters (322 to 538 square feet), where there are no backyards. And pressure simmers just below the surface in this commercial center where time is seen as money.
"The reason I swear, there's something hidden inside, some pressure," Chan told CNN of his encounter on bus 68X heading towards Yuen Long.
He is not alone. One in every 50 people in major Chinese cities suffer from intermittent explosive disorder, says professor Sing Lee, director of the Hong Kong Mood Disorders Center. The affliction is commonly called "road rage" in the United States. (Full story)
Medicine can control such outbursts, Lee says, but people need to seek anger management.
Before he was admitted to a hospital, Chan told CNN that people should be honest to themselves.
"If you angry, you angry. If you talk, you talk. If you fight, you fight," says Chan.
But such words and his rapid rise to infamy may have come to haunt Hong Kong's newest celebrity. He is still recovering in hospital.

Home Page

CNN.com gives you the latest stories and video from the around the world, with in-depth coverage of U.S. news, politics, entertainment, health, crime, tech and more.

Home Page

CNN.com gives you the latest stories and video from the around the world, with in-depth coverage of U.S. news, politics, entertainment, health, crime, tech and more.