A right royal showdown
Richard's Quest for royalty
By Producer Matt Percival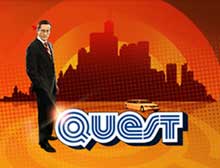 (CNN) -- Through heavy oak doors, the butler emerges from the drawing room.
There's just time for an intake of breath, an adjustment of the tie and the obligatory bow of the head. "Mr Quest, His Royal Highness." Richard Quest has moved up in the world -- he's on a quest for royalty.
The world's most stable and powerful royal family is Great Britain's Windsor family -- and let's face it, no program on royalty would be complete without them. So, we're on the road with HRH Prince Andrew, the Duke of York.
In his youth, he was often maligned by the press as a "playboy prince," yet Andrew is a classic example of a modern royal who has found a day job that serves his country and justifies his status.
Quest joins the Duke of York for an unparalleled glimpse at his role as Britain's roving ambassador for British trade and industry. As he boards the royal aircraft, it soon becomes apparent this is no jaunt to the Caribbean with one's golf clubs -- His Royal Highness embarks on a grueling schedule into the unchartered expanse of Kazakhstan. For British businesses, oil and gas deals are up for grabs and nothing impresses the locals like a royal visit. The question is, can Quest keep up?
As the esteemed Royal historian Hugo Vickers explains, the 20th Century was less than kind to the world's hereditary monarchs. Many blue-blooded families fell from grace -- their power whittled away as a result of wars or the rise of the republican state.
HRH Prince Andrew and Quest
And yet, while Europe is dotted with exiled royals, some dynasties have clung on and remain integral to their country's identity. This month's show will examine whether monarchy is an outdated system, and how the exclusive club of modern royals has had to adapt to the changing political landscape.
Next stop: Belgrade. Crown Prince Alexander of Serbia (formerly Yugoslavia) is son of a king but heir to a kingdom that no longer exists -- the monarchy long since abolished in his homeland. His father, King Peter II had to flee the Nazis during World War II and -- like many exiled kings and queens -- had to set up home in London.
Alexander was born in the famous Claridges Hotel in 1945. Then British Prime Minister Winston Churchill declared the royal suite Yugoslavian soil for the day so that the baby prince could retain his right to the throne. Now, 61 years later, he's back in his ancestral palace, ready to reclaim his birthright. As he explains to Quest, he is convinced that the restoration of a constitutional monarchy holds the key to his Serbia's recovery from years of conflict.
Crown Prince Alexander of Serbia, left, and Quest
At the other extreme is King Constantine of Greece. As a young man Constantine was handsome, athletic and popular with the Greek public. At the age of 20 he competed in the 1960 Rome Olympic Summer Games, winning a gold medal in sailing. In 1964 he married Danish princess Anne-Marie, sister of current Danish Queen Margrethe II. His sister, Sofia, is married to King Juan Carlos of Spain. And yet, despite his royal pedigree, his reign as head of state ended in political turmoil in the 1970s. He was stripped of his citizenship, much of his wealth and forced into exile. From his home in a quite suburb of London, he reflects on his life as a former king, the passion that still burns for his homeland and the indignity of losing one's crown.
King Mswati III of Swaziland
Few monarchs can boast outright power like King Mswati III of Swaziland. He's Africa's last absolute monarch and at the peak of his rule. He's working hard to convince his people that democracy would bring only confusion and problems to the country. But to many observers, he blatantly ignores the growing problems of poverty and HIV while lavishly spending his nation's wealth for personal gain. He has numerous palaces, a fleet of limousines, a luxury jet, 13 wives and more than 30 very privileged children. This is a man surrounded by mythology -- can all the rumors be true and how does any man look after 13 wives? Quest ventures into Swaziland to gauge for himself the uneasy rule of Mswati III.
When it comes to royalty, etiquette is everything. Toast master extraordinaire Ivor Spencer should know -- he has orchestrated over a thousand royal events and trained dozens of butlers. If Richard can't join the royals, Ivor will at least ensure that he can serve them properly.
From their stately homes atop thrones, adorned with crowns and jewels, royal family members have for centuries been not only the pride of a nation, but also the very symbol of its heritage. To say royals have no place in modern society is certainly a mistake -- to say their role has evolved over the years is simply a reality -- often one forced upon them. In the end, Richard Quest may not live like a king, but hopefully he will be closer to understanding the responsibilities -- and perhaps even the hardships -- of a modern royal existence.

Home Page

CNN.com gives you the latest stories and video from the around the world, with in-depth coverage of U.S. news, politics, entertainment, health, crime, tech and more.

Home Page

CNN.com gives you the latest stories and video from the around the world, with in-depth coverage of U.S. news, politics, entertainment, health, crime, tech and more.