The First Family of Jihad
By Henry Schuster
CNN

Editor's note: Henry Schuster, a senior producer in CNN's Investigative Unit and author of "Hunting Eric Rudolph," has been covering terrorism for more than a decade. Each week in "Tracking Terror," he reports on people and organizations driving international and domestic terrorism, and efforts to combat them.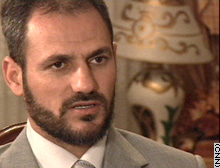 Huthaifa Azzam believes in the armed jihad espoused by his father, but not the targets of Abu Musab al-Zarqawi.
AMMAN, Jordan (CNN) -- Huthaifa Azzam found the CD slipped under the front door of his Amman house a few weeks ago.
He thought it might have been left there by one of his brothers. But when he put it into his computer and heard the voice, Azzam realized it was a message from Abu Musab al-Zarqawi, the Jordanian terrorist who is leader of al Qaeda in neighboring Iraq.
Al-Zarqawi was issuing a death threat personally to Azzam, who had criticized him for ordering the hotel bombings in Amman last November.
"He was very angry. He was telling me ... 'You have changed your way. Now you are serving the policy of the enemy,'" said Azzam.
But this is more than a feud between two men. You can see it as a debate at the extreme edge of Islam about jihad - and terrorism. It is a theme that dates back to the Soviet occupation of Afghanistan and is now very much alive in Iraq.
Launching a new era of jihad
If there can be said to be a first family of jihad, Azzam is its scion. His father, Abdullah Azzam, was a Palestinian professor who not only helped found Hamas, according to his son, but then went to Saudi Arabia to teach.
One of his students there, soon to be his protege, was Osama bin Laden.
Abdullah Azzam moved on to Afghanistan, and declared that it was the duty of all Muslims, not just Afghans, to fight the Soviet occupation of the country. As a renowned Islamic scholar and the first major Arab figure to go to Afghanistan, his words had weight.
He was called upon to mediate between the various Afghan resistance factions and remained pivotal in encouraging foreign fighters --establishing "the Services Office" to help Arabs who came to join the jihad in Afghanistan.
Azzam got bin Laden to join his cause and to fund the Services Office. "Osama ... loved jihad," said Huthaifa.
But by 1988, the two men had parted ways.
Bin Laden founded al Qaeda and was intent on creating a worldwide jihad. Abdullah Azzam thought his former protege had come under the influence of a group of extremist Egyptian militants -- who were taking jihad in the wrong direction, resorting to terrorism and killing innocent civilians.
Azzam's legacy
One morning in 1989, Abdullah and Huthaifa Azzam were headed to Friday prayers in Peshawar, Pakistan. They spotted Huthaifa's brother, Mohammad, who had just flown in the night before.
Abdullah Azzam sent Huthaifa back home to get other members of the family, while he and Mohammad got in the car.
Moments later, there was an explosion. Abdullah Azzam, his son Mohammad and another son were dead, assassinated in a car bombing.
"We thought my father was alive because there was nothing wrong with his body. Not a single scratch or nothing. We took him to the hospital but on the way they said he was already dead," Huthaifa said, showing us a photo of the bombed-out car.
Huthaifa Azzam blames the Israelis for his father's death, but almost no one else does.
Huthaifa's brother-in-law, Abdullah Anas, believes the assassination was the work of the Egyptians who had surrounded Osama bin Laden and turned him against Abdullah Azzam.
Huthaifa still has the coat his father was wearing that morning. He brings it out for visitors, even sniffs it and says he can still smell his father's scent.
On the wall in another room is a poster, containing Abdullah Azzam's will and testament.
Huthaifa says that it was his father's legacy that he had in mind when he traveled to Iraq shortly after the 2003 U.S. invasion.
He went to Ramadi and met with Muslim scholars, delivering what he said was his father's message: "The day the U.S. crossed the border in Iraq, each and every Muslim in the world has to fight. And he has to fight until the last soldier leaves the border of this conquered area. This is the rule of Islam."
Huthaifa Azzam's call to resist initially fell on deaf ears. Iraq's clerics were happy that Saddam Hussein had been overthrown.
Azzam said it wasn't until the U.S. began its incursions into Falluja in March 2004 that Iraqi Sunnis began to see the Americans as occupiers.
Al-Zarqawi's twisted jihad
But the jihad in Iraq hasn't gone according to the Azzam plan. Huthaifa points to his father's will and says that kidnapping journalists, beheading contractors and killing civilians is not what his father envisioned.
It is, in a way, history repeating itself. After bin Laden split from Abdullah Azzam, Huthaifa says bin Laden got involved doing things he shouldn't have. Not just terrorist attacks, but having al Qaeda ally itself with the Taliban and kill fellow Muslims.
Make no mistake, Huthaifa Azzam believes the following are legitimate targets: "The American troops fighting against our brothers in Iraq or the Israelis fighting against our brothers in Palestine."
And he is quick to cite the notorious forgeries "The Protocols of the Elder of Zion" as fact when he starts talking about how Zionism is a threat.
But he says al-Zarqawi's ideology is worse than either the Americans in Iraq or Israelis because of how it twists the meaning of jihad.
"If I meet Americans here [in Jordan], we can be friends. This is simple in Islam. Inside Iraq, they are an occupier; they have to be struck from Muslim lands. But in al-Zarqawi's ideology, a civilian or soldier, he will treat them the same way."
The problem is that Huthaifa acknowledges that al-Zarqawi has become the dominant figure in the Iraqi insurgency.
He blames the Americans, who he says have made al-Zarqawi "powerful in the eyes" of the Sunnis with their attacks on him.
When we put to him that, given al-Zarqawi's threat against his life, he could suffer the same fate as his father, Huthaifa Azzam is both fatalistic and dismissive.
Al-Zarqawi wouldn't be making such threats, he says, unless he was worried about the Azzam message. In the meantime, Huthaifa Azzam isn't planning on going underground.
"I'm not hiding ... this is my house ... I won't change it. I won't hide myself."

Home Page

CNN.com gives you the latest stories and video from the around the world, with in-depth coverage of U.S. news, politics, entertainment, health, crime, tech and more.

Home Page

CNN.com gives you the latest stories and video from the around the world, with in-depth coverage of U.S. news, politics, entertainment, health, crime, tech and more.