By Elizabeth Cohen
CNN





Empowered Patient is a regular feature from CNN Medical News Correspondent Elizabeth Cohen that helps put you in the driver's seat when it comes to health care
ATLANTA, Georgia (CNN) -- Todd Robinson doesn't need Michael Moore to tell him the health insurance system in the United States is in crisis.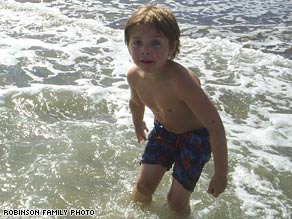 Bailey Robinson's parents battled their insurer over coverage for his rare genetic disorder. He died in 2005.
Robinson's 7-year-old son, Bailey, suffered from adrenoleukodystrophy, a rare genetic disorder affecting the brain, portrayed in the movie "Lorenzo's Oil."
The Robinsons say their insurance company refused to pay for $200,000 worth of medical bills. The company stamped "denied" on bill after bill, refusing to pay for countless medical services right up until the day Bailey died in 2005.
The Robinsons are not alone. Tales of frustration with insurers abound. In an Internet survey that included 1,000 consumers, nearly one out of four said he or she had had a legitimate claim denied by their health insurance, according to PNC Financial Services Group.
"I don't make a lot of money," says Robinson, a paramedic. "There's no way I could pay $200,000 out of my pocket."
House Call
Watch House Call this weekend for a 1-800 phone number where caseworkers will be standing by to answer your questions. Elizabeth Cohen reports
8:30 a.m. ET, Saturday-Sunday

But in the end, the Robinsons didn't have to. They managed to reverse nearly all the insurance company's denials. How'd they do it?
Here are some lessons from a family that's been there:
1. Get help Your doctor, hospital business office, and employee benefits office can be a lot more powerful than you are. Robinson used all of these, plus a non-profit group called the Patient Advocate Foundation, which employs 72 case managers to help people work out insurance issues.
2. Be persistent "Appeal again and again and again," says Robinson. "You may go through three or four levels of appeals before you get a favorable resolution," says Nancy Davenport-Ennis, co-founder of the Patient Advocate Foundation.
3. Use the right words Certain words will trigger a denial, according to patient advocacy groups. For example, sometimes insurance companies refuse to pay for surgeries related to cleft lip or palate, saying it's not medically necessary. When parents appeal saying the child needs the surgery for "cosmetic" reasons or to "enhance esteem," the appeal often fails, according to cleftAdvocate, a group that works with families. Appeals that mention problems with "biting," "chewing," or "swallowing" are more likely to work.
4. Ask your doctor to try again Often a tweak in paperwork will change everything. For example, Bailey Robinson took one drug for two purposes: It improved the effectiveness of his chemotherapy, and it helped his anemia. The insurance company refused to pay for it as part of his chemo. When the doctor re-filed the request mentioning anemia, it worked.
5. You may need a lawyer Steps one to four helped the Robinsons, but in the end, it was the threat of a lawsuit (with lawyers cc'd on the letter) that clinched it. "When they started putting 'Esquire' behind the names, that seemed to seal the deal," Robinson said.
The most important tool a patient can have is the will to keep going, Davenport-Ennis of the Patient Advocate Foundation says. Her organization, which helps patients appeal tens of thousands of denials a year, says it gets those denials reversed 94 percent of the time. Interactive:

Take our quiz about the best tactics for your insurance battles »
"All those people really did have the benefit. It was in their plan," she said.
She thinks insurance companies deny claims because they know there's a good chance the consumer won't appeal the decision. "Every day they deny is another day they've earned money," she said.
But a spokesman for the insurance industry says patient advocates -- and the movie "Sicko" -- are unfairly critical. "To say there's a guy wearing a green eyeshade in some back room somewhere trying to hurt you is wrong. It's in our best interest to pay as expeditiously as possible," says Mohit Ghose, spokesman for America's Health Insurance Plans which represents 1,300 health insurance companies.
Ghose, who says the PNC survey is flawed, asserts that denials are infrequent -- only 3-4 percent out of all claims. He attributes the denials to doctors and employers. Doctors sometimes enter the wrong code when filing insurance papers, he says, and employers decide not to purchase certain kinds of health care for their employees' insurance.
He says he was surprised to hear that Todd Robinson's health insurance denied $200,000 in medical claims. "It's tough for me to understand that," he says. "I'm sure the company has learned from that experience."

What Robinson learned is that dealing with insurance company can take up huge amounts of time -- in his case, time he'll never get back.
"My wife and I split it up -- she was in charge of Bailey, and I was in charge of the financial part," he said. "There's no question I missed lots of precious time with my son. It still brings tears to my eyes right now."
E-mail to a friend

Elizabeth Cohen is a correspondent with CNN Medical News.
All About America's Health Insurance Plans