By Cherise Fong
CNN
HONG KONG, China (CNN) -- "People have this inherited legacy from the 1940s and '50s that you've 'made it' when your film is shown on a big screen," observes Andrew Apostola, who co-founded the Portable Film Festival (PFF) online in 2006.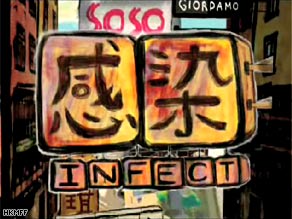 Joseph Lam's "Infection" won five awards at the Hong Kong Mobile Film Festival, including Grand Prize.
Indeed, it was cinema that historically seduced audiences, filmmakers and visionaries, earning its present reputation as the legendary "first screen." In the 1960s, television had found its place in our homes as the "second screen," while by the 1980s personal computers came to occupy our workspace as the "third screen." Today, mobile phones and iPods are referred to as the "fourth screen."
After that, we generally stop counting. The fifth screen may be the GPS device on your dashboard, but it might just as well be the screen on the back of the seat in front of you on plane, trains and automobiles.
As Lawrence Cheung of the Hong Kong Productivity Council (HKPC) says: "In the car, you have screens that are fitted left, right and center. You have a screen that drops down, you have a screen that pops up from your CD player. You have the split screen [which shows different images when viewed from different angles], and another screen that fits onto your rearview mirror. You have screens everywhere."
And where there are screens, there will be content.
HKMFF: "Small screen, big story"
HKPC launched the first Hong Kong Mobile Film Festival (HKMFF) in October 2007 in order to raise awareness among both the public and the industry of the potential mobile media market, as well as to encourage people to develop mobile-specific content.
DMB (digital media broadcast) phones may already be common gadgets in South Korea and Japan, but Hong Kong has the second-largest mobile-phone penetration rate in the world (after Luxembourg), closely followed by Macau and Taiwan.
Meanwhile mainland China has the highest number of mobile subscribers worldwide at almost 400 million, with a monthly increase of 5-6 million.
As for Hong Kong's budding mobile content industry, Cheung sees two possible directions for development.
The first is based on existing mobile handsets, where the broadcaster would be the mobile-phone operator. In this case, users would be charged according to the pay-per-view model, either by clip or by time. Either way, Cheung says, it's not good for market development, as itemized charges discourage use.
The second direction would make use of a separate broadcasting device calibrated to a protocol standard, with a much higher resolution screen than standard mobile phones. In this case, the business model would likely be pay-per-channel, with unlimited viewing.
A successful takeoff, Cheung confirms, involves both good content and a good device to view it on. This year's 1st HKMFF seems to be a step in the right direction, judging by both the quality of the finalists and the enthusiasm of all involved.
The festival's Mobile Film Production Workshop attracted some 300 individuals, including a speaker from Singapore, while the contest itself drew entries from local filmmakers ranging from advertising professionals to primary school students. Platinum sponsors were industry giants Nokia, 3 and Sanyo.
HKMFF's two big winners were a young media professional specialized in animation and a group of pre-adolescent girls making their first film (about "Graduation" from primary school). As much as the two shorts and their respective authors differed, they all had one thought in common: They wanted their films to be seen by a lot of people.
The girls from the Holy Family Canossian School in Kowloon City were unanimous in their determination to make a first film to commemorate their fleeting primary school days together, no matter the format. "We used a big camera to shoot, and then a small screen to view," they attested, "but we can also try other sizes."
Twenty-four-year-old Joseph Lam, a professional animator and designer, says Web sites are his "favorite medium" of distribution, where "the whole world" can see his work. "The screen may be small," he says, "but people can get what I want to say." The message of his multiple-award-winning animation "Infection": Stop criticizing!
PFF: "A Festival in Your Hands"
Part of HKMFF's logistical inspiration came from the annual Portable Film Festival based in Sydney, which was imagined long before YouTube and MySpace took over the Web.
After seeing how iPods were first taking off in the U.S., Apostola thought it would be great to see more on portable media, and so launched PFF in Australia to make more people aware of fourth-screen distribution.
"These films are not necessarily made-for-mobile, or shot with one," insists Apostola.
His mission is to promote online viewing of creative content on mobile media, and the curated PFF is a platform for showcasing talent, now currently open to 2008 submissions.
But he agrees that the market for online and mobile distribution is evolving very slowly, even in the tech-trendy Asia-Pacific region.
Speaking for Hong Kong, HKMFF's Cheung says, "The main thing is to develop a business model. If an independent filmmaker comes up with a series of 5-minute shorts, it could be very attractive. But how does he publish? Through a mobile-phone channel? Or through an operator's distribution network? The industry infrastructure has yet to be established. I don't know how it will develop, but where there's money, people will do something... It will be a very exciting time in the next five years."
Sundance: "Short films, tall ideas"
In 2007, Sundance focused on innovative mobile movies by challenging six independent filmmakers to make a short especially for the mobile phone screen. The resulting Global Short Film Project showcases five very different films, for the most part experimental, which premiered at last year's 3GSM Congress in Barcelona.
One of the artists, Maria Maggenti, remarked: "What's interesting about this format is there's still a very strong impulse that people have to share, the same way that you go to the cinema." Furthermore, she used the Kuleshov Effect to suggest emotional expressions on her dog's face in the foreground during a day out in LA, making her her clip all the more viral.
Another artist, Cory McAbee, reappropriated three elements people were already used to seeing on a small format -- photo-montage, computer loops and a surveillance camera setting -- to make a repetitive-obsessive music video set in a convenience store.
Meanwhile Valerie Faris and Jonathan Dayton, the couple behind "Little Miss Sunshine" shot a slow-motion short on slapstick stunts from the silent era.
In January 2008, Webby Awards founder and filmmaker Tiffany Shlain sat down during the Sundance festival with David Strauss, co-founder and CEO of film distributor Without a Box, to chat about synergy between making and distributing films.
Filmmakers should put "just as much creativity and energy and resources into making a film as to getting it out creatively into world," says Shlain. "The biggest challenge is to make filmmakers understand that they're also distributors."
It's "about turning filmmakers into entrepreneurs, and giving them tools to be able to do that," says Strauss. "It's very possible that your favorite film, you don't even know about it yet. But through collaborative filtering, you're going to find it."
We may not be there yet, but a successful collaboration between creative content authors and profitable, popular distribution is never too far off.
"Everyone uses the phrase like a badge of honor that you're an 'independent filmmaker,'" says Shlain, "but I think people need to start saying that you're an 'interdependent filmmaker.' There are so many support networks and technologies that can support what you're doing."
E-mail to a friend