By CNN Correspondent Charles Hodson
MADRID, Spain (CNN) -- Saudi Arabia on Tuesday ruled out further increases in crude production following its June 23 announcement that it would pump an extra half-million barrels a day.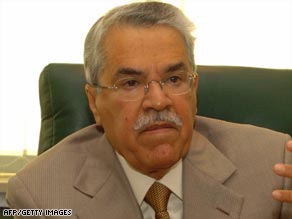 Ali al-Naimi said Saudi Arabia was already investing $129 billion on expanding its production capacity.
In an interview with CNN, Saudi Oil Minister Ali al-Naimi said he was troubled by the current high levels of petroleum prices, but added, "We have nothing to do with prices where they are today."
He denied the problem is one of immediate oil supply.
Asked whether Saudi Arabia, OPEC's leading producer, would open its taps to its reported maximum capacity of 11 million barrels a day, al-Naimi did not dispute the figure but asked rhetorically, "Where is the buyer?"
Al-Naimi was speaking to CNN on the sidelines of the four-day World Petroleum Congress in Madrid, Spain, where leaders of the oil industry from around the world are meeting. They include government ministers, national oil company leaders, and international oil company bosses.
Al-Naimi ruled out an option advanced by some oil-watchers: to make more Saudi Arabia heavy crude available, but at a discount in order to bring prices down.

Watch Charles Hodson's interview with Ali al-Naimi »
"That is not the way the market works," he told CNN.
Pressed on the issue of market perceptions that foresee future crude supply falling behind the expected growth in global demand, the minister said such perceptions were "wishful thinking."
Al-Naimi said Saudi Arabia will be investing $129 billion over the next few years on expanding its production capacity to 12.5 million barrels a day in the interests of remaining "the pre-eminent supplier" of the world's petroleum.
E-mail to a friend

All About Saudi Arabia • Oil Prices