(CNN) -- Global stocks skyrocketed Friday, posting huge gains as the U.S. unveiled a crisis plan to mop up toxic debt and banks worldwide pumped billions into money markets to end a punishing week of financial panic.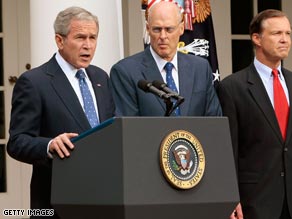 U.S. President George W. Bush says the U.S. is responding to unprecedented challeges.
On Wall Street, the Dow rose 369 points, or 3.3 percent. Combined with Thursday's big rally, the Dow's two-session advance was 779 points, the biggest since March 2000, according to Dow Jones. On a percentage basis, the two-session advance of 7.3 percent was the biggest since October 2002.
Meanwhile, treasury prices plunged and gold prices tumbled, as investors bailed out of safe-haven plays and poured money into equities, reversing the flight-to-safety trend of earlier in the week.
By the close in Europe, Britain's FTSE 100 had jumped about 8.8 percent - a record one-day rise. The French CAC-40 Index was up about 9.2 percent, while the DAX index in Germany sprung more than 5 percent higher.
At close of play in Asia Friday, Japan's Nikkei 225 finished up 3.8 percent, China's Shanghai benchmark up a record-breaking 9.5 percent and Hong Kong's Hang Seng up 9.6. Read more
Russian markets, which had been suspended for the previous two days as authorities tried to stop plunging share prices, were halted twice Friday as stocks rose too quickly. However they closed up more than 20 percent, with the dollar-denominated RTS climbing by 22.4 percent to 1295.9 and the MICEX finishing up 28.7 percent at 1098.9 points.
The gains clawed back substantial losses earlier in the week as markets nose dived in response to the bankruptcy of prominent U.S. brokerage Lehman Brothers, a Bank of America buyout of Merrill Lynch and a government bailout of insurer AIG that shattered investor confidence.
Money Meltdown
CNN's Charles Hodson anchors a special report on the torrid global economy from London's financial center.
1800 GMT, 2pm ET
The rescue plan and huge gains came after a week of chaos in which some of the biggest names in finance -- Lehman Brothers, Merrill Lynch and others -- either moved for bankruptcy or were bought by rivals.
U.S. President George W. Bush said Friday: "America's economy is facing unprecedented challenges. We are responding with unprecedented actions."
Sound off: Is the market crash over?
UK and U.S. moves to ban controversial short-selling practices -- the practice of offloading securities the seller does not own in the hope of repurchasing them later at a lower price -- helped boost markets.

Watch why 'Cityboy' has little sympathy for bankers »
The European Central Bank and Bank of England meanwhile each lent an additional $40 billion, adding to a package of up to $247 billion announced by central banks worldwide Thursday to bolster market cash flow.
And the U.S. Treasury Department said it would provide temporary relief for the U.S. money market fund industry by pledging to insure the holdings of any publicly offered money market mutual fund.
Treasury Secretary Henry Paulson said the temporary relief provided by the government will "increase confidence" in the U.S. financial system, but "more is needed."
Speaking at a news conference, Paulson said the government's "bold approach" will cost "hundreds of billions" of dollars, but would cost U.S. taxpayers "far less than the alternative." He noted that the government "must take further decisive action to address the root cause" of the financial crisis.

Watch the latest on Wall Street »
Paulson and Federal Reserve Chairman Ben Bernanke briefed House and Senate leaders Thursday evening on a program to let banks get rid of toxic debts -- mortgage-related assets that have been hard to value and harder to trade.
The developments followed news of a package of up to $247 billion aimed at money markets from the U.S. Federal Reserve, the European Central Bank, the Swiss National Bank, the Bank of England, the Bank of Canada and the Bank of Japan.
Kirby Daley of brokerage firm Newedge Group warned that while the government measures would calm the market, they did not offer a long-term solution.
"They wanted to stop the bloodletting, and the panic is over for now, but what happens and what investors are now likely to get caught up in is elation that is not due, and a rally that is not sustainable," he told CNN.

Watch Daley on why measures aren't a 'silver bullet' »
E-mail to a friend

CNNMoney.com's Alexandra Twin contributed to this report
Copyright 2008 CNN. All rights reserved.This material may not be published, broadcast, rewritten, or redistributed. Associated Press contributed to this report.
All About American International Group Inc. • Financial Markets