By CNN's Richard Quest
LONDON, England -- Q. What is the ECB?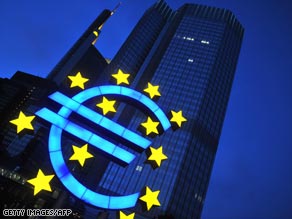 The ECB is Frankfurt, Germany, has some monetary policy powers but also has limits.
A. The European Central Bank is the authority which sets interest rates in those countries which use the euro as its currency. They are 15 member nations of the European Union, including large members like Germany, France, Spain and Italy. The UK does not use the euro.
Because it sets interest rates (monetary policy) it is also responsible for controlling the amount of money in circulation. In recent weeks the ECB, along with the U.S. federal reserve and the Bank of England, has been "injecting money" into the economy -- basically lending money to banks to keep economies moving.
Q. How much money does the ECB have?
A. As much as it creates! As a central bank its limitations are only bound by its ability to print more money, which of course is inflationary, and to demand more money from member countries by way of reserves. Like all central banks, it has the authority to issue debt in its own right. The principle limitation is whether or not investors will buy the debt -- do they trust the bank! For now at least, the ECB has vast resources still to deploy and there is no risk of it running out of bailout cash.
Q. Why are European governments bailing out the banks and not the ECB ?
A. In euroland there is no central authority which supervises banks. It is devolved to national governments. It is a typically piecemeal approach and allowed the German government to bail out Hypo Real Estate Holding. It's messy and it leads to confusion, but as long as there is no central authority given the task that's the way it has to be.
Q. Why are only some European governments guaranteeing all savings?
A. Fear! Governments want to protect small savers and those with life savings, but they don't necessarily want to protect the wealthy with millions in the bank. To guarantee a country's entire bank of savings is very expensive, and could cost taxpayers a great deal of money. Unfortunately if governments are faced with a banking crisis then often they have no choice. They MUST restore confidence before there are runs on banks as people withdraw money to put it under the mattress (contrary to popular belief that is far less safe than leaving it in today's banks!) In Ireland and now in Germany there are real fears that the existing deposit guarantee isn't enough -- so rather than raise it bit by bit they have decided to guarantee the lot! Unfortunately it creates a beggar thy neighbor situation
Q. What do you mean?
A. Well money travels without passports and these days relatively easily. So within the eurozone savers can open up accounts in other member countries (subject to certain minor restrictions). Since everyone is using the euro, there is no currency risk if the euro drops in value. If you can get the same rate but better terms in another country for your deposits... why not?
Q. Sounds fishy. Is it legal?
A. Opening an account is certainly legal. Whether the guarantees are legal is another question. It creates a huge competitive advantage for those banks with full government guarantees. Funds start to flow within the union to those banks from less protected countries. The European legal eagles are looking into this.
Q. I am exhausted ... is the situation that bad?
A. Yes and Yes again. But please don't panic. Most of us have deposits in banks well below the maximum levels of existing guarantees. And central banks still have billions of dollars to spend. So while this is very serious and will affect certain people horribly -- bankers and those who lose their jobs -- for the majority of people, still in work, not planning to move home....with a reservoir of savings. ...don't lose sleep yet.
E-mail to a friend