(CNN) -- European finance ministers agreed Tuesday to raise the minimum guarantee of bank deposits to 50,000 euros ($68,600) across all EU member states and to work together on measures to address the credit crisis.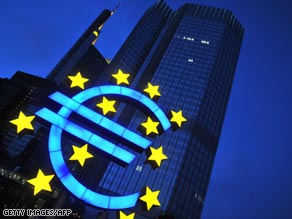 EU member states will guarantee bank deposits up to 50,000 euros.
"The most important thing is that today we should agree on an approach and a willingness on a doctrine that we all share," French finance minister Christine Lagarde said after the meeting in Luxembourg.
"Europe is determined to act in a coordinated manner in the face of all of this," she said.
The 50,000 euros figure was less than expected -- the Irish Department of Finance said one proposal called for double that amount -- but Lagarde said it enabled smaller EU countries and economies to meet the minimum.
"For some countries, some small countries -- let's say it as it is, with much smaller economies, with much smaller financial institutions -- it was difficult to have this threshold, which I remind you is a minimum," Lagarde said.
She pointed out that many EU members have already guaranteed deposits at higher amounts.
On Tuesday Spain's government announced it would guarantee bank deposits to 100,000 euros ($136,000), up from 20,000 euros.
Ireland and Greece have announced a guarantee of all deposits, and Austria, Iceland, Portugal, and Germany have all promised similar measures. Denmark, Sweden, and Britain have increased the amounts they will guarantee.
Finance ministers had wanted a uniform Europe-wide minimum to avoid the scenario of savers shifting their bank deposits to countries with more attractive guarantees.
"If all countries try to solve the solutions one (by) one, then one country's solution is the other country's problem," Swedish Finance Minister Anders Borg said before the meeting. "We really have to push for a common solution."
Finance ministers also agreed on principles to guide the pay of managers, particularly in the financial sector, to make sure they reflect "real performance," Lagarde said. The measures apply to "golden parachutes," the large payouts to managers when they are fired from their jobs, which Lagarde said only encourage undue risk-taking.
"Our imperative is to protect savers and not those who run the financial institutions, particularly those who took excessive risk or those who took bad decisions," she said.
Ministers decided to ask the European Commission for fewer restrictions on state aid, and to ask central banks to urge greater transparency on the balance books of banks in their countries, Lagarde said.
"I think it's been a positive discussion," said Joaquin Almunia, the European commissioner for economic and monetary affairs. He called the measures announced Tuesday a step forward in addressing "the most serious financial crisis that we have known so far" and said Europe must continue to assess the problems.
"We need first and foremost to avoid systemic risks, to limit the negative impact of these financial tensions in our real economies," he said. "We need to reinforce the economic instruments and the financial instruments at the European level. We need to reinforce the governments of Europe to cope with this financial situation."
Tuesday's meeting was a regularly scheduled meeting of European finance ministers, but it took on on added urgency amid the widening economic crisis.
Also Tuesday, Spanish Prime Minister Jose Luis Rodriguez Zapatero said his government would make available at least 30 billion euros ($41 billion) to the nation's financial system to improve the flow of credit.
Zapatero told a news conference that the Spanish treasury would purchase "non-toxic," reliable assets from financial entities, to provide cash that could be used by the entities to make loans.
E-mail to a friend

CNN Madrid Bureau Chief Al Goodman contributed to this report.