(CNN) -- In November, CNN Business Traveller continues its special on how the travel industry is being affected by the financial crisis, this time focusing on tourism and destinations.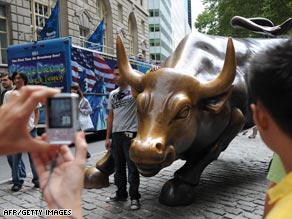 Bullish about the future? CNN's Richard Quest sees how the tourism industry is coping with the global downturn.
Richard Quest presents the show from New York, the epicenter of the crisis where world markets and industries alike are only now feeling the real effects.
To get a global overview, we have CNN correspondents from each continent. We'll also speak with a host of tourism ministers from Malaysia, Montenegro, Kenya, and Peru, to name a few.
Asian Tiger
The global financial crisis is hitting Asia on two fronts; a fall in consumer spending has reduced demand for Asian exports and fewer international travelers are flying to the region's popular tourist destinations. According to the Airports Council International (ACI), total international passenger traffic fell 2.7% in September. It's first monthly decline since the outbreak of Severe Acute Respiratory Syndrome (SARS) in 2003. International traffic to Asia fell 6.6%, the most of any region. Can Asia roll with the crunches and keep tourists coming? Hugh Riminton files a report from Hong Kong.
Peruvian Promise
Stock markets in Latin America have been swept up in the global meltdown. Falling demand for commodities is threatening to reduce export earnings in the region's biggest economy, Brazil. CNN's Morgan Neill visits one of the continent's most popular tourist destinations, Machu Picchu in Peru. He asks Peruvian Tourism Minister Mercedes ArŠoz how the country plans to keep the tourists coming.
Safari so good
With a weak Rand, you would think that South Africa is being hit hard by the financial crisis. But it is not all bad news. While it's still expensive to get to South Africa, once you're there, high-end activities like luxury safaris are becoming more affordable. We visit Johannesburg where travelers armed with foreign currency are getting the most out of Africa.
Visit London
From the West End to the London Eye to the Tower of London, the capital of the United Kingdom is fighting hard to beat the credit crunch. Jim Boulden finds out what is being done to attract new crowds to the world's most popular destination for international tourists.
New York, New York
The National Debt Clock near Times Square says it all; an extra digit has been added to display the new total of $10 trillion. Economists predict that the $700 billion bail-out of the nation's economy will send this clock ticking to $11 trillion. In New York, Wall Street has taken a hammering, fewer theater goers are booking Broadway shows and people are spending less money in anticipation of hard times. CNN's Richard Quest speaks with George Fertitta, CEO of tourism board NYC & Company about the challenges the city faces.
SHOW TIMES
ALL TIMES GMT
Wednesday, 12 November: 0930, 1830
Saturday, 15 November: 0830, 1900
Sunday, 16 November: 0530, 1830
Monday, 17 November: 0400
.
E-mail to a friend